Anthony Davis: Why Kentucky Star Is a Lock for Rookie of the Year Honors
June 27, 2012

Andy Lyons/Getty Images
There are only two things that NBA fans know for sure about Thursday night's NBA draft.
One is that the New Orleans Hornets will select Kentucky's Anthony Davis with the No. 1 overall pick and two, Davis will win the Rookie of the Year award at the end of the 2013 season.
The top of the draft will be loaded with potential impact talent like Bradley Beal, Thomas Robinson, Harrison Barnes and Michael Kidd-Gilchrist, but while they will all have fine rookie seasons, none of them will have the impact on the game that Davis will during his rookie season.
First off, he is going to a good situation in New Orleans with a good head coach in Monty Williams. New Orleans freed up playing time for him by dealing Emeka Okafor, and Davis will get the chance to contribute from day one.
Everyone has documented by know the impact Davis will have on the game at the defensive end of the floor.
While Davis may not block the 4.7 shots per game or grab the 10.4 rebounds he did per game at Kentucky, it's realistic he approaches around 2.5-3.0 blocks per game. If that doesn't sound like a big number, consider the fact that only Serge Ibaka (3.65) blocked more than 2.16 shots during the regular season.
Davis has fantastic basketball instincts and a very high basketball IQ. He will block a lot of shots during his rookie season and change many more per game.
He's the only player in this draft class that can really dominate a game without needing to touch the ball.
Some people knock Davis' offensive game, and while I agree that he needs to add muscle to really bang in the post effectively, that doesn't mean he isn't a skilled offensive player.
He finished the season shooting 63 percent from the floor, meaning he has a very soft touch around the rim. If the Wildcats weren't so skilled this season, he's a guy that could have easily averaged 20 points per game.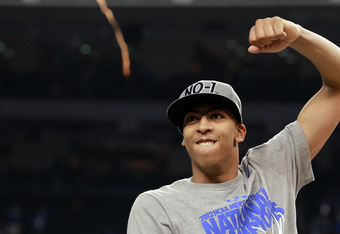 Ronald Martinez/Getty Images
He won't approach those numbers as a rookie, but he will be an effective scorer. Davis just isn't explosive, but he has guard-type skills in a 6'10" frame.
Davis can handle the ball and is an excellent passer out of the post. In addition, he has a nice jumper he can extend out. 
While he won't be a 25 point-per-game scorer in the NBA as a rookie, Davis will be a very efficient scorer. In addition, he was a 71 percent free-throw shooter during his freshman season, so that should help his numbers out as well.
Davis' incredible length, feel for the game, top-notch defensive instincts and high upside won't just make him the No. 1 pick in Thursday night's NBA draft, but it will eventually win him the Rookie of the Year award as well.