Who Is on the Pittsburgh Steelers' Roster Bubble Heading into Camp?
Who heads into Steelers training camp on the bubble? Click through and find out.
Jared Wickerham/Getty Images
We're still a month away from the start of Pittsburgh Steelers training camp, but it's not hard to determine which players are heading into it very much on the team's roster bubble.
In the following slides, I detail a group of players who will need to impress right away in next month's camp if they are to stay on the roster. These are by no means all the players who will end up firmly on said bubble once camp commences, but just a sampling of those whose futures in Pittsburgh are already questionable.
S Myron Rolle, Will Allen and Robert Golden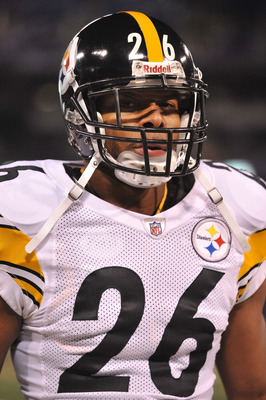 Will Allen's limited skills as a safety put him on the roster bubble, but his connection with Mike Tomlin could save him.
Larry French/Getty Images
Last season, the Pittsburgh Steelers carried four safeties on their active roster: Troy Polamalu, Ryan Clark, Ryan Mundy and Will Allen. Though they may choose to open the season with five (Clark cannot play in the season opener in Denver because of his sickle-cell blood trait), chances are that the target number for the full season is again four.
Polamalu, Clark and Mundy are guaranteed to make the roster this year, making the battle between Allen, Myron Rolle, Robert Golden and Damon Cromartie-Smith a fierce once. But as we inch toward camp, it appears it's the former three who are on the roster bubble.
If I had to predict right now which of these four safeties will end up clinching that final spot on the 53-man roster, it would be Allen. He's a favorite of head coach Mike Tomlin—Allen was with the Tampa Bay Buccaneers when Tomlin was defensive backs coach—but doesn't get much playing time aside from on special teams.
Because Allen isn't much of a contributor at his given position, he does sit on the bubble. But it's Golden and Rolle who are under the most pressure.
Golden is an undrafted free agent who played both safety and cornerback at Arizona, though he projects to be solely a safety at the professional level. He only played safety for one year of college, however, making him a developmental project at the present. If he sticks, it will be strictly on the practice squad.
Rolle is a favorite of Steelers fans—he seems to exemplify the type of player the team would love to have on their roster. However, none of his non-football plusses matter if he cannot perform on the field.
The 2010 Tennessee Titans sixth-round draft pick spent his rookie season on their practice squad before being released in 2011. At the very least, Rolle could wind up on the Steelers' practice squad this season.
LT Jonathan Scott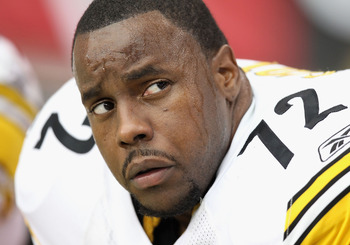 Jonathan Scott looks concerned, and he should be.
Christian Petersen/Getty Images
To think that Steelers offensive tackle Jonathan Scott is finally, firmly on the roster bubble is music to many fans' ears. In the time he's been lined up as a starter, he's been atrocious.
In 2010, Scott gave up six sacks, four quarterback hits and 27 hurries while amassing 11 penalties. In 2011, he didn't show much improvement, allowing seven sacks, two hits and 15 hurries while being flagged for five penalties (all stats include playoffs and come courtesy Pro Football Focus).
Scott is a terrible pass protector and isn't much better of a run-blocker. And thanks to the Steelers drafting a left tackle in the second round (Mike Adams), he's now no longer needed, even as depth.
Should Adams not win the starting left tackle job, Scott's place in Pittsburgh is still very much in trouble. Trai Essex can pick up the slack, and the younger offensive linemen on the roster currently can fight it out for reserve and practice-squad spots.
Scott has to go, and this year, he actually just might.
FB Will Johnson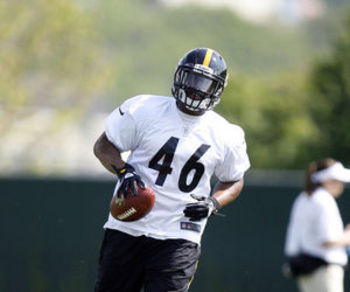 With just one FB spot, Will Johnson could be cut (Photo: Charles LeClaire, US Presswire).
With Todd Haley coming in as new Steelers offensive coordinator, they've decided to add a fullback position to the roster. David Johnson, once a tight end/h-back-style player, will now shift to fullback and compete with Will Johnson, whom the Steelers signed in March.
While this should be a fierce battle, there will be only one roster spot available for a fullback, and the veteran David Johnson has the upper hand over Will.
There's a chance that Will could land a practice-quad spot should the team go with Johnson at fullback. At his pro day, Will ran a 4.40 40-yard dash—not a small feat for a 6'2", 240-pound man—and he certainly has some upside. But for the starting fullback job, experience, and thus David, should win out.
QB Jerrod Johnson
The best Jerrod Johnson can hope for is the practice squad (Photo: AP Photo/Keith Srakocic)
If quarterback Jerrod Johnson sticks with the black and gold this year, it will be with the practice squad only. The bell doth tolled for fellow Steelers backup Troy Smith earlier this week, and it's possible the same comes to pass for Johnson when training camp wraps.
Johnson, who went undrafted in 2011 and did not play last season (though he was in the Philadelphia Eagles' training camp for two weeks), was brought onto the Steelers roster in January when both of the team's primary backups to Ben Roethlisberger, Charlie Batch and Byron Leftwich, were free agents.
The Steelers have brought back both Batch and Leftwich and will stick with the three quarterbacks on their 53-man roster.
Only injury can change this (and we all know it has happened in the past), which means Johnson may head to the practice squad as insurance. But that's only if he looks good enough in training camp to warrant it—and he'll have to fight for snaps to even do so.
Keep Reading

Pittsburgh Steelers: Like this team?