Gray Maynard Exclusive: Clay Guida Is the Worst Person in the World to Be Mad At
June 26, 2012

It would be hard to say anything went as planned last Friday night in Atlantic City. 
Two of the UFC's top lightweight fighters squared off in the main event of UFC on FX 4. When the final bell sounded, those watching were left wondering what exactly they had just witnessed. 
While Gray Maynard may have picked up the split-decision victory over Clay Guida, he was certainly amongst the majority who were confused and frustrated by what had just taken place.
Throughout the bout Maynard watched as Guida's game plan went from elusive to escaping. Where Guida was scoring with strikes in the first two rounds, the final three frames saw "The Carpenter's" output diminish considerably, replaced by swift movement around the cage.
The frustration boiled over in Round 4 when Maynard dropped his hands in an effort to invite Guida into an exchange. The plan worked. After allowing Guida to tee off on him with three clean shots, Maynard was able to turn the tide of the fight with a guillotine attempt. 
Following the judges' decision, the tension continued backstage as the two fighters exchanged words during their post-fight medicals. UFC President Dana White's video blog captured the ordeal as it went down. 
"It was a frustrating fight, man, and I think that was obvious to everyone," Maynard told Bleacher Report in an exclusive interview after the fight. "It was just crazy to me. Obviously I want to put on a good fight and do my job, but this was the first time I've ever had to deal with anything like that in an actual bout. In the fourth round I had enough and did what I had to do to get him to engage. We are here to fight, bro. Let's do it.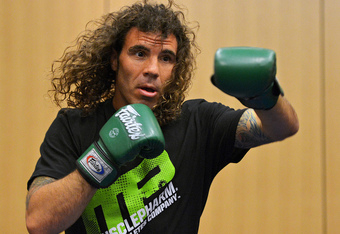 "I try to look at it from their point of view. They put together a plan, thought it would work and at the end of the day everyone wants to win. It was a crazy fight, and I guess if people are talking about it then it has to be worth something.
"Clay is the worst guy in the world to be mad at because he's one of the coolest guys on the planet. That's the crazy thing about it. It sucks things got so nasty between us because he's really a good dude. It was the heat of the moment and things just carried on afterward. I don't have any ill will toward him."
The victory over Guida marked a triumphant return for Maynard and became yet another positive step on a road filled with change. 
Maynard had a turbulent 2011 that saw him come up short on his title hopes. He also made the difficult decision to leave his longtime camp in Las Vegas, Xtreme Couture.
Maynard's current focus is on regaining the focus and happiness he felt slip away last year.
A big step in that process was settling into his new home at American Kickboxing Academy. He spent the majority of his camp training in San Jose. While he knows he's found a new home at AKA, Maynard understands the results of the move will not show themselves overnight. 
"It's a new camp and there is a lot of stuff to do," Maynard said. "I'm going to evolve, learn more and work to become better. There were things I learned and wasn't able to show in this fight, but that is the way things go sometimes. 
"On paper everything looked great for the camp. I went to AKA to train on this day and then over here for something on a different day. But you have to make it all mesh, and it takes some time. AKA is an awesome camp, (and) Nova Uniao is great as well, but there are a couple of kinks I definitely have to work out. That is going to take some time. 
"You don't move to a new camp and things become flawless automatically. It takes work, and I'm excited to continue that progression."