A French Soccer Title Comes to America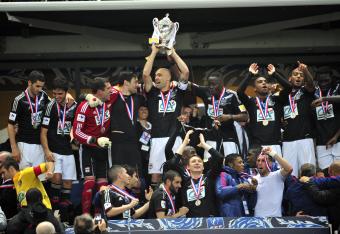 There might not be a higher awareness on a day-to-day basis amongst casual sports fans for soccer than there is today.
While the World Cup brings more awareness every four years, the ongoing interest in Euro 2012 coupled with Major League Soccer's growth and the amount of time the game is being played and taught at the grassroots level has pushed the world's most popular sport to a level never realized in the U.S. on a daily basis.
The best part for soccer is the awareness is just starting as the summer heats up. The friendlies are coming.
Starting with the record crowd set by Argentina-Brazil at Met Life Stadium in late May and continuing through early August, some of the most high-profile clubs from around the world will descend upon the soccer-loving populous of the U.S.—from Los Angeles to Kansas City to Miami, Boston and Chicago and many pitches in between. Chelsea, Paris Saint-Germain, Real Madrid, AC Milan, Celtic FC, Liverpool and Tottenham all will enthrall fans in the month of July.

However, out of all the training matches and good natured exhibitions, one will be for real—on July 28 at Red Bull Arena in New Jersey, two French clubs, Ligue 1 champion Montpellier Herault Sport Club and French Cup winner Olympique Lyonnais will meet for the Trophee Des Champions July 28, the French "Super Cup."
The matchup, the traditional beginning of the French soccer season, will be played in an English-speaking country for the first time ever and is meant to be part of a larger-scale outreach to promote the brand value of French soccer to the fastest-growing soccer audience in the world—the American fans.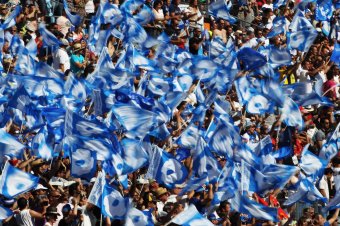 Bryn Lennon/Getty Images
It will also pit Lyon, traditionally one of France's most popular and lucrative clubs, against Montpellier, a surprise first-time winner of Ligue 1 in what American baseball fans may understand better as the Boston Red Sox taking on the "Moneyball" Oakland A's in the World Series.
Montpellier edged out Paris St-Germaine on the final day of Ligue 1 to win the title, forcing longtime Montpellier owner Louis Nicollin to shave his head in a Mohawk and dye it orange and blue during the celebration as part of settling a promise with his overachieving club. It would have been interesting to see A's owner Steve Schott do that for GM Billy Beane if Oakland would have taken a title.
"This is a great opportunity for us as a club to be able to play in a great international market like New York," said David Villechaise, Sporting Director MHSC. "While it is true that soccer fans may know larger clubs a little better right now, we know that we can use this as a way to tell our story and hopefully bring more awareness to the level of soccer we have by playing for The French title in America."
With all the competition on a crowded summer weekend—the powerful New York Yankees will be playing the Boston Red Sox at the same time across the river at Yankee Stadium—French soccer officials may have been worried about the timing and the matchup.
However, that is not the case according to officials who visited the area last week.
"The competition and all the other 'friendlies' are not a worry for us, because we have larger goals and realize that this is only a starting point for us in terms of awareness in the United States," said Sébastien Janodet, who leads the marketing for the French League. "We want to expose our football to a growing audience of fans; we want to expose our top clubs and the quality football they play to America; and we want to expand the outreach of French culture to a wider audience here in America. We think we can do all these things by starting a relationship with American fans through this game at Red Bull Arena."
The game will be seen globally as well, with Universal Sports televising the match in the United States and Canal+ airing the match live in France—among many other broadcasters.
Lyon, with its history of high-caliber play, has its own reasons for being excited about the match that has previously been played at different French-speaking locales around the world but never in an English-speaking country.
"The American soccer market is growing, there is no question, and we are proud to be bringing our club here to play for our country's championship for the first time," said Christophe Toni, Coordinator of Professional Team LYON. "Our goal is to develop the interest in French soccer and there is no better place to do it than in New York."
From a brand standpoint, Lyon is also in the market for naming rights for its soon-to-be-opened, state-of-the-art soccer facility, so coming to the U.S. for this match and other friendlies could not have come at a better time.
"All of the elite leagues across Europe have looked at the value that the Premier League has built with the American soccer fan for these past 20 years, and now we think that the market is mature enough for us to start cultivating our own spot with fans and with companies," Janodet added. "The quality of soccer we have always played has been very high and the interest on a global level for French football clubs has never been better, so it is time for our league and our clubs to take advantage of this exploding marketplace."
While it is true that the marketplace for global-quality soccer in the U.S. is growing, officials are careful to temper expectations, even though the stakes for the match—the French Championship—are very high. They have set ticket prices as very affordable (as low as US $20) and believe that the cost, as well as over 30,000 French citizens in the area, will help fill the stadium.
"We know this is a slight risk, but it is a risk we want to take, because we think the future for soccer in the U.S. is very bright and we want to find a way as a league to be a part of it."
So while some of Europe's best-known clubs go for a preseason tune-up around the U.S., the French will be playing real football with very high stakes in New Jersey. A title will be on the line and, with it, a quality of soccer and the launch of a property in the U.S. with an upside as high as the sport it represents.
Jerry Milani is a Featured Columnist for Bleacher Report. Unless otherwise noted, all quotes were obtained first-hand.
This article is
What is the duplicate article?
Why is this article offensive?
Where is this article plagiarized from?
Why is this article poorly edited?