Portugal vs Spain: Players Besides Cristiano Ronaldo Who Must Excel for Seleccao
June 27, 2012

Julian Finney/Getty Images
Despite some struggles along the way, Portugal has managed to reach the semifinals of Euro 2012, as it will face Spain on Wednesday.
The Portuguese squad managed to get through its first couple matches with star striker Cristiano Ronaldo struggling to finish, but he has come alive over the squad's past two games, particularly in the quarterfinals as he scored the lone goal to lift A Seleccao over the Czech Republic.
If Portugal is going to defeat a team with as much depth, talent, explosion and experience as Spain, however, it is going to take a total team effort. Ronaldo obviously will have to be on top of his game, but that alone won't be enough to knock off La Roja. Portugal has several other key players capable of taking over a game, and they must be sharp on Wednesday.
Here are three Portuguese stars aside from Ronaldo who must show up against Spain if Portugal is going to have any hope of pulling off the massive upsets against the defending Euro champions. 
Nani
Ronaldo may be the goal scorer on Portugal, and he is also the player who receives most of the credit when things go well, but winger Nani's contributions shouldn't be forgotten.
The Manchester United star isn't much of a goal scorer, but he is often the one who puts Ronaldo in a position to succeed. Nani's speed on the wing is a source of great frustration to opposing teams as he is very difficult to contain. Not only are his runs effective in putting Portugal in scoring situations, but they also draw extra defenders and take some attention away from Ronaldo.
Nani has two assists through four games in Euro 2012, and while he may not be lighting up the stat sheet, his intangible impact has been evident. Ronaldo won't be able to run the ball up the pitch all by his lonesome against Spain, so somebody has to do some of the legwork for him. The most logical candidate is Nani, and I believe that he will rise to the occasion against the world's best team. 
Pepe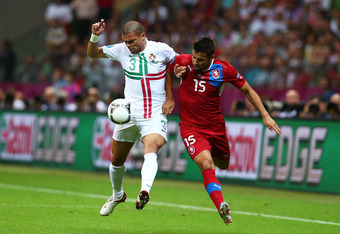 Alex Grimm/Getty Images
As important as it will be for Portugal to have offensive success against Spain, it may be even more integral for it to play strong defense. It is often said that a team can't win unless it scores, but that isn't really the case in this match.
Rather than opening things up offensively and being susceptible to Spain's potent attack, Portugal's best bet in this match is likely going to involve bogging things down, hoping for a 0-0 score at the end of regulation and extra time, and ultimately winning on penalty kicks.
In other words, making sure Spain doesn't score is probably more important than actually scoring. One of the key cogs in keeping Spain off the scoreboard will be defender Pepe.
The Real Madrid star has long been one of the best defenders in the world and that remains true today. He will be charged with the tough task of slowing down dynamic players like Fernando Torres, David Silva, Andres Iniesta and many others, so it certainly won't be an easy go for him. 
Rui Patricio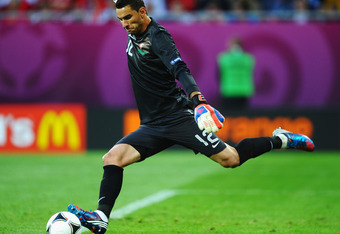 Laurence Griffiths/Getty Images
Goalkeeper Rui Patricio hasn't exactly been dominant thus far in Euro 2012, but he has performed pretty well despite being viewed as a weak link by many prior to the tournament.
Patricio has surrendered four goals in four matches and is coming off his first clean sheet of the tournament against Czech Republic. Patricio wasn't threatened too often in that match, though, so I'm not sure if he is adequately prepared for the barrage he is sure to face against Spain.
Even though he is almost certain to face an onslaught on Wednesday, Patricio must rise to occasion and stand on his head in order to give Portugal a chance. Unfortunately for Patricio, though, his work may not be done after 90 minutes.
Provided the match is 0-0 as Portugal would probably prefer, Patricio will also have to hold up in extra time and, most importantly, the penalty shootout. If he can remain flawless through all that, then Patricio will be a national hero of sorts.
Follow @MikeChiari on Twitter