Oklahoma City Thunder: 5 Reasons They Won't Return to NBA Finals Next Season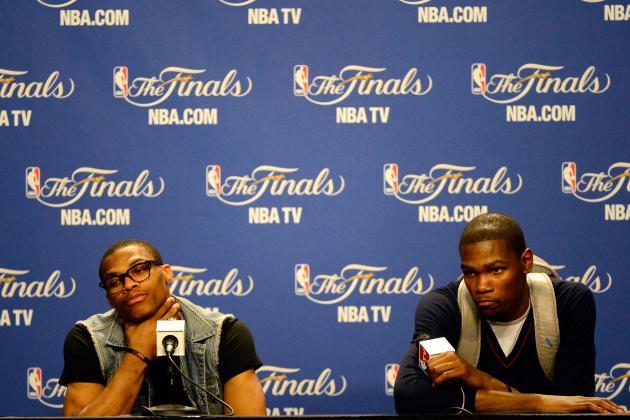 Ronald Martinez/Getty Images

Kevin Durant and the Oklahoma City Thunder endured a tough five-game series loss to the Miami Heat in the NBA Finals. Making a return trip to the finals will certainly be difficult.
The Thunder will have to overcome news media scrutiny, possible departures via trades—free agency or otherwise—and personal and team struggles through the offseason and 2012-13 season.
Indeed, this is a remarkably talented Thunder team. Russell Westbrook, Durant and James Harden are three of the top 15 players in the NBA. They have three solid defenders in the starting lineup in Kendrick Perkins, Serge Ibaka and Thabo Sefolosha.
However, history suggests that the Thunder won't be able to make it back to the NBA Finals next year. Only four teams in the last 24 years have made it back after losing in the NBA Finals.
More than just history is weighing against the Thunder. Following is a list of reasons why the Thunder won't make it back to the finals.
Begin Slideshow

»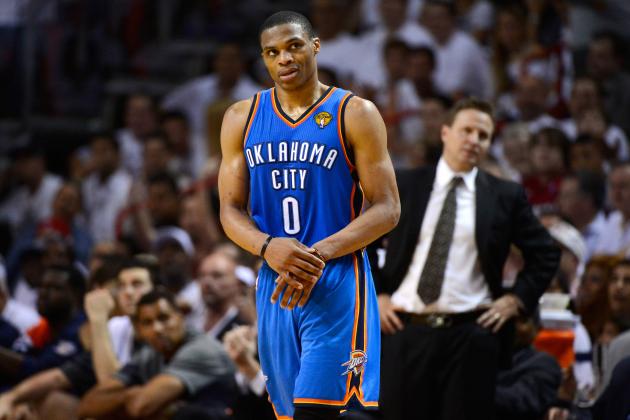 Ronald Martinez/Getty Images

Thunder fans must wonder why their team can't win it all with three of the top 15 players in the game in Russell Westbrook, Kevin Durant and James Harden. The trio combined for 68.4 points per game in the regular season and 68.9 points per game in the postseason.
Problems arose in the playoffs with defense and the shooting of particular players. The Thunder allowed 99 or more points in five of six conference finals games and three of five NBA Finals games.
James Harden, a 49.1 percent shooter in the regular season, shot worse than 40 percent in four of five conference semifinals games and four of five NBA Finals games.
Westbroook shot 33 percent or worse in three of five conference finals games and went 4-of-20 in the Thunder's Game 5 capitulation to the Heat.
Part of the burden falls on Scott Brooks to properly utilize his stars in the playoffs. If Brooks had drawn up plays that maximized Westbrook's creativity, then the Heat might not have shut him down as soundly as they did in the series finale.
Also, the coach has to take responsibility for keeping up some form of defensive consistency late in the playoffs. Granted, most teams wouldn't be scared of the Thunder's defensive play. Still, Brooks should have been able to ensure at least a strong enough defensive push to keep them ahead.
Brooks' contract expires at the end of the month, but the Thunder seem likely to re-up the fourth-year coach since GM Sam Presti told The Oklahoman that addressing Brooks' contract is a top priority.
Presti needs to be extremely self-assured to press on to try to re-sign Brooks, since Brooks doesn't seem to be getting the very best out of a trio that should have already brought home a title.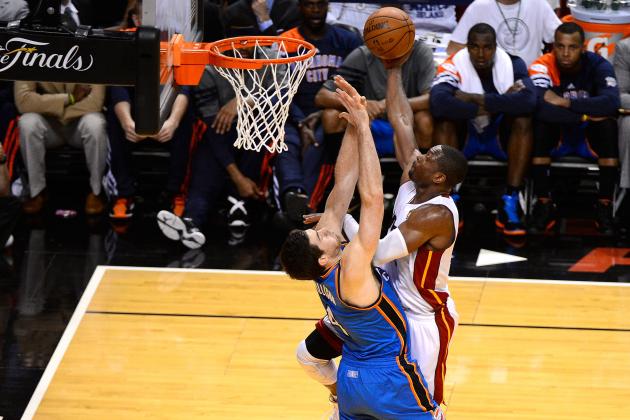 Ronald Martinez/Getty Images

If there's one thing about the Thunder that doesn't scare opponents at all, it's the play of bench players besides James Harden. The players after Harden on the bench include such lackluster players as Daequan Cook, Nick Collison and Derek Fisher.
Cook started 22 games, averaging 6.1 points per game on 34 percent shooting in place of Thabo Sefolosha. He averaged just five per game while hitting 39.4 percent in the 35 games he played as a reserve.
Collison shoots nicely, scoring 4.5 points per game while hitting 59.7 percent from the field. However, he's a poor rebounder, gathering just 12 percent of available rebounds.
Fisher showed his age. He averaged just 4.9 points and 1.4 assists per game while shooting 34.3 percent from the field in his 20 regular-season games after being acquired from the Lakers. In the playoffs, he stepped up to average 6.3 points per game on 41.5 percent shooting. But he was ineffective on defense, allowing 111 points per 100 possessions.
The Thunder will need reliable help off the bench from players besides Harden. With the disappointing performances Harden had in the playoffs, the Thunder need to be able to rely on someone else when the time calls.
They can't be a finals team when they have just one player who can score off the bench.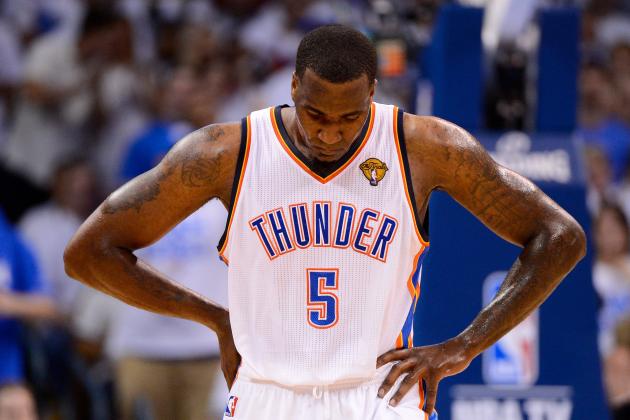 Ronald Martinez/Getty Images

The Thunder can't be a perennial playoff team with the amount of turnovers they commit.
They committed more turnovers than any other team in the regular season (16.3 per game) and had the highest turnover rate (15.3 percent of possessions). Kevin Durant and Russell Westbrook had 3.8 and 3.6 turnovers per game, respectively.
Kendrick Perkins turned it over 1.8 times per game and had a team-worst 27.5 percent turnover rate.
Perkins and Durant didn't do a good job controlling the ball in the playoffs. Perkins had a 22.5 percent turnover rate in the playoffs. Durant turned it over 4.8 times per game in the NBA Finals.
NBA Finals teams should be able to keep things under control. With the trouble the Thunder had this season doing that, they'll be hard pressed to make a run to the finals next season.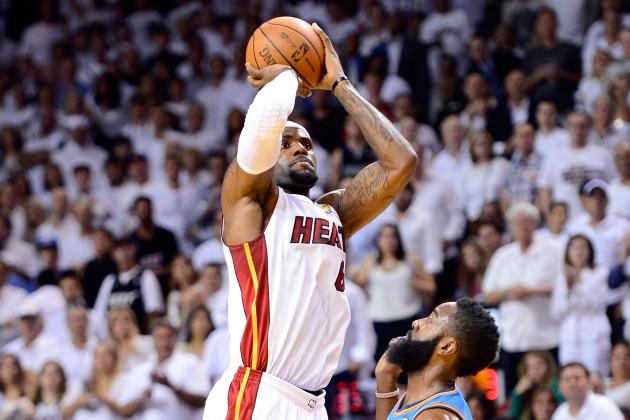 Ronald Martinez/Getty Images

Defense wins championships, and it should at least carry a team to the NBA Finals.
The Thunder didn't play defense like a real NBA Finals team this year. They allowed 102 points per game in the finals while allowing 107 points per 100 possessions in all five games.
Overall, the defensive effort in the playoffs left something to be desired.
No player who played more than four minutes per game for the Thunder in the playoffs had a defensive rating lower than 106 points allowed per 100 possessions. Oklahoma City allowed 97.8 points per game in the playoffs, including 104.3 per game in the last two rounds.
This young team can do everything in its power on offense to get back to the finals, but it won't matter if they can't stop the other team.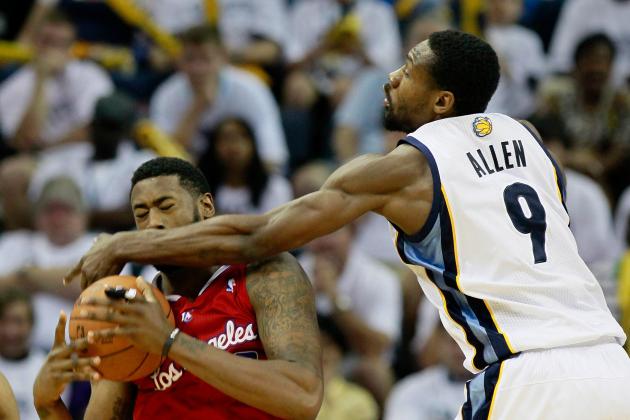 Kevin C. Cox/Getty Images

The Thunder will have to overcome a couple of tough challengers in order to return to the NBA Finals.
The San Antonio Spurs won't go down easy. Tim Duncan showed with his resurgent playoff performance that he won't go quietly into the night. Tony Parker should have at least one more season with strong scoring success.
San Antonio also has players on the rise, such as Kawhi Leonard.
Gregg Popovich's squad is a resilient one and won't go down without another fight for the crown.
Also, the Memphis Grizzlies will be a team to reckon with next season. The Grizzlies lost a disappointing first-round series to the Los Angeles Clippers this postseason.
Nevertheless, they'll be more determined than ever to grind their way to the NBA Finals next season with Tony Allen facing an expiring contract.
Allen, the defensive leader who defines the Grizzlies' team character, won't be satisfied without a championship in what will be both a contract year and his peak year athletically at age 30.
Also, Zach Randolph is determined to make the most of a full season after coming back from his partial MCL tear this year to play off the bench to finish the regular season and just return to form in the playoffs.
Randolph had worked hard to have a great year this season before becoming injured, and he'll surely be pushing through the offseason to have a championship year.
Memphis has two players on the rise in Mike Conley and Marc Gasol and one who's building his status as a top-five player at his position in Rudy Gay.
Additionally, Lionel Hollins is a superior coach to Scott Brooks. Hollins has a strong vision for his team and knows how to maximize the effectiveness of all of his players.
With both the Spurs and Grizzlies pushing hard to reach the NBA Finals, the Thunder will face too great a struggle to reach the finals.