Luke Hochevar: Kansas City Royals Righty Wins AL Best of the Night Award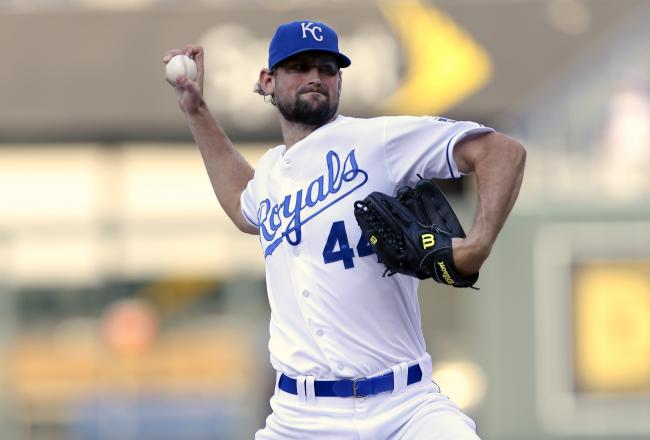 Ed Zurga/Getty Images
When the Kansas City Royals selected Luke Hochevar with the No. 1 overall pick in the 2006 First-Year Player Draft, they picked him ahead of standout prospects like Evan Longoria, Tim Lincecum, Clayton Kershaw, Brandon Morrow and Drew Stubbs.
They clearly knew what they were doing. After all, Hochevar has been one of the best pitchers in the major leagues...
...In his last two starts.
Back on June 19, Hochevar spun 7.2 shutout innings against the Houston Astros to earn his fourth win of the season. That was good, but his start on Monday against the Tampa Bay Rays was even better.
Hochevar threw the second complete-game shutout of his career, blanking the Rays on seven hits and a walk while striking out eight in a game the Royals won 8-0. Per Baseball-Reference.com, he earned a game score of 80, a personal best for the season.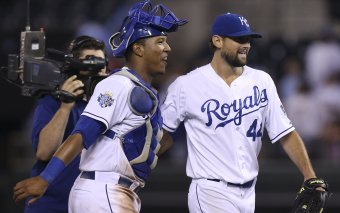 "Way not to suck, Luke."
Ed Zurga/Getty Images
You can catch highlights of Hochevar's dominance over at MLB.com. You'll see that he didn't do anything too fancy. He just kept his pitches down in the zone and went to his offspeed stuff with two strikes, which, of course, is Pitching 101.
Though I must admit, the two strikeouts he got with his two-seam fastball on the inside corners to lefties were quite dandy.
Hochevar picked up his fifth win on the season to run his record to 5-7. His ERA dropped from 5.65 to 5.07, the lowest it's been since late April.
A couple weeks ago, Hochevar's ERA stood at 6.27. According to the Elias Sports Bureau (via ESPN.com), the last pitcher to have an ERA that high through at least 10 starts before throwing 16 straight shutout innings was Tim Wakefield in 1993.
Now you know. And as we all know...
At any rate, I'm giving Hochevar today's American League "Best of the Night" award for his performance on Monday. He was as good as I've ever seen him, and he helped the Royals snap a mini three-game losing streak.
Might this be the start of something big for Hochevar? If the story of his career is any indication, probably not. He has a tendency to come through with sharp performances every now and then, but for the most part, he tends to be underwhelming (see "bad").
Royals blogger and Grantland.com columnist Rany Jazayerli said it best on Twitter:
"I think Luke Hochevar has really turned the corner for good this time." - nobody.

— Rany Jazayerli (@jazayerli) June 26, 2012
He's right, you know.
I'll give Hochevar this much credit: At least he was better than Rays starter Alex Cobb on Monday night. Cobb also pitched a complete game, but he allowed eight earned runs on 13 hits in the process.
Per ESPN Stats & Information, the last pitcher to allow eight earned runs in a complete game was Randy Johnson in 1998.
Yup, we can now put Luke Hochevar, Tim Wakefield, Alex Cobb and Randy Johnson all in the same sentence.
Clearly, there wasn't a whole lot of sense being made at Kauffman Stadium on Monday night.
If you ever want to nominate a player for the American League "Best of the Night" award, hit me up on Twitter.
This article is
What is the duplicate article?
Why is this article offensive?
Where is this article plagiarized from?
Why is this article poorly edited?