Tampa Bay Lightning: Vinny, Marty and Stammer, the 3 Faces of the Franchise
June 28, 2012

Elsa/Getty Images
There is no doubt that the three faces of the franchise for the Tampa Bay Lightning are Vincent Lecavalier, Martin St. Louis and Steven Stamkos. Lecavalier and St. Louis have both been with the team for over a decade and are the only remaining members of the 2004 Stanley Cup championship team still on the roster.
Meanwhile, Stamkos has had a marvelous start to his career, which now spans four years. The last three years have been unbelievable.
Let's take a look at the accomplishments of these three players with the Bolts...
Vincent Lecavalier
Seasons: 13
Goals: 373
Assists: 469
Points: 842
Playoff stats (63 games): 24 goals, 28 assists and 52 points
Captain: 2000-2001, 2008-present
Stanley Cup: 2004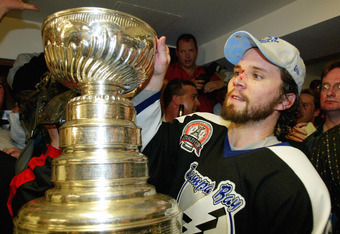 Elsa/Getty Images
Rocket Richard Trophy: 2007
Martin St. Louis
Seasons: 11
Goals: 319
Assists: 513
Points: 832
Playoff stats (63 games): 33 goals, 35 assists and 68 points
Stanley Cup: 2004
Hart Trophy: 2004
Art Ross Trophy: 2004
Lester B. Pearson Award: 2004
Steven Stamkos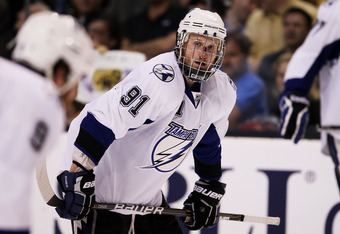 Elsa/Getty Images
Seasons: 4
Goals: 179
Assists: 150
Points: 329
Playoff stats (18 games): 6 goals, 7 assists and 13 points
Rocket Richard Trophy: 2010, 2012
Quite a list of accomplishments, don't you think? Just something to mull over—if Stamkos played 13 years in the NHL like Lecavalier has up to this point, his stats would look like this based on his play so far in his four-year career:
Goals: 582
Assists: 488
Points: 1,070
If Stamkos continues to play like he has played the past three seasons over a sustained amount of time (15-20 seasons), where he has averaged 52 goals, 42 assists and 94 points a season, he will be among the very best who have ever played in the NHL.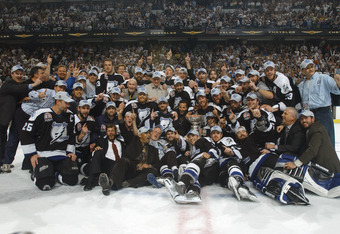 Dave Sandford/Getty Images
The bottom line, however, is winning the Stanley Cup as often as you can. Lecavalier, St. Louis and Stamkos play in a very solid organization from top to bottom that has that capability.
It starts with owner Jeffrey Vinik. Vinik has surrounded himself with great hockey minds. Examples would be GM Steve Yzerman, head coach Guy Boucher and the director of amateur scouting, Al Murray.
This group has accumulated some great young talent the last three seasons through the NHL draft and also via trades.
The Bolts came within a game of reaching the Stanley Cup Final in 2011 and definitely have the talent and leadership to make another Stanley Cup run next season and beyond.
It would be great to see the three faces of the franchise hoisting Lord Stanley in the near future.