Euro 2012: Cristiano Ronaldo Can Pass Messi as World's Best by Beating Spain
June 26, 2012

Handout/Getty Images
Cristiano Ronaldo has a point to prove. 
The Portuguese forward really shouldn't have anything to prove heading into the Euro 2012 semifinal match against Spain after his performances against the Netherlands and Czech Republic, yet the better Ronaldo plays and the deeper he leads Portugal through the Euros, the more people bring up that diminutive nemesis from Argentina.
Lionel Messi isn't even playing in the Euros and Ronaldo can't avoid the guy. If Ronaldo manages to pull his country out of the enormous Iberian shadow cast by Spain, he may finally be able to cast his own shadow over the world's best players, including Messi.
At just 25 years old, many already regard Messi as one of the two greatest players in the history of the sport, alongside Pele. Where does that leave Ronaldo then? Can a player be one of the greats of all time if he isn't even the best living player of his generation? Can Ronaldo, just 27 years old himself, somehow pass Messi to cement his legacy as the best of this generation, and one of the greats of all time?
Beating Spain to get to the Euro 2012 Final would be a good start, that's for sure.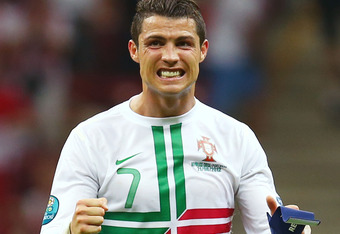 Alex Grimm/Getty Images
Winning the whole tournament—putting this Portuguese side on his back to beat Spain and either Germany or Italy—would not only change the way people regard Portugal as a true world soccer power, but likely give Ronaldo the crown of world's best player in the process.
Whenever people compare Messi with the greats in history, the one knock on him (the only knock on him) is that he hasn't led his country to a major international title. Ronaldo is in that category as well, and has a chance this summer to be the first to break through with a trophy for his country. While the Euros aren't quite the World Cup, they are as close as any international tournament will get. Winning a prestigious tournament the same season he led his team over Messi's to take the Spanish league title would have to put Ronaldo ahead of Messi in the race to be the world's best. 
At least for one year, Ronaldo would be the man on top.
That said, the quest for the world's best living player cannot be decided in just one year. The real comparisons must go back to 2007 when Messi and Ronaldo finished second and third behind Kaka, respectively, for FIFA World Player of the Year. Since 2008, the award–now called the FIFA Ballon d'Or–has gone to either Messi or Ronaldo, with Messi winning three to Ronaldo's one. Both are certain to be finalists again in 2012.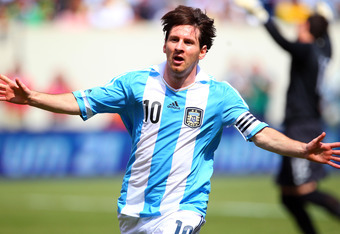 Rich Schultz/Getty Images
In addition to the advantage in accolades, Messi also has the recent statistical edge. Since 2007-08, Messi has an astounding 243 goals and 93 assists in 309 games for club and country, while Ronaldo has 240 goals and 57 assists in 300 games over the same span. 
Messi scored 50 league goals last season to Ronaldo's 46, a feat that surely irked the Real Madrid forward, but was likely tempered when Real Madrid secured the league title over Barcelona. Still, when comparing apples to apples—or in this case goals to goals—Messi netted 43 percent of Barcelona's tallies last season. When including assists, Messi was involved in a ridiculous 57 percent of his club's league goals. 
Ronaldo's 38 percent goal rate for Real Madrid—involved in 48 percent of all scores—seems downright pedestrian when compared with Messi's dominance. 
In all competitions last year, Messi finished last season with 77 goals in 70 games for club and country to Ronaldo's 71 in 64 matches, both averaging more than one goal per match.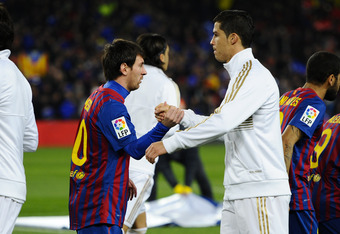 David Ramos/Getty Images
Wait. Stop. This feels like reading off the stat sheet, and Messi and Ronaldo have become so much more than that. Their goals have this certain majesty to them. A buzz spreads around the world whenever they put a ball on frame, let alone bury it in the back of the net. In a sport with a lot of down time across a 90-minute match, Ronaldo and Messi always seem to bring a level of excitement few others can duplicate.
Yet, for most of their careers, neither has been able to reproduce that magic for their countries. Both Portugal and Argentina have deep pools of world-class talent, and while Portugal has been close in major competitions before—losing in the 2004 Euro Cup final and finishing in fourth in the 2006 World Cup—Argentina hasn't even been past the quarterfinals at either of the last two World Cups with Messi. To be the world's best, he has to at least get to a World Cup semifinal, doesn't he?
If only Messi could pass for a European. Surely Spain would do everything it can to make that happen if it could. Despite watching the Euros on TV like the rest of us and playing the occasional exhibition match on American soil, Messi is doing his best to steal soccer headlines. When Ronaldo scored the game winner against Czech Republic, he ran to a camera and blew a kiss. The entire planet seemed to think that kiss was meant for Messi. 
Even in Ronaldo's greatest hour, it was still about Messi, by his fault or ours.
Having said that, Ronaldo surely wishes Messi were in Wednesday's Euro 2012 semifinal, if only to make it clear who the better player has been this season. Still, beating Spain with Xavi, Iniesta, Fabregas and Busquets passing their way up and down the field may feel a lot like beating Messi, if only by proxy.
Spain should beat Portugal. They have more talent and a proven ability over the last four years to perform in the biggest games. Portugal should, however, come into the match with a chip on its collective shoulder, playing for bragging rights on the peninsula for the first time in years.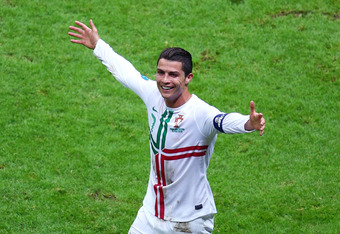 Michael Steele/Getty Images
For Ronaldo, it must be more than that. He was spectacular against the Netherlands to advance Portugal out of the group stage. He was dominant against the Czechs, with eight shots, including the game-winning header in the 79th minute. Now, he must somehow be even better, not only to get Portugal past Spain and into the final against Germany or Italy, but for his own legacy.
If Ronaldo can lead Portugal past Spain, doing so may help him surpass Messi as the recognized best player in the world. For now. Having both at the top of their game at the same time in history ensures the discussion—and the brilliance on the field–will continue for years. If Ronaldo can lead Portugal past Spain, the debate will be as heated as ever.