Euro 2012: Russia Chief Quits After Not-Scary-at-All Meeting with Vladimir Putin
June 26, 2012

Oleg Nikishin/Getty Images
The past 10 days have been quite the rocky road for the Russian football federation.
First, the national team lost to Greece on June 16 and crashed out of Euro 2012 before the knockout stage.
Then, captain Andrei Arshavin found himself embroiled in a nation-sized controversy over some post-match remarks (via the Daily Telegraph).
Next, UEFA fined the federation for racist chants by Russian fans (per the Associated Press, via ESPNSoccernet), only days after another fine for fan trouble.
That was nothing, though. Now Vladimir Putin and the Kremlin are involved.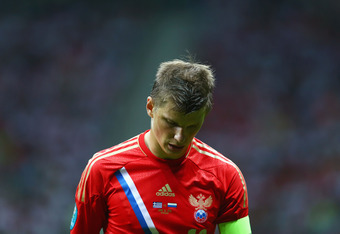 Shaun Botterill/Getty Images
After meeting with Russian President Putin "late on Monday night," Russian FA Chief Executive Sergei Fursenko has stepped down. Don't worry, though—Fursenko and Putin are big buddies and the meeting wasn't scary at all.
Per The Guardian:
The Kremlin announced the decision late on Monday night and said it followed a meeting between Fursenko and the country's president Vladimir Putin, where the two close friends discussed Russia's failure to reach the quarter-finals in what has been taken as a massive national disappointment.

"I would like to apologise to our fans for such a result," Fursenko said. "I have taken a difficult decision — to step down as head of the Russian Football Union."
Forget that Putin is a former KGB man. His role with Fursenko's resignation was totally friendly, and no intimidation was involved at all.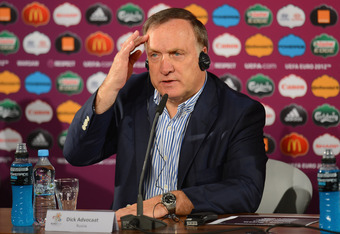 Handout/Getty Images
Not surprisingly, the announcement was met with skepticism in Russia. Vyacheslav Koloskov, a former FIFA vice president and Russian FA chief, pointed to the fact that only a few days ago, Fursenko had been searching for departed manager Dick Advocaat's replacement.
Advocaat hasn't escaped criticism, either. In a not-at-all tilted account, Russian television network RT reported on Fursenko's resignation thus:
Switching Russian club football to the European calendar and inviting overpaid Dick Advocaat, who couldn't achieve a result with the national squad, were the official's most criticized initiatives.
There you have it, football fans. Holland's in-fighting superstars officially no longer represent Euro 2012's most dysfunctional squad.