Portugal vs. Spain Live Stream: Xavi and Players You Won't Want to Miss
June 26, 2012

Martin Rose/Getty Images
Almost exactly two years since their last meeting in South Africa, Spain and Portugal are set to renew the rivalry of the Iberian Peninsula.
In that round of 16 match in Cape Town, David Villa was the difference for Spain as they went on to edge Portugal 1-0.
The Spanish are looking to become the first country to win two consecutive European Championships with a World Cup in between.
Meanwhile, the Portuguese, led by Cristiano Ronaldo, will hope to rid themselves of the sour taste left by a heartbreaking final loss to Greece in 2004.
The Donbass Arena is set to be rocking for this occasion, as two of Europe's heavyweights go head-to-head in a true test of their championship credentials.
A mouthwatering meeting for the neutral fan, and one that should produce some moments to savor.
With that in mind, here are a few of the players you will want to keep your eye on tomorrow.
When: Wednesday, June 27 at 2:45 p.m. ET
TV: ESPN
Live Stream: ESPN3
Xavi Hernandez
By his typically high standards, Xavi has had a relatively quiet tournament thus far in Poland and Ukraine.
No goals and no assists to show for his troubles, a statistic we have come to associate more with Fernando Torres over the years.
If Xavi is to have an impact against Portugal, he and Iniesta will need to establish control of the midfield from the outset.
If those two can keep the ball in their possession for the majority of the match (like they have done many times before), Spain should cruise to victory.
Allowing the Portuguese to get into stride early, however, could be deadly for Spanish hopes of reaching the final.
Fabio Coentrão
From his humble beginnings as the son of a fisherman, Coentrão has gone on to represent Real Madrid on some of the world's biggest footballing stages.
His performances at Euro 2012 have been impressive.
His weaving runs up the left wing have at times left defenders dumbfounded, and his combination play with Ronaldo has been nothing short of world-class.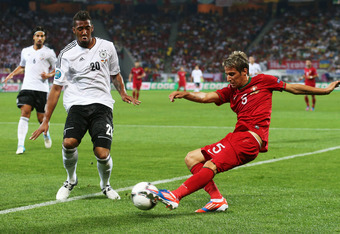 Joern Pollex/Getty Images
Tomorrow's semifinal represents a chance for Coentrão to show the world how far he has come in such a short amount of time.
Will Vicente del Bosque deploy his unusual 4-6-0 formation or revert back to a more conventional 4-5-1?
That is yet to be seen.
Regardless of whether Fabregas starts at the point of the 4-6-0 or comes off the bench in the 4-5-1, he will surely have a massive role to play in the match.
He has two goals so far (against Italy and Ireland) and will look to add to his tally Wednesday night.
After being on the perimeter of the national side for so many years, it seems as though Cesc has finally come into his own and solidified his importance to the team.
Raul Meireles
Another quiet performer in Poland and Ukraine until this point has been Chelsea's Raul Meireles.
He has at times found himself isolated in the center of the park and unable to get involved on the offensive side of things.
He will likely be doing a lot of defending against a Spanish side that is so heavily focused on possession.
A goal on the fast break, like this one against Benfica in the Champions League, may be his best chance to score.