UFC 148: Why a Fired Up Anderson Silva Will Be a Huge Problem for Chael Sonnen
June 26, 2012

Ever hear the phrase "don't poke the bear?"  Well in Chael Sonnen's case, maybe it should be changed to "don't piss off the Spider."
At yesterday's UFC 148 media conference call, an amped-up Anderson Silva finally unleashed his anger (via MMA Weekly) against his outspoken nemesis in a vitriolic tirade that no one on the call could have expected.
The usually soft-spoken and respectful middleweight champ fired back at Sonnen's years of bashing, calling him a criminal and saying through his interpreter and manager Ed Soares that the top contender has no business being in the UFC.  Silva went on to say:
"No more sh** talking from him.  Chael Sonnen's going to get his ass kicked like he's never gotten his ass kicked before.  What I'm going to do inside the Octagon is something that's going to change the image of the sport, I'm sorry.  I'm going to beat his ass like he's never been beaten before.  This is going to be violent and I am sorry.  I'm going to make sure that every one of his teeth are broken, that his arms are broken and his legs are broken.  He's not going to be able to walk out of the Octagon by himself.  I can guarantee that.  He will need a plastic surgeon afterwards."
While Sonnen claims he's not worried about Silva's "amateur" level skills, after this emotional outburst, the Oregon native definitely should be.  The pound-for-pound king has historically been at his best when his heart is in the fight, and if this call is any indication, we may just see the best Anderson Silva to date. 
Let's face it, throughout his career, Silva has basically had an easy time dispatching his opponents, even against highly ranked former MMA champs such as Dan Henderson and Forrest Griffin.  
It's not that "the Spider" has faced terrible competition, but his skills are just on a higher level than almost every other fighter in the sport.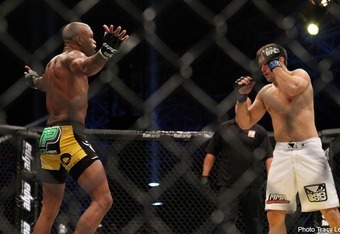 Because of this disparity, it is understandable that the reigning middleweight title holder would be unmotivated when forced to face the likes of a Demian Maia or a Thales Leites.  Matchups like these just don't excite Silva and bring out his inner clown.
But when the champ feels he has been disrespected, the true Anderson Silva is unleashed.  Sonnen's biggest mistake was stoking the flames of Silva's warrior spirit, forcing "the Spider" to react in the only way he knows how—violently.  
One of the best examples of this from Silva's past came during his bout with Vitor Belfort at UFC 126.
Silva and Belfort have a well documented history together, first as friends during their old training days.  This amicable relationship, however, turned sour when "the Phenom" dared to challenge the champ for his belt.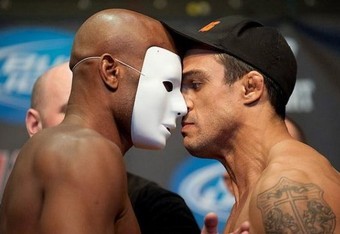 MMAFighting.com's Mike Chiapetta wrote a fantastic article last year detailing their feud leading into UFC 126.  In the piece, Chiapetta says that Silva felt betrayed by Belfort's willingness to fight him, considering that the middleweight king had dropped everything to comfort his former friend after the tragedy surrounding his sister's disappearance and death.
Fernando Kallas, the UFC's Brazilian play-by-play announcer, stated in the story that Silva took things very personally and was more than motivated to take Belfort on.
"Anderson works like Chute Boxe," Kallas said.  "He needs to feel excited for the fight.  He needs to have an enemy.  Anderson feels betrayed.  He helped [Vitor] out and he was surprised that Vitor would fight him."
Kallas went on to say that Silva was so fired up for the bout that the champ told him, "If I have the opportunity, I'm going to hurt Vitor.  I'm going to hurt him really bad."
And, as we all know, that anger with Belfort culminated in a brutal first-round front-kick knockout, a devastating finish that had never been seen inside the Octagon before.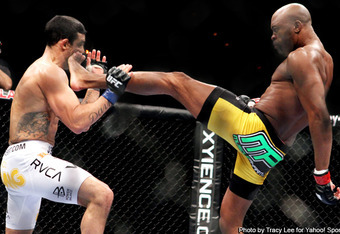 When Silva says he'll change the image of the sport when he dismantles Sonnen at UFC 148, I honestly think it will happen.
Since 2010, Sonnen has done everything in his power to provoke Silva and, in the process, made things very personal.  If it was just the usual smack talk fighters throw around, I doubt Silva would even bat an eye, but Sonnen crossed the line by bashing Silva's family, friends and country.
Silva is sick of it.
He wants to shut Sonnen up and hand him the worst beating of his life.  Silva's otherworldly skill set and utter passion to put on the best performance of his life is a scary combination that should have no other outcome than a devastating finish.
Like Bruce Banner from The Incredible Hulk, you won't like Anderson Silva when he's angry.
Be sure to like me on Facebook or follow @MattJuulMMA.