Inter Milan Transfers: Give Beñat a Chance at the San Siro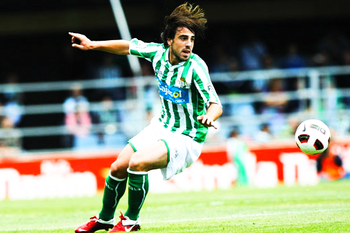 Photo via calculapuntoscomunio.com
Rather than sign Gaby Mudingayi, Inter Milan should give Beñat a chance. He'll win over the Nerazzurri faithful just like he did the Béticos supporters.
Don't discount Beñat because he plays for Real Betis. Look at AC Milan, who took a calculated risk on Portsmouth's Kevin-Prince Boateng.
5. Beñat Is a Midfield Maestro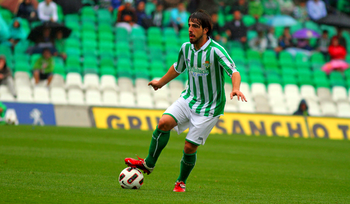 Photo via realbetisbalompie.es
Beñat is Real Betis' answer to Riccardo Montolivo.
The Spaniard masterminds Betis' attacks, he orchestrates the tempo of how the team plays, and his football IQ is as high as Esteban Cambiasso's.
4. Inter Milan's Midfield Lacks Incisive Passing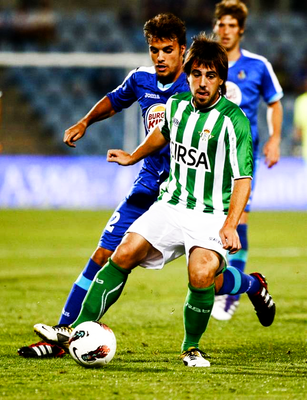 Photo via fotos.lainformacion.com
Beñat's creativity will help Inter Milan because threading incisive passes is second nature to him.
Esteban Cambiasso and Javier Zanetti do so much more than just create shots, which is why Inter needs Beñat.
If Dejan Stanković stays at the club, he should only be a squad player because he's in decline.
Signing Fredy Guarín for €11 million is bizarre because he isn't a prolific ball-winner, nor is he a deep-lying playmaker.
| | |
| --- | --- |
| League Only* | Shots Created Per Game |
| Beñat | 1.5 |
| Cambiasso | 1.2 |
| Zanetti | 1 |
| Stanković | 0.9 |
* Prerequisite: played 15 league games or more in centre midfield. Guarín only played six.
3. Beñat More Than Just a Playmaker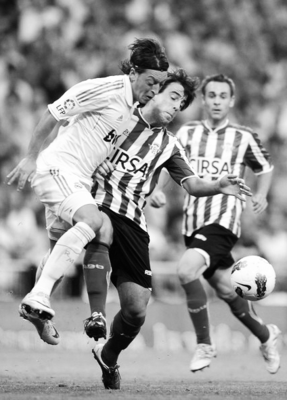 Denis Doyle/Getty Images Europe
What makes Beñat an attractive transfer prospect is that he's an all-round midfielder.
He's not like Javi Fuego, who offers nothing from an attacking perspective. Yet at the same time, Beñat isn't a defensive liability like Shinji Kagawa.
In a 2-2 draw against Barcelona, Beñat completed three tackles and intercepted four passes. He made five tackles in a 3-2 loss to Real Madrid, and four tackles and four interceptions in a 2-1 win over Valencia.
These are the top three teams in La Liga and Beñat did not shy away.
| | |
| --- | --- |
| League Only* | Possession Won Back Per Game |
| Esteban Cambiasso | 5.4 |
| Beñat | 4.7 |
| Javier Zanetti | 4.2 |
| Dejan Stanković | 3 |
* Prerequisite: played 15 league games or more in centre midfield. Fredy Guarín only played six.
2. Beñat's Potential
Yes, Beñat wasn't selected for Euro 2012, but look at it from a glass-half-full perspective—he plays for Real Betis yet managed to start a friendly for Spain.
In a 4-1 win over South Korea, he gave Kim Do-Heon and Koo Ja-Cheol a footballing lesson.
Beñat also conjured up some fantastic passes, including a world-class cross for Fernando Torres to score.
If Beñat is given an extended run as a starter whilst being surrounded by quality players, he'll become an elite midfielder.
1. Fitting Beñat into Inter Milan's Starting XI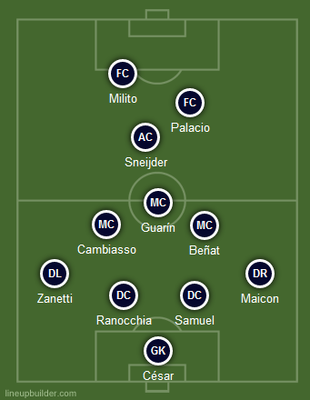 Photo via lineupbuilder.com
There are so many problems with this current Inter Milan starting XI.
Andrea Ranocchia was dreadful last season, and he switches off at the most inopportune moments. Matías Silvestre would be a decent upgrade, but Davide Astori is the most logical transfer target.
Maicon needs to be sold because he is overpaid and over the hill. Mathieu Debuchy is the obvious replacement, but he seems headed to the Premier League.
Javier Zanetti does a better job at left-back than Yuto Nagatomo, who has a habit of getting caught out of position.
Fredy Guarín needs to justify his €11 million with a dominant season.
Andrea Stramaccioni would have a combative and formidable midfield triangle of Beñat, Guarín and Esteban Cambiasso.
Wesley Sneijder needs to stay fit; if he doesn't, then Ricardo Álvarez needs to be more consistent.
What about Philippe Coutinho? If Inter don't plan to start him from day one, they should sell the Brazilian, whose stock is high after some dazzling performances for Espanyol.
Please read Top 14 Major Summer Transfers
Statistics courtesy of WhoScored.com
Spare a thought for Beñat's teammate Miki Roqué, who lost his life to pelvic cancer at the age of 23.
Keep Reading

Inter Milan: Like this team?