Arizona State Football: Ranking 4 Must-Win Games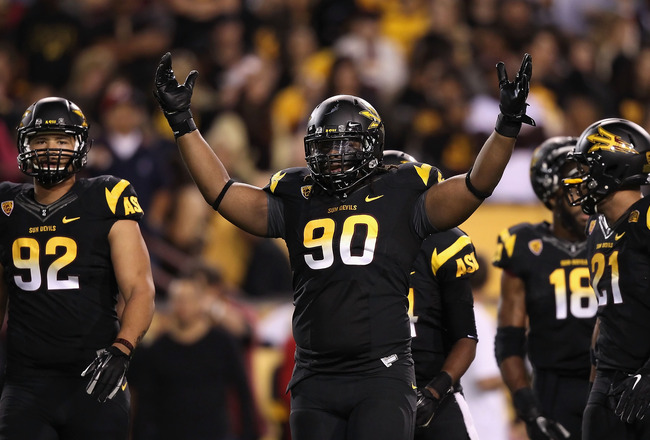 Christian Petersen/Getty Images
What will it take for the Arizona State Sun Devils to return to the glory days of 1996? During that season Bruce Snyder, Jake Plummer and crew earned a spot in the Rose Bowl, nearly knocking off the Ohio State Buckeyes.
For starters the Sun Devils will need to win these four games, starting with an out-of-conference tilt on September 8.
No. 4: Illinois, September 8th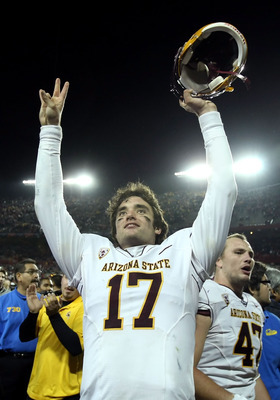 Christian Petersen/Getty Images
Illinois handed the Sun Devils their first loss of the season last year and you know ASU would love to get revenge in their first meaningful out-of-conference game of the season (granted they do play Northern Arizona in their first game, but if they lose that, this whole list is moot).
The fighting Illini are coming off a 2011 campaign similar to that of the Sun Devils. Both teams had hot starts that finished like the pop of a wet firecracker.
It was a toss up as to whether this game or the Missouri game meant more to the Sun Devils, but I had to go with this game for the revenge factor.
ASU needs to win two out of their three out-of-conference games if they want to be relevant this season, and this game is the most winnable.
No. 3: UCLA, October 27th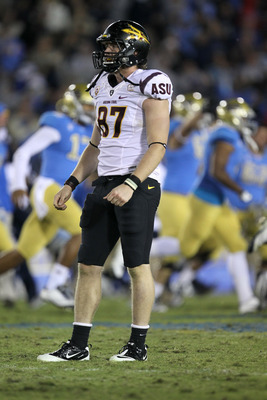 Stephen Dunn/Getty Images
This game last season was the one that started the Sun Devils' long and painful downward slide to end the season.
When ASU lost this game last year they were ranked No.19 in the nation and in control of the Pac-12 South. UCLA beat them when the Sun Devils missed a last second field attempt and went on to take control of, and win, the division.
USC is far and away the clear favorite to win the Pac-12 South this season, but if ASU wants to be in the hunt, they need to beat UCLA.
The Bruins, too, are in a rebuilding year and this is a very winnable game for the Sun Devils but, if they lose it, they can kiss their bowl dreams goodbye.
No. 2: At California, September 29th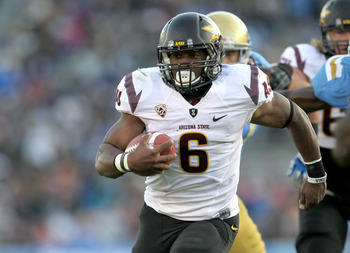 Stephen Dunn/Getty Images
Besides when they play at USC in November, this will be the Sun Devils' hardest conference road game this season.
Cal is going to be sneaky good this season and may very well end up as high second in the Pac-12 North (depending on the play of Zach Maynard).
This win would be huge for ASU. The Sun Devils aren't going to beat USC or Oregon this season, and it's highly unlikely they'll beat Mizzou in Columbia, but they can pull off this win.
Beating the Golden Bears at the end of September would be huge for ASU's momentum getting into the thick of the season.
No. 1: At Arizona, November 23rd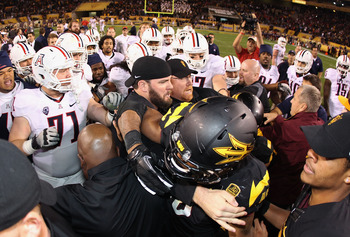 Christian Petersen/Getty Images
When a team is in the midst of a rebuilding season and expectations are low, there isn't much to look forward to...except for rivalry games.
ASU fans know that this season won't be stellar, but even if they lose every game, they know they can find solace in beating the Wildcats.
Last year, U of A outscored the Sun Devils 14-3 in the fourth quarter to hand the Sun Devils their third straight loss. ASU hopes, and desperately needs, this year to be different.
Like I said before, I don't think the Sun Devils will have a good year, but they can ease a lot of pain with a win against their rivals from Tucson.
Keep Reading

Arizona State Football: Like this team?