Anderson Silva: Why Chael Sonnen Will Be His Last Opponent in the UFC
June 26, 2012

The conclusion of the Anderson Silva and Chael Sonnen rivalry will likely close the curtain on perhaps the greatest career in MMA history.
Depending on the outcome, UFC 148 could be the last time "The Spider" steps foot in the Octagon.
At 37 years of age, Silva has achieved more than any fighter in UFC history. He is the reigning middleweight champion and top pound-for-pound fighter in the world.
Unfortunately, Father Time is always at the door knocking, and Silva will soon have no choice but to answer.
In December 2011, UFC President Dana White pondered whether Silva would be done after a couple of more title defenses.
"He's probably the greatest fighter in history," White said in an interview with AFLA. "I think he has two more title defenses and [don't] know what's next, if he will retire."
White continues:
Age is [expletive] man. It's the only thing you cannot cheat. The fighters who become champions never finish their careers at that height. Anderson may have the ability to do this. The problem is that you never know when time will end for you. You are king of the world, get in there one day is half a second slower than before, and only you will know right away.
Silva has already been dealing with persistent, nagging injuries. Last November, he was diagnosed with bursitis in his shoulder, which has kept him sidelined for nearly a year.
Ed Soares, Silva's manager, even admitted Silva's retirement could be sooner than people think.
"We should recognize that Anderson has around four fights left in his career," Soares told SporTV back in October 2011. "Sonnen would make a big fight, as would Dan Henderson and Georges St-Pierre."
Silva's bout against Sonnen won't just be the biggest of his career, but it is already being billed by some as the biggest fight in UFC history.
What better way to end a career than successfully defending the UFC title against your biggest nemesis in arguably the most anticipated fight of all time?
After Sonnen, the only thing left for Silva is a bunch of rematches. Sure, there will always be new contenders.
Hector Lombard, Alan Belcher, Mark Munoz and Michael Bisping top off the newest batch of contenders at 185 pounds, but are these bouts truly worth Silva sticking around a little longer?
There has been talk about a super fight with welterweight champ Georges St-Pierre, but the chances of such a bout coming together seems astronomical, considering St-Pierre's knee injury and the continued growth of the 170-pound division.
Outside of questions pushed his way from fans and media, St-Pierre has never expressed any real interest in moving up in weight.
There is also the notion that Silva will one day jump up to the light heavyweight division and challenge UFC champion Jon "Bones" Jones, an idea that was quickly debunked in Silva's February interview with UOL Esportes.
I don't plan on moving up in weight anymore. [Jon Jones] is in a different weight [class]. I train with bigger guys, such as Lyoto Machida and Big Nog and I know how complicated it is. Every time I see Jones, I tell him to keep focus, because if he does that, there's no opponent for him. He's better than everyone. He'd have a lot of advantages [over me]. He's much younger and it wouldn't be something interesting [for me].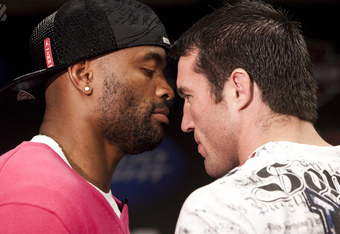 If Sonnen wins, there is reason to believe Silva would seek out an immediate rematch. There is just too much animosity and money to be made to pass on a potential rubber match.
Fans should really soak up and appreciate every moment heading into UFC 148. Silva is a once in a lifetime talent who will be talked about for generations to come.
As with all great things, they must come to an end at some point or another.
At UFC 148, "The Spider" prepares to spin his final web.