Ray Allen: Can the Boston Celtics Afford to Keep Veteran Sharpshooter?
June 26, 2012

Jared Wickerham/Getty Images
If "will Kevin Garnett retire?" is the million dollar question in Boston right now, then "will Ray Allen stay?" has to be the $999,999 question. This is something I have personally tousled about my brain for the better part of the last two weeks.
Is he worth the money? Will his ankles continue to fail him? Will he accept a bench role for the whole season? All these questions, and more, point to one all-inclusive inquiry: Can the Boston Celtics afford to keep Ray Allen?
The instinctive response is yes, of course they can afford him. With the obscene amount of cap room the Celtics have this summer, there isn't a player on the market they cannot afford.
However, the word afford, at least in this situation, takes on more than a monetary value. It isn't that they have insubstantial funds to offer him. It is that the franchise, in its current state and where they plan on going, cannot afford to make Allen a part of their plans.
Part of this is caused by the Avery Bradley situation. Bradley stormed the NBA this season with his outrageous defensive intensity and quickness. He surely made few friends among guards across the league, but what he lost out on there he gained in admiration from fans and analysts. 
Bradley plays Allen's 2-guard position and started to come on both defensively and offensively when Allen's body started failing him. Taking the soon-to-be 37-year-old back would mean giving him a fair share of Bradley's minutes.
This hurts Boston two-fold. It takes time away from the dynamic Bradley-Rajon Rondo tandem of youth and speed, but it also could serve as a knock to the confidence of the 21-year-old Bradley.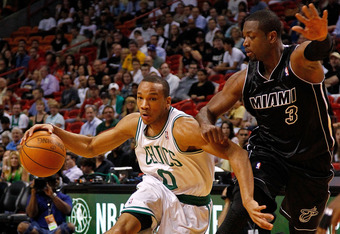 Mike Ehrmann/Getty Images
Before his injury, Bradley improved to the point of making Allen expendable. Bradley shot just under 50 percent from the field and connected on 40 percent from behind the arc. He showed brilliant chemistry with both Rondo and Garnett on his off-ball slashes to the hoop. He provided multiple things that Allen could not.
Starting with his breakout performance on March 25 against Washington, in which he scored 23 points on 9-of-14 shooting, Boston went on a 14-5 run to finish the regular season. Bradley scored in double digits in 13 of those 19 final games. It is not as if without Allen, the Celtics will starve offensively. They will need to go out and sign other talented young players to build their future teams. 
Since Allen is already showing mutual interest in teams around the league, we know that he will probably not be returning to Boston for something as low as the mid-level exception or the veteran's minimum. Both of those offers would be considerably lower than the $10 million he made last season.
If teams are making a serious play at Allen, how much is he worth to them? There are going to be teams enamored with the three-point potential who will throw bigger money at him.
No one will know his worth better than the Celtics, though. They have lived with him for more than a few years now and experienced his abilities and faults firsthand. They know about his ankles better than any poaching team out there.
For us and for the rest of the league, what Allen still has left in the tank remains to be seen. One can safely assume he will be able to knock down three-pointers better than 75 percent of the players in the league.
He will take things off the table on the other end, though. He will also need a very good distributor running the show, a la Rondo. Allen can no longer work for his own shot, and thus disappears for long stretches when he can't get an open look off of a pick.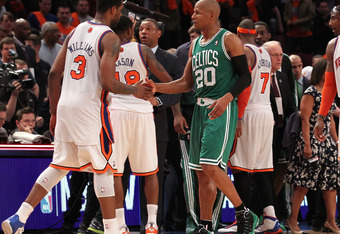 Nick Laham/Getty Images
What this team did last season was admirable. What Allen did last season was admirable and as inspiring as anything I have ever seen in basketball. He has earned this franchise's respect, and there may be nothing more respectful than letting him go. 
Forcing him into accepting a bigger money offer to play in Boston, making him accept a check that he himself knows he can no longer live up to, would be disrespectful. As is sitting him on the bench while a kid almost young enough to be his son takes his spot. Allen is not a bull-headed player, but he is a prideful man. Nobody takes more pride in their abilities or respects their gifts more than he. 
Boston needs to experience a powerful youth movement, though. They have the elite point guard to build around and two first-round choices in a deep draft. Keeping Allen around is hanging on to the past when they need to look to the future.
Is that something Boston can afford? Can they afford to offer Allen multiple years when there are young and athletic free agents available or on the horizon next summer? Those players would salivate at the chance to run a fast break with Rondo. With names like Nicolas Batum and O.J. Mayo in 2012 and Josh Smith in 2013 hitting the market, it may make sense to cut ties with Allen now and maintain the cap space.
The major issue is that no one truly knows what he has left in the tank. How much additional damage did playing on those ankles do in the playoffs? These teams, most recently Miami and New York, may be bidding on the shiny name of Ray Allen. They may be able afford to take the chance on him. Boston, honestly can no longer afford to take that chance. They cannot afford Ray Allen.