WWE Raw Reaction: Recapping and Grading Latest Episode (6/25)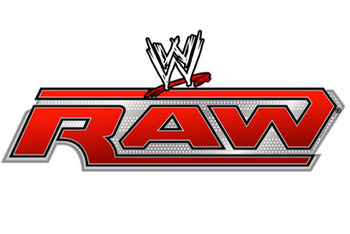 fanpop.com
Tonight's WWE Raw is a follow-up to the post-No Way Out episode we saw last week. Unfortunately for last week, the show was not very good.
With Vickie Guerrero as general manager this week, will the show recover from the lackluster one we saw last week? Let's recap and grade the action from tonight.
Opening to the Show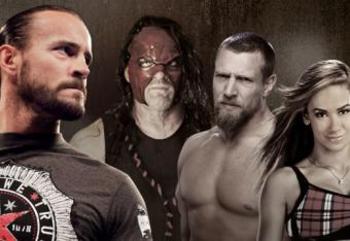 bleacherreport.com
I could have definitely done without the opener, even though it definitely showcases how nuts AJ is. She is perfect in this role, but would definitely like to see her compete in the ring once in a while.
We got the announcement of Vickie Guerrero as general manager, which we already knew. She announced the first match of the night, which was between Daniel Bryan, Kane and CM Punk.
Wow, we haven't seen this match very much lately. In my opinion, not the greatest way to start the show.
It was a good match, but I got to say, I am sick of seeing these guys wrestle every week. Give them other opponents to build themselves up, while keeping the feud alive with interference and what not.
This grade suffers due to frequency, although Daniel Bryan surprised me and won.
Grade: B-
We then had a quick segment where we found out Alberto Del Rio is facing Dolph Ziggler for No. 1 contendership. That should be a great match.
Brodus Clay vs. Big Show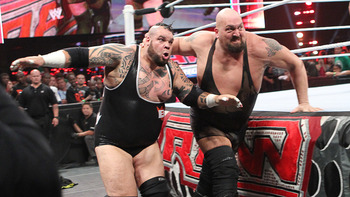 wwe.com
Wow, Brodus Clay lost cleanly. So much for his push, I think?
Anyways, it was a slow match, but was anything else expected? It had some implications, as it exploited Brodus Clay's knee.
Overall, it was a filler match that did its job.
Grade: C-
Raw 1000 Promo and Worthless Dribble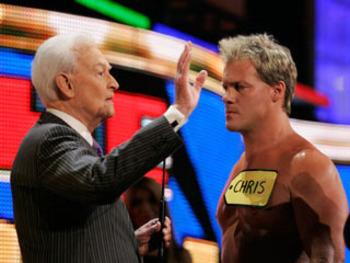 guysnation.com
There was a Raw 1000 promo, which showed Bob Barker's guest hosting a few years back. That was a nice flashback, as that was a solid episode.
We then saw that Big Show knocked out Brodus Clay with a "vicious" knockout punch (yes, sarcasm). Then, another recap of the Triple H, Brock Lesnar and Paul Heyman was shown.
This is a problem with the WWE these days, too many recaps, commercials and worthless promos.
We then got AJ and Kane talking backstage. He said even he thinks she's mentally unstable. That had some redeeming qualities.
Grade: F
Jack Swagger vs. Santino Marella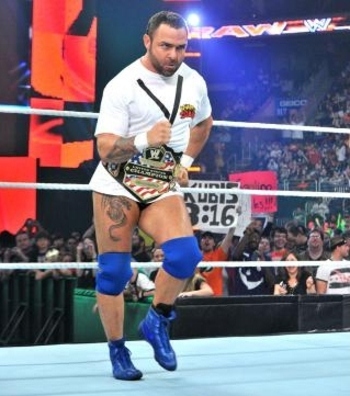 wrestlingvalley.org
Wow, Santino put the United States title on the line. The first time since April. What happened to the 30-day defend rule?
Anyways, it was actually a pretty solid match. It's good to see a non-comedy match for Santino, as he has some wrestling ability.
Santino got the win, which finally puts some credit back on the belt. Poor Swagger, the guy hasn't won on TV in God knows how long.
Grade: B
It looks like John Cena and Zack Ryder are back on the same page. Wait, did I just say Zack Ryder was on Raw?
Nice.
John Cena Announcement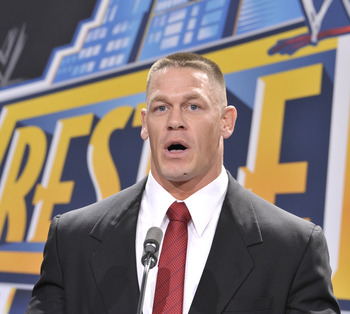 Michael N. Todaro/Getty Images
John Cena came out to announce what he tweeted earlier today about his "historic announcement." His Star Wars references were kind of weird.
I am very surprised that Chris Jericho made his return during this segment. We found out that John Cena will be in the Money in the Bank ladder match, which may be good in terms of letting the WWE title match be the main event (maybe).
Chris Jericho's promo cutting has been sorely missed. He is actually one of the few people I like on the mic.
We also found out that Jericho will be entering the Money in the Bank ladder match, which is great to hear. Vickie Guerrero interrupted saying there will be two matches for the WWE Championship and World Heavyweight Championship.
Only former WWE Champions can participate in the WWE Championship ladder match. We found out that Kane, Big Show, Chris Jericho and John Cena will all be in that match.
We then found out that Chris Jericho and John Cena will main event the show. All in all, it took a little too long, but a lot of important things got done.
Grade: A
Heath Slater vs. Sycho Sid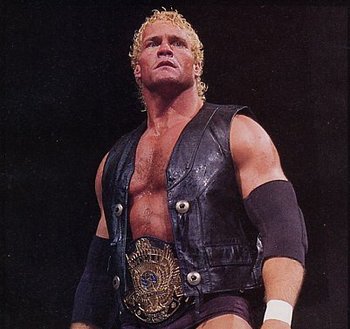 notinhalloffame.com
Heath Slater is out, so you know a Raw legend is coming out to beat him.
I got to say Sycho Sid was the last guy I expected to walk out. As expected, Sid walked right through "The One Man Southern Rock Band." It was nice to hear a "Sycho Sid" chant from the crowd, as I thought nobody would know who he was.
The surprise factor itself earns a good grade.
Grade: B+
Dolph Ziggler vs. Alberto Del Rio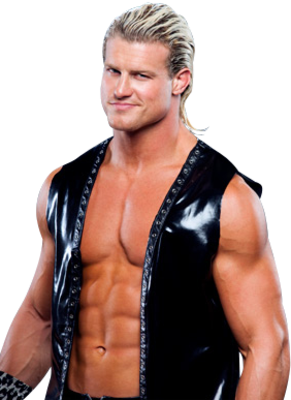 ringsidenews.com
A contract on a pole match? Did Vince Russo have input on this match?
In all seriousness, I was excited to watch this match, as both Del Rio and Ziggler should both be in the main event scene.
The pole matches never allow for great momentum to take place, but there were some nice spots. The scramble for the contract was interesting as well, which led to some tense excitement.
Even better, there was no winner. They both earned a triple threat match against Sheamus on SmackDown. That should be a good one.
This pole match was well-executed. Take notes Russo.
Grade: B+
We then found out that Money in the Bank will have Daniel Bryan and CM Punk will wrestle for the WWE Championship. It's good to see them go one-on-one.
Women's Battle Royale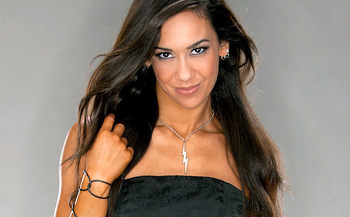 fanpop.com
Jerry Lawler getting all giddy definitely is a flashback to a time when Lawler was amazing to listen to. Vickie entering the match definitely made it funnier.
It was quick, but it was nice to see all the divas out there (was definitely disappointed not to see Kelly Kelly). AJ got the win and paid homage to Daniel Bryan by shouting, "Yes."
An obvious filler for the main event.
Grade: C
John Cena vs. Chris Jericho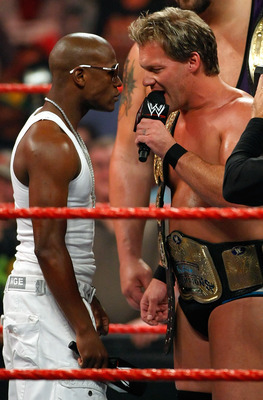 Ethan Miller/Getty Images
The main event came and I have to say, I was excited to watch Jericho get back to work in the ring. In my eyes though, I thought that he was going to lose to Cena.
Some decent action throughout, until the Big Show came out and got Jericho disqualified. This could make for some nice heat going into the Money in the Bank ladder match.
The show ended with Big Show chokeslamming Cena and put him in the Colossal Clutch to end the show.
Grade: B
Conclusion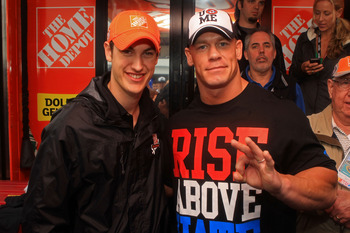 Matthew Stockman/Getty Images
It was a show that got better as it went along, in my opinion. For fans looking to criticize the episode, there is no Ryback squash to cry about. There was no John Laurinaitis, which definitely made the show better.
All in all, I thought the show was pretty decent. Not the best show ever, but it definitely was better than last week. We're on the road to episode 1000, and I got to say I am looking forward to the coming weeks.
Overall Grade: B-
Keep Reading