Olympic Swimming Trials 2012: Don't Be Fooled, Michael Phelps Has More in Tank
June 26, 2012

Al Bello/Getty Images
A simple regurgitation of the rote outcome does not capture the entirety of what happened Monday during the men's 400-meter individual medley final at U.S. Olympic Trials.
Yes, Ryan Lochte beat Michael Phelps with relative ease and seemed to strike a first blow in what will surely be one of Omaha's biggest storylines.
But let's be clear: We have not yet seen the best of Phelps—not in this race and not this year.
Although I will admit, it's tempting to assume that Lochte has Phelps figured out.
After all, Lochte bested Phelps in an event where Phelps still holds the world record. And he made it look easy, putting Phelps away during the breaststroke leg and coasting to a comfortable finish.
Lochte had never beaten Phelps in this event before Monday, but by the end of his effortless triumph it was almost impossible to imagine things any other way.
Devoid of context, everything about the race itself screamed, "Ryan Lochte is a better swimmer than Michael Phelps."
But there was a moment outside the water—on the pool deck, to be precise—that has me thinking otherwise.
In the post-race interview, NBC's Andrea Kremer asked Phelps if he would contest the 400 IM in London. There was some initial speculation the Phelps would withdraw from the event after testing his body and gauging his rival.
Phelps' answer was direct and unequivocal.
"Yes."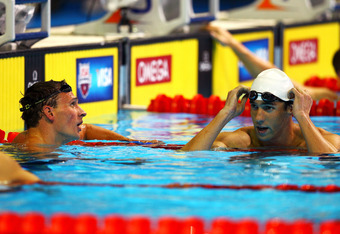 Al Bello/Getty Images
Phelps was so quick and emphatic in his response, Kremer barely had time to finish the question. His body and ego still smarting from the just-finished duel, Phelps wanted Kramer, and the swimming world, to know that he can win this race come late July.
If he had any doubts to the contrary, Phelps wouldn't have responded with such force.
Or to put it another way:  If Michael Phelps didn't think he could beat Ryan Lochte in the 400 IM, he wouldn't race him.
Because if we know anything about the Phelpsian psyche, it's that the man craves victory. All swimmers hate losing, but Phelps' drive to prevail rests on a higher physiological plane of pseudo-dependency—like MJ or Kobe or Richard Nixon.
Phelps only races what he thinks he can win—and he so clearly thinks he can beat Lochte in this race.
That monosyllabic retort confirmed that Phelps has speed in reserve—and plenty of it, enough to account for whatever Lochte chose to conceal in this initial head-to-head battle.
Or at least the retort confirmed that Phelps thinks he has speed in reserve.
From there, it's on us to decide if we believe him.
And on that front, 14 gold medals tells me all I need to know.