West Virginia Football: How Dana Holgorsen Can Become Top Coach in Big 12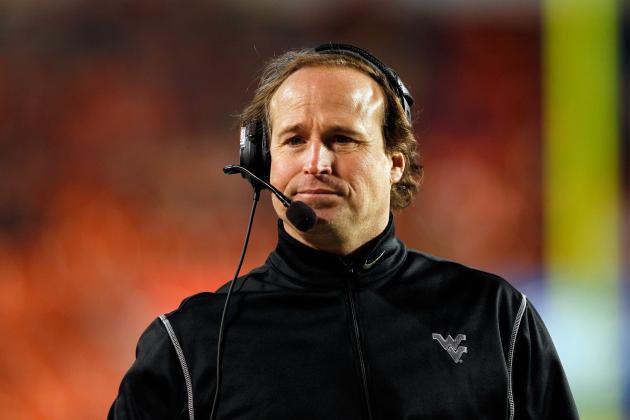 Mike Ehrmann/Getty Images

In his first year as a head coach, Dana Holgorsen lead his West Virginia Mountaineers to a 10-3 record and a win in the Orange Bowl. The Mountaineers had a top flight offense, lead by Geno Smith, who has returned for his senior year. Holgorsen had one of the best first years in recent memory, but things aren't going to be easy in his second year.
The Mountaineers have moved to the Big 12, where Holgorsen was an assistant coach for a total of eight years between Texas Tech and Oklahoma State. The competition is going to be stiffer, and travel is going to go up.
Yet Holgorsen has a chance to become one of the best coaches in the conference. He popularity after one year is high, and he has experience in the Big 12 world.
Holgorsen was by far the top coach last year in the Big East, yet there are some things that he must do if he wants to become the top coach in the Big 12.
Here are five of them.
Begin Slideshow

»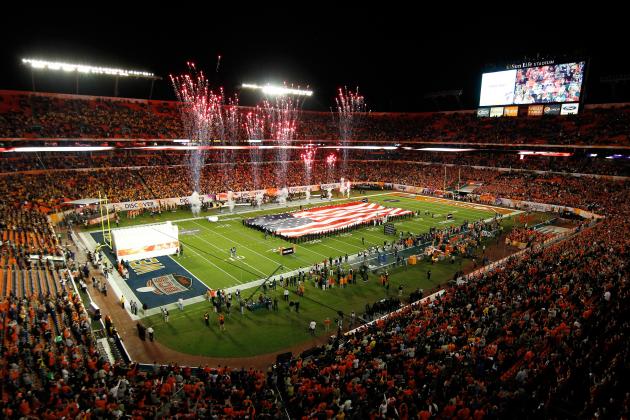 J. Meric/Getty Images

One of the biggest differences between playing in the Big East and the Big 12 is going to be the travel time and distance. Not to mention the fact that the constant changing of time zones and game times messes with preparation. Just ask the San Francisco 49ers, Oakland Raiders and Seattle Seahawks about that.
Now granted, the Mountaineers aren't traveling coast to coast, but it is a large increase in distance. Coach Holgorsen and his team should be fine during their home games as Oklahoma, TCU, Kansas and Kansas State will all have to deal with the time change themselves this year.
Where Holgorsen is going to make his mark is by winning the road games.
This year, West Virginia will play on the road against Texas, Texas Tech, Oklahoma State and Iowa State this year. All of those schools will have much bigger football atmospheres than any of the schools in the Big East. If Holgorsen and the Mountaineers can win those games, he will earn the respect of his team, the Big 12 and the nation.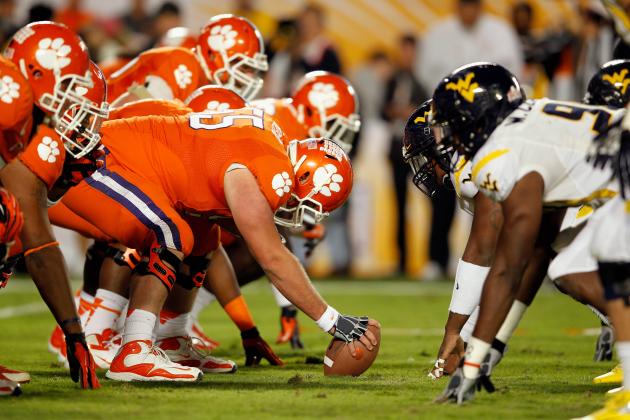 Streeter Lecka/Getty Images

West Virginia's defense was ranked 25th in the nation in sacks with 31, which would have been good enough for third best in the Big 12.
The Mountaineers were 31st in the nation in interceptions with 14, which would have put them in fourth in the Big 12. The Mountaineers gave up 26.8 points per game, which was good enough to finish ranked 61st in the nation.
All of this was against Big East opponents, and let's be honest, the Big East is no Big 12. Last season, the Big 12 had four of the top 10 passing offenses in the country. The Big East only had one in the top 50, and that was West Virginia.
The Mountaineers must now be prepared to deal with much better quarterbacks like Oklahoma's Landry Jones and Texas Tech's Seth Doege. Holgorsen will have to have his defense playing at a very high level if he wants them to stand up to the Big 12 offenses.
Holgorsen helped create one of the nation's top offenses when he was an assistant coach at Texas Tech. He knows the kind of talent his team is going to be facing, and he has seen what has worked against it. If Hogorsen can find a way to get his defense to kick it up a notch against the Big 12, he'll be well on his way to being the best coach in the conference.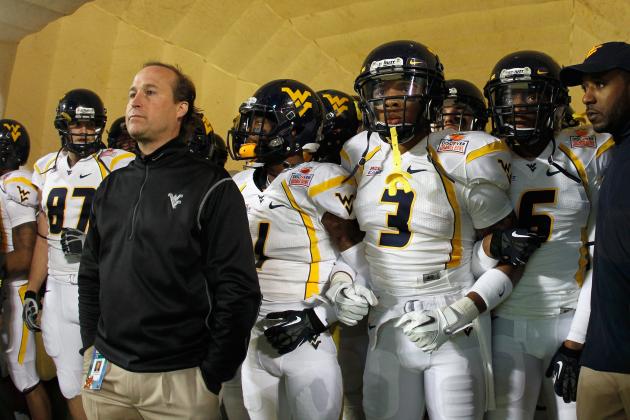 Mike Ehrmann/Getty Images

Unlike the last two points, recruiting is a much more long-term process, although it will help West Virginia bolster its defense and win on the road.
Recruiting has become a huge part of college football. Some of that is for good reasons, and some not so good. With that being said, it is important for all of the teams switching conferences to be able to use their new position to help them in recruiting.
The Big 12 is a better football conference than the Big East, and more players will want to play in the Big 12. This opens up a new level of recruiting for Holgorsen, and it is a point he can use when recruiting players—especially on the east coast.
Holgorsen and West Virginia have done a good job of recruiting the local talent from Maryland, Virginia and West Virginia to their program. They should have, as they have arguably the best team in the area for a number of years (along with Virginia Tech).
But now Hogorsen will have his team exposed in the Midwest, and playing against big name teams. This opens up a whole new area of recruiting and adds to the talent West Virginia will be able to get.
Holgorsen is young, and he has the ability to relate to players. If he uses his talents and strengths to his advantage, he will have no problem recruiting the best players to West Virginia.
That will make him the top coach in the conference.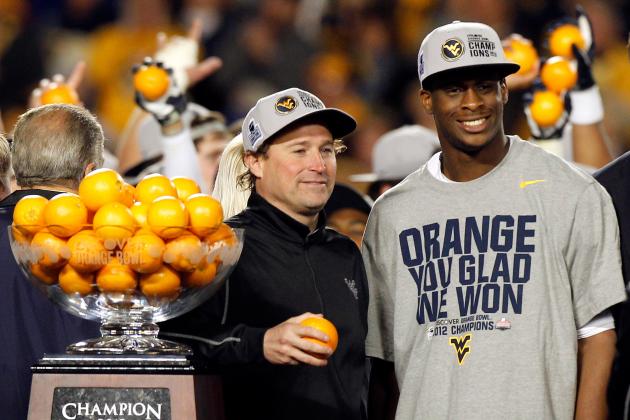 J. Meric/Getty Images

This might sound strange, but Dana Holgorsen is one of the coolest coaches in college football. An example is the fact that he went skydiving to celebrate his being hired as the head coach last year.
There are very few other coaches who would want to do that.
Holgorsen and the new West Virginia mascot decided that instead of just playing golf at a recent fund raising event, they would shoot the famous Mountaineer musket. Although bringing a gun to a golf event is something that only happens in West Virginia, it is definitely something that only a younger coach would do.
These are just two examples of why many players will and do relate to Holgorsen. It is much easier and much more fun to play for a coach that is fun, goofy and just a little off his rocker. When players find it fun to play for a coach, they play harder for him. It will also help with recruiting, as he will be able to relate to the recruits, and they will see how much his players enjoy playing for him.
It seems pretty obvious to me that without even playing a game, Holgorsen is already the coolest coach in the Big 12. And as crazy as it sounds, that will help him in becoming the best coach in the conference.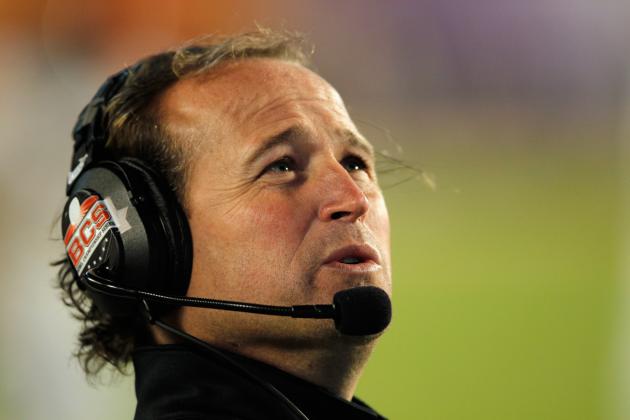 Streeter Lecka/Getty Images

Holgorsen and West Virginia are known for their spread offense. In fact, they have a pretty extreme spread offense, which has been called an air raid offense. Quarterback Geno Smith threw the ball 526 times in 13 games. He threw for 4,385 yards and 31 touchdowns. Holgorsen loves the high-flying offense.
The Mountaineers also have a running game, though. Smith is one in a long line of athletic and mobile quarterbacks, and West Virginia has produced some of the fastest running backs in a long time. This allows for the Mountaineers to have a bail out option if no one is open downfield.
The Big 12 has seen their share of spread offenses, especially Holgorsen's Texas Tech offense. But none of them have been quite like West Virginia's. It is going to be tempting for Holgorsen to change it up a little bit, as well as change up the defense.
But he won't because he knows that his style of offense is one of his biggest strengths, and if he gets the right players it will be successful against any team in any conference. Look to see how Holgorsen's spread works against the Big 12 defenses.
If it is anything like his Texas Tech days, he'll be considered by many to be the top coach in the conference before too long.