West Virginia Football: Why Tavon Austin Will Light Up the Big 12 in 2012
June 26, 2012

Streeter Lecka/Getty Images
West Virginia's immensely talented, ultra-dynamic returning and receiving superstar Tavon Austin will officially take his talents to the Big 12 Conference on July 1. My guess is it will only take about three months for the rest of the Big 12 to realize what all the hype is about surrounding the Baltimore, MD native.
In fact, I'm going to pinpoint the exact time and place where the Mountaineers' Big 12 foes will come to the realization that the kid wearing the No. 1 old gold and blue jersey can light up a football field as well as anyone in the country. On Oct. 6, 2012, coincidentally in a town called Austin, the Texas Longhorns will host the Big 12 newcomers, and WVU's Austin will make his name known all across Big 12 country—if not the entire nation.
While preparing to write this article, I considered multiple players as the one that will light up the Big 12 this season.  It wasn't easy, since the conference will lose its two most efficient passers (Griffin and Weeden), top three rushers (in per-game yardage: Ganaway, Josey, Gray) and top four receivers (Wright, Blackmon, Swope, Broyles), but will gain two BCS bowl-winning schools in TCU and WVU.
I didn't want to choose a quarterback because (with the possible exception of Kansas State's Collin Klein), they are just distributing the ball to the ones who are actually lighting it up. Klein was one of the three others I strongly considered, along with Oklahoma wide receiver Kenny Stills and Oklahoma State running back Joseph Randle. 
I also briefly considered Texas wide receiver Marquise Goodwin, simply because he just qualified (via TexasSports.com) for the 2012 US Olympic Team in the long jump.  I have to give some kudos to him, as he will be doing Texas and the Big 12 very proud in London this summer.
I seriously considered Klein, Stills and Randle, but settled on Austin.
In the end, I chose him (not just because I went to WVU), but because (among other reasons) he will be at an advantage with the opportunity to make plays on both offense and special teams.
Austin will be getting plenty of touches as an inside receiver in Dana Holgorsen's potent air raid offense, while returning both punts and kicks for the Mountaineers.
There will be only two returning 1,000-yard receivers in the Big 12, and both of them happen to play for West Virginia. Stedman Bailey went for 1,279 yards to lead all receivers who will be taking the field in the Big 12 this year, followed by Austin who went for 1,186.
Those numbers should go up for two reasons.
The first is the fact that the WVU offense returns most of its starters, and figures to be improved with 13 games under its belt, along with an entire additional off-season of practice and repetition in the system.
Second, is that West Virginia may put up even higher numbers simply through the conference transition.
On the surface, it appears as though the Big 12 will be much stronger than the Big East was.   Offensively, there is little doubt about that being the case, but the defensive numbers suggest otherwise. 
The Mountaineers will look to score an additional 10 points per conference game, as the teams in the Big East allowed an average of 25 points per game in-conference last season.  Meanwhile, the teams of the Big 12 gave up 36 points per in-conference contest on average.
Plus, WVU can also figure to throw for 34 more yards per game with the move from the Big East, where the pass defenses allowed in-conference foes to go for 233 yards through the air on average. In Big 12 play, the defenses allowed 267 passing yards per game. 
So, if West Virginia's passing numbers go up as a whole, Austin's numbers will obviously go up as well.
Plus, if WVU is scoring more and allowing more points, then that means more special teams touches for Tavon in the return game. Austin is one of those unique players who, every time he touches the ball, you just have to hold your breath, because he has the ability to take it the distance long before you even need to exhale.
Kevin Weidl, a college football and NFL draft analyst with ESPN, summed his ability up nicely with this tweet:
Tavon Austin = Gamebreaker

— Kevin Weidl (@Kevin_Weidl) June 2, 2012
There is no doubt that Austin has the ability to break a game open at anytime, as he proved last year while he led the nation in all-purpose yardage. In combined receiving and returning yardage, Austin went for 2,574 yards at an average of 198 yards per game—both higher than any other player in the entire country.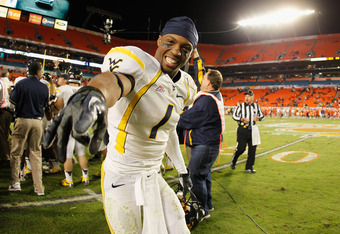 Mike Ehrmann/Getty Images
You may be surprised to find out who the next returning Big 12 player on that list is.  All the way down at No. 38 on that list is Kansas receiver/returner, D.J. Beshears, who averaged 132.25 all-purpose yards per game. Not even close to Austin's gaudy numbers—and all signs point to those numbers going up this season.
As Austin enters his senior year, I can't help but be reminded of another West Virginia star who had an excellent junior season and entered his fourth year with a heap of hype. He had his team ranked No. 8 preseason, which is likely pretty close to where Austin will have his Mountaineers ranked once the preseason polls are released.
Of course, I'm talking about one of the most admired players in WVU basketball history, Da'Sean Butler. His junior year, he went for 43 points against No. 13 Villanova—similar to Austin's 123-yard, four-touchdown performance against No. 15 Clemson in the Orange Bowl. In Butler's senior year, he won the Lowe's Senior Class Award and led West Virginia to its first-ever Big East conference basketball title, and its Final Four appearance since 1959.
Now, Mountaineer Nation is hoping Austin can do much of the same, and lead WVU to a Big 12 title in its first year in the conference, and back to the BCS promised-land.
Whether or not Austin and company will be able to duplicate the magical run made by Butler's squad in 2010 remains to be seen. But, one thing is certain: there wasn't a single player in the country who could match Austin's production last year—and no one in the Big 12 will match it next year.
Hat tip to Jay for the feedback and pointing out that I excluded Ryan Broyles above.
Tweet at me about WVU, The Big 12, College Football, and more: @apsims