Portugal vs. Spain: Why Neutrals Should Be Cheering for Portugal
June 26, 2012

Jasper Juinen/Getty Images
Because they could need all the help they can get?
No, seriously, the last few days have produced some dire football. Now the tournament is really serious; teams dare not lose.
To their credit, England did not set their stall out for a draw and penalties. (Why would they with such an abysmal record after 120 minutes?) But Roy Hodgson did make them very hard to break down, helped by Balotelli's profligacy and a few skyers as well from his teammates.
Spain vs. France...Yawn...
As for Spain vs. France, the match had me reaching for a razor. It was the alter ego of Spain's passing game, with exciting football sacrificed on the altar of pragmatism. 
At one stage, I was fast-forwarding through stretches of the match, and it looked like 20 talented primary school kids all wanting to be midfielders.
Barcelona may well have reshaped Spanish football with their tiki-taka patterns (Shankly would have called it "Get Give Move") and "false" No. 9 (i.e. Cesc Fabregas, in Spain's case), but if another passing team sets out their stall not to lose, you get...well you saw it.
Quite what Fernando Torres makes of it all, we may only find out if Spain lose, but France were abysmal. Spain were patient and got their result, while most of us wished we were watching paint dry.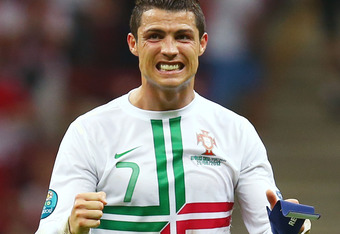 Alex Grimm/Getty Images
Czech Republic vs. Portugal
Portugal played their socks off against the Czechs, who manfully tried to stay in the game, assisted by Cristiano Ronaldo's new-found talent in woodworking.
There's not a lot of depth on the bench, and Hugo Almeida was probably surprised to get on thanks to Postiga's injury, but if he sharpens up his heading, he could rattle the Spanish a time or two.
Or Bento could start Ronaldo up top, where he should have been for the last several years.
He did his level best to score against the Czechs and played some truly marvelous football at times. 
Czech coach Michal Bilek had issued an edict to his players before the match that "Ronaldo must be stopped." Luckily for us, he couldn't be, and in the 79th minute, we were relieved as Bilek looked resigned when the Portuguese superstar finally scored.
To their credit, even after Postiga's injury, Portugal tried attacking constantly with little to fear at the other end other than Rui Patricio's sporadic uncertainty.
Nani looked like he was back to his best Manchester United form, apart from the occasional flawed judgement. Meanwhile, Veloso huffed and puffed (how could anyone seriously have believed he was a United target in the past?), but Fabio Coentrao and Pepe were verging on world class.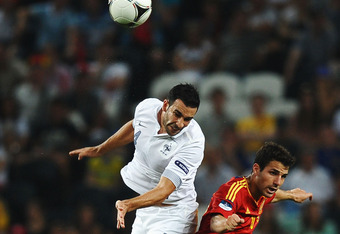 Laurence Griffiths/Getty Images
Portugal vs. Spain
So how will Del Bosque put out his team against Spain's "auld enemy" in the Iberian equivalent of England vs. Scotland?
Presumably, the team and the style will very much resemble that which was put out against Italy in their first match:
GK: Casillas
DF: Ramos, Pique, Alba, Arbeloa
MF: Xavi, Silva, Alonso, Fabregas, Iniesta, Busquets
In other words, with six midfielders and no striker. 
We have been waiting for someone to successfully break down both Barcelona and Spain with genuine attacking football. 
Italy managed to contain them with organisation and their own technical ability. Ronaldo is a different proposition.
But he is not a one-man team, even though it sometimes seems that way. He will need sterling support in defence, but he is one of three or four players with the ball skill to break through the Spanish defence. Both he and Almeida will be serious aerial threats if Portugal can somehow put together a string of free kicks and corners.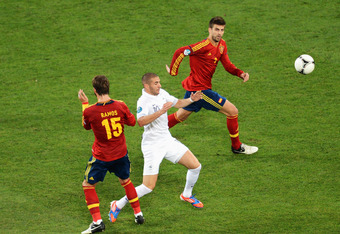 Jasper Juinen/Getty Images
Why You Should Support Portugal
It may well be that Spain will triumph, though I have my doubts whether they can beat a rampant Germany in the final.
In the meantime, it is for the good of football if Portugal can match Spain in midfield, hold their own at the back and tear into them up front.
Xavi, Iniesta and their pals are starting to show signs of weariness (indeed those were there as far back as the Chelsea defeat of Barcelona and the abdication to Real Madrid in the league).
Captain Fantastic, Ronaldo, will give his all for his country to try and win a major trophy that was promised back to the days of Carlos Queiroz and the rampant Under-21s.
Nani also looks full of energy, as he should after only half a season at United.
Yes, Spain are much stronger in midfield, but Portugal could turn out to be the counterattacking team that can finally put the sword to the Spanish defence and the largely untaxed Pique and Ramos.
So, it is hard to believe that Portugal will play a containing game. With a bit of luck, this could turn out to be one of the higher-scoring games.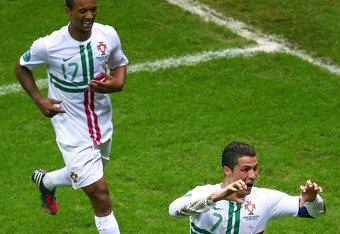 Michael Steele/Getty Images
The difference between Spain and, for example, England, is that their containing game is played in midfield, with the crowding and harrying for possession and then long passing moves, seeking an opening.
As fellow Latins, Portugal will be wise to that; several of their players play in La Liga—most notably Pepe, Coentrao and Ronaldo at Real Madrid, who at last conquered their traditional rivals.
In doing so, Ronaldo almost matched his rival Messi's exploits, with 46 goals in 38 matches (compared to 50 in 37 for Messi), although overall he was well behind on his 60, compared to Messi's 73, in all competitions.
But Ronaldo is a very different player to Messi. While he may not be able to ghost through the central defence, he is much bigger, stronger and almost unstoppable for pace, power, strength and aerial ability once he gets going. 
Maybe he will one day be recognised for the all-around striker that he really is. If he ever returns to Old Trafford, that's where he should be played, like a latter-day Cantona.
It is too easy to say that one man can't win a match on his own. Try telling Messi that after he scored four goals against Valencia and then five against Bayer Leverkusen in the space of three weeks earlier this year.
Once upon a time, there was another Ronaldo, who you don't have to be very old to remember. It is fair to say that Cristiano has already eclipsed him. The new version certainly can win a game on his own, as he showed against the Czechs.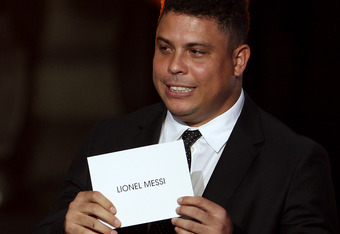 Scott Heavey/Getty Images
As his former teammate Nuno Gomez has said, "We hope Portugal get to the final and that Cristiano Ronaldo continues to beat records. By the end of his career he will have beaten all the records there are — he is really the best player in the world..."
There is no Messi playing for Spain, and Fabregas is not his equal. They will again be very organised and difficult to dispossess.
Portugal will have to work very hard, man for man, to wrest the ball back, but as the Premier League has shown, in Ronaldo and Nani, they possess two players capable of running through a defence at pace. While Spain have Ramos alongside Pique, they may miss the leadership of Carles Puyol.
Playing Attractive Football
What's your version of attractive football? It's certainly not the way Chelsea triumphed in the Champions League.
People have oohed and aahed and raved about Barcelona and Spain for a few years now, saying they play the best football they have ever seen.
Technically, it may be great, but it wasn't box-office stuff against France.
If Portugal try to play Spain's way, they will flounder. They will need to be combative in midfield, and if there are hopeful pointers, they were there in all three of Portugal's group matches.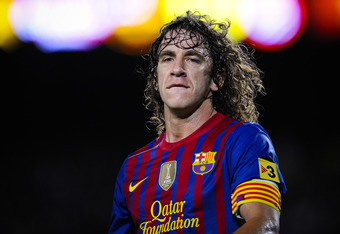 David Ramos/Getty Images
Against Germany (who they should meet again in the final, if they get past Spain), Portugal decided to "park the bus" and were only beaten 1-0 where they could have shared the points.
In the group section, they only averaged around 40 percent possession, which increased to 60 percent against the Czech Republic.
That won't be enough against Spain, but they showed that they could get a result from one of the fancied teams in the shape of Holland and brought Denmark down to earth with a bump.
Against the Dutch, Ronaldo was rated close to a perfect 10 and will have to play at that same level to get a result against Spain. Nani, Pepe and the rest will also have to produce their best form and hope Spain have an off day.
But Portugal won't progress if they try to defend for the entirety of the match against Spain. They need to show enterprise, and if they do, this will be the game to watch. The other, between Germany and Italy, could be dour.
Ronaldo's Moment
At 27, Cristiano Ronaldo is running out of opportunities to win a major tournament medal. If Portugal sense any vulnerability in their Iberian opponents, he and Nani could run rampant. 
The former United player has been at the very top of his form this season and is very different to Messi. Indeed, he could well be World Player of the Year this autumn.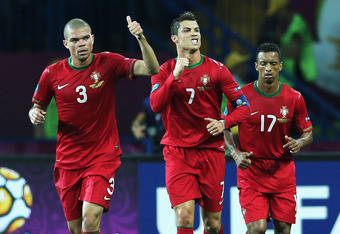 Ian Walton/Getty Images
As they always say, in the Cup, anything can happen.
The last time these two teams met in a major tournament, Spain edged it 1-0 in the 2010 World Cup. Only five months later, however, Portugal reversed this, 4-0. Let's hope for some more of the latter this week.
For the sake of football, let's hope Portugal come out to play and unsettle their border counterparts. 
We're at the closing stages of an enthralling Euro 2012 that has already produced its share of surprises. A Spain vs. Germany final should be a great contest of playing styles, but Portugal vs. Germany could be a goal-fest.
Let's hope CR and his mates can produce more exciting football and the shock of the tournament to date.
The opposite of a Germany/Portugal final could be a stultifying "bore-draw" between Spain and Italy.