Dallas Cowboys: Not Trading Felix Jones Could Be Biggest Offseason Move
June 29, 2012
The rumor mill was running rampant this offseason about a possible trade involving Felix Jones. At first glance, it seemed logical that perhaps the Cowboys were plotting the move in the hopes of landing Doug Martin or another back, while at the same time having a contingency plan due to Jones' impending 2013 free agency. Nothing came to fruition and management shot down any rumors of the trade.
Could it prove to be a smart move? Probably bigger than you think. Let's play word association here for a minute when thinking of Jones. While you can say speed, home-run ability and play-maker in one breath, you can also say injury-prone, untapped potential and underachiever in the next one.
When you consider the Cowboys could've had Rashard Mendenhall, Jamal Charles, Matt Forte or Chris Johnson, one might even label him a bust or just another classic Jerry Jones draft pick. Either way, Felix Jones has some unwritten chapters left in his career, wherever he does play.
Looking back, 2011 was supposed to be the year Felix Jones was due for a breakout season. As training camp broke, the former Arkansas running back was finally free of Marion Barber, and it was time to utilize his talents in being the featured back in Jason Garret's offense. Unfortunately, he was hampered by injury once again, allowing DeMarco Murray to emerge as the team's primary back.
DeMarco Murray will be the undisputed starter heading into the upcoming season, but having Jones on the roster is great news for Cowboy fans. Before you grumble or sigh about the latter part of that statement, there are plenty of reasons to support it.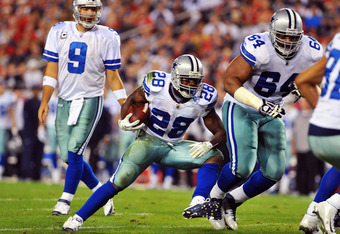 Al Messerschmidt/Getty Images
Jones is still an explosive and valuable weapon who's capable of making something out of nothing. When he's on the field, defenses need to respect that burst of speed and explosiveness he possesses or one missed tackle could mean six points for the Cowboys. If you combine his qualities with the improvements made along the offensive line along and the addition of Lawrence Vickers, Jones could play a big part in elevating this running attack.
Even though Murray will be the starter, he still needs a second back to shoulder some of the load while keeping him fresh for crucial late-game possessions and to preserve his health. The fact that Murray is coming off ankle surgery is all the more reason that keeping Jones was an important decision.
Like Jones, Murray had his share of injuries at the collegiate level and last season when he fractured his ankle. But when you start adding up the positive factors in the decision to keep Jones, it's obvious that he adds a tremendous amount of value to this team. Not trading him was simply the right move.
When you analyze the two-tier and sometimes three-tier running back systems that exist in the NFL today, why would the Cowboys want to trade Felix Jones? More importantly, what could the Cowboys have realistically gotten in a possible trade?
I don't think teams were lining up to give away second or third-round picks for Jones. The mere fact that any team could have him for nothing in 2013 makes the scenario of getting a high pick for him even more delusional. I'm not saying he doesn't have value, but draft picks are valuable commodities.
Is Jones lame duck and playing without a contract beyond this season? Absolutely. But had the Cowboys acquired a mid- to late-round pick back in April, I don't believe that draftee would outweigh the benefit of keeping Jones for one more season while getting a similar compensatory pick next year.
In the end, the decision to keep Jones will prove to be an important one. With the Cowboys facing another tough schedule, they must brace themselves for numerous scenarios. In the case of Felix Jones, I think the need to cement his future and prove something could work favorably for the Cowboys. That started when management decided against trading him.