Chase Utley's Return May Be Too Little for the Phillies, Too Late for His Career
June 25, 2012

Hunter Martin/Getty Images
Chase Utley is scheduled to return to the Philadelphia Phillies as early as Wednesday, and it won't be a moment too soon. Or, if you look at it another way, it's 75 moments too late.
If Utley does make his season debut at second base for the Phillies this week, how long he stays there is anybody's guess.
When they take the field on Wednesday, the Phillies will have played exactly 400 regular-season games since they last made the World Series, in 2009. Utley, the everyday second baseman in Philadelphia, has played in just 218 of them. (To be fair, he did play in all of Philadelphia's 14 playoff games since 2009.) 
Last season, Utley didn't start the 2011 campaign until May 23, missing the first 47 games because of a knee injury everyone at the beginning of spring training thought would be all set to start the season. Last year, the Phillies were in first place by two games when Utley returned, appearing in all but 12 of the team's final 115 games of the season. The 2011 Phillies went on to win a franchise-record 102 games, increasing their stellar winning percentage from .617 without Utley to .635 with him.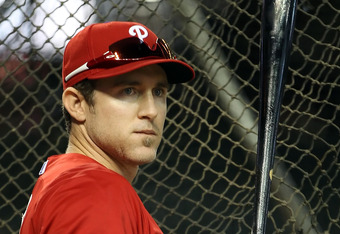 Christian Petersen/Getty Images
Things sure have been different this season in Philadelphia.
Without Ryan Howard, who ruptured his Achilles tendon to end last season's disappointing playoff run, and with a host of injuries up and down the rest of the roster—most notably the loss of Roy Halladay for six-to-eight weeks—the 2012 Phillies are a last-place team, nine games out of a division they've dominated for half a decade.
There is a lot of blame to go around Philadelphia. Fans point the finger at manager Charlie Manuel for mismanaging situations with his lineup and pitching staff. It's hard to totally blame Manuel, really, when his most recent managing gaffe was pinch-running Juan Pierre for Jim Thome instead of pinch-hitting for Michael Martinez. Not exactly Utley, Howard and Halladay we're talking about here.
Still, Manuel should take some of the blame for the way the season has gone. So, too, should general manager Ruben Amaro, who has thrown piles of money at aging players who haven't lived up to lofty expectations or can't seem to get on the field.
Then there is Utley, who has to warrant some of the blame, right? You can't blame a guy for being hurt, but you can blame a guy for not being forthright about his injuries in the past, playing when he should have rested and telling the team now two years in a row that his body would be ready to start the season when it wasn't even close.
The Phillies are more than 45 percent of the way through the season, and Utley hasn't taken a swing or fielded a grounder yet. Someone wasn't being honest—be it Utley or his doctors or Amaro or someone—when spring training began.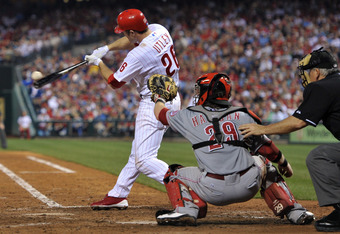 Drew Hallowell/Getty Images
Certainly, Utley will get a standing ovation when he steps onto the Citizens Bank Park grass. But should he? It will be good for fans to have Utley back, but is anyone even sure he can be productive at all?
It would be callous to suggest Philly fans boo Utley—though he was booed during a rehab stint last week after going 0-for-5 with a key strikeout late in the game—but a standing ovation is akin to applauding the way his injuries have been handled. Nobody should be OK with how the Phillies and Utley handled this the last two years.
Fool me once, shame on you. Fool me twice…seriously, dude, shame on you!
Utley was supposed to be ready for the regular season this year, just like last year. As the spring progressed, more and more Grapefruit League games were played without Utley. The closer the season came, the more serious the issue with Utley's knees seemed to become.
Suddenly, he wasn't going to start the season and had no clue when he would return. Fans were told the issue did not require surgery, nor was the issue technically "chronic," and Utley would spend time in Arizona working with specialists on stretching exercises to help alleviate the pain.
While the Phillies languished at the bottom of the standings for weeks with a floundering offense, Utley was in Arizona…stretching.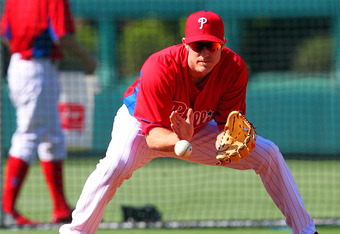 Rich Schultz/Getty Images
When he returned to Philadelphia to be with the team, the rumors swirled he could be back in late May or early June. Utley eventually left the team again for extended spring training before playing nine games with the Clearwater Threshers, just four of which he played in the field.
In nine games, Utley hit .156 with a .513 OPS, one home run and five runs batted in with Clearwater before reporting to Lehigh Valley to complete his rehab stint.
Even if people just assume his bat will come back, how does anyone know if Utley's knees will hold up to the rest of the season? How does anyone know if Utley coming back means he can play more than every other day for the rest of the year, or the rest of his career? How does anyone know if Utley can even get through a week of major-league games, let alone three months?
If injuries can derail his career to the point where he missed more than 75 games for a team that desperately needed him in the lineup this year, who can say he won't come back for one game and miss the next three weeks with pain? Who can say Utley won't be back for a week and be unable to withstand the pain enough to ever play again?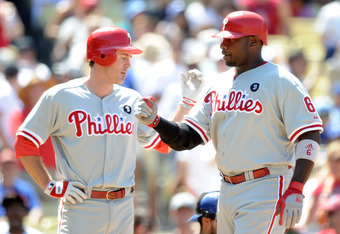 Harry How/Getty Images
I am trying to be fair. I know the guy is hurt. It's not as if Utley just decided to take off 75 games because he was tired. Having said that, neither the Phillies nor Utley have done a good enough job explaining what the future holds for the All-Star second baseman.
That, of course, is because neither of them have any idea.
With that, Phillies fans will be left watching a broken-down former MVP candidate who, even when supposedly healthy last season, was a shell of his former self. In 103 games last year, Utley hit just .259 with an OPS of .769, both the worst marks of his career as a full-time major leaguer—by a mile. He had just 38 extra-base hits on the season, including only 11 home runs, and had just 44 runs batted in for a team that scored 713 runs.
As bad as 2011 was for Utley, it followed a season in 2010 that statistically wasn't much better. For the last two seasons, it's been evident his power is all but gone and, while his career average is still .290, he batted a combined .267, lowering his career average five points over that span. Ironically, the only reason his average is not any lower is because he was hurt so much, he didn't have enough at-bats to drive it down.
In a two-year span, talk in Philadelphia went from suggesting Utley was a surefire Hall of Famer to wondering if there is even a market if the team elects to try to trade him this season.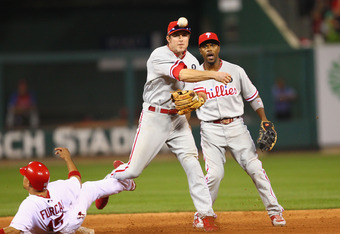 Dilip Vishwanat/Getty Images
Nobody knows if Utley can hold up in the field, even if he changes positions to the outfield or first base as a bridge until Howard returns. If Utley proves he can still hit, maybe an American League team will take a chance on him as a designated hitter who could play the occasional game in the field.
That's where Utley is at this point. Three years ago, Utley would have been one of the most valuable commodities on the open market. Now, he has become a liability for his own team to the point that they may not be able to trade him if they want to.
With the Phillies on the hook for $15 million this year and next, Phil Sheridan of the Philly Inquirer is already floating the idea of Utley's potential retirement at the end of this season being something the Phillies may hope for; this would at least allow them to recoup the salary they will be forced to pay him next year if he tries to play and the same thing happens again next spring.
The guy missed nearly 50 games to start last season and all but swore it wouldn't happen this year. Until it did, causing him to miss the first 75 games this season. How can anyone in the organization trust that Utley won't be out the first 100 games next year, even if he is able to play everyday the rest of 2012? Can Philadelphia afford to pay a player $15 million for less than half a season two years in a row?
Fool them once, shame on you. Fool them twice and they will have to be crazy to believe it a third time.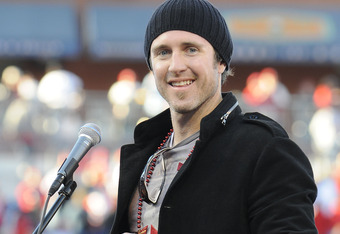 Jeff Fusco/Getty Images
For now, though, it's not about next year for Philadelphia just yet. Still nine games out of the division, the Phillies are just 5.5 back in the wild-card race and in serious striking distance with nearly 90 games left to play. If the Phillies get Halladay and Howard back, with a somewhat-healthy Utley, they aren't that far off from the team that won all those games last season. In fact, people thought this Phillies team could have been better than last year's club.
Utley will also get a standing ovation because his return brings hope that this is just the beginning of the good fortune that will soon befall the City of Brotherly Love. Utley's return is a sign that things may get back to what we thought this season could be.
Mostly, Utley will get a standing ovation upon his return because the city loves him more than any other player in the last 20 years (in any sport.) His "World F**king Champions" speech at the 2008 World Series parade cemented his legacy as a darling of Philadelphia sports fans for generations to come, even though he is notoriously one of the least forthcoming and most tight-lipped players the town has ever seen (case in point with this knee business.)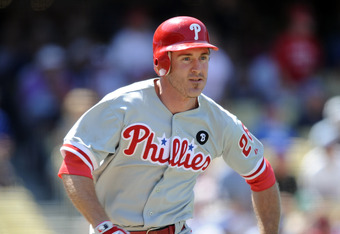 Harry How/Getty Images
More than anything, Utley will get a standing ovation because of what he has done in a Philadelphia uniform. At his best, he was one of the top players in the history of the franchise. Even now, his return is surely better than what the Phillies have put out at second base lately, especially since Freddy Galvis went down injured and was lost for 50 games for a drug suspension.
See, Phillies fans, it could be worse. Utley could have missed this much time for being an idiot who got caught using drugs, not just a guy who is always hurt. There's a silver lining somewhere.
In all seriousness, how long Utley can stay healthy this time—if he can ever be healthy again—will go a long way in determining how hopeful Phillies fans should be, for this year and the rest of his career.