Manchester United Transfer: Why Pirlo or Aimar Would Be Perfect at Old Trafford
June 25, 2012

Martin Rose/Getty Images
Andrea Pirlo was the bargain of the season for Juventus last year. AC Milan would not offer him more than one year, so he went to bitter rivals Juventus. The rest is history.
He has also, in my opinion, been the standout player of Euro 2012 and, in completing 120 minutes last night before scoring an outrageous penalty, showed there are plenty of miles in the tank.
So why would he, or Pablo Aimar, be perfect for Manchester United right now?
You would have thought the agreement by Paul Scholes to stay another season would rule out such a "left-field" purchase. But how many people would drool at seeing Scholes and Pirlo play together?
There are a number of reasons why such a transfer, fanciful though it might be, would work.
Reasons to be Bold
Who could forget the galvanising effect Henrik Larsson had on United in 2006-07, helping them to yet another Premier League title despite a short-term contract.
Like Larsson, Pirlo and Aimar ooze class. You can't teach them anything about how to take an opposing team apart, but they could teach a lot to up-and-coming talent.
Look, for example, at the benefits that players like Danny Welbeck, Chicharito, Will Keane and Tom Cleverley have derived from being around Michael Owen, Paul Scholes and Ryan Giggs.
Pirlo may have been written off by AC Milan, but not by his national coach. He was pivotal to Italy's ultimate win.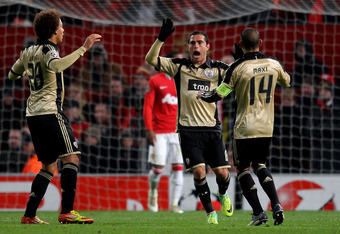 Alex Livesey/Getty Images
United were well short of their normal standard in Europe last season and one of the reasons was Pablo Aimar, playing for Benfica. Scoring and conducting his teams orchestrated moves and original themes, he apparently made Sir Alex sit up and take notice.
Magic Rubs Off
The biggest challenge Sir Alex faces is balancing youth and experience in a rounded squad and building the next dynasty while winning trophies.
Chelsea and Liverpool have found that hard. Now they are both still rebuilding.
It seems beyond doubt that Sir Alex's top target this summer is Luka Modric, but at the moment, Real Madrid seem to have the drop on him. And surely Daniel Levy will let another of his stars go to the best club in the last two decades over his dead body?
Hazard has gone to Chelsea and may well have been a gamble too great to take at his tender age and on a salary of £100,000 a year after tax. He is not the new Paul Scholes.
Shinji Kagaw isn't either, but that doesn't prevent the United boss from constructing a different type of team, built around 4-2-3-1. But who would be the two? 
Michael Carrick surely has at least two good seasons in him, but what if he is injured?
The future is about Kagawa, Cleverley, Nick Powell and Ryan Tunnicliffe; now that Paul Pogba is going. Assuming that Anderson is sold also, there is not enough proven midfield talent for Europe beyond the aging Scholes. Darren Fletcher may never return.
So, both for key Champions League matches and to nurture the future, Sir Alex surely wouldn't turn down two years of flair, brilliance and creativity from either of this mature, experienced pair.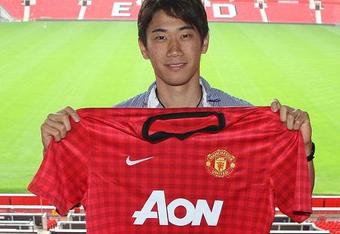 To be fair, there is no chance Andrea Pirlo will come to Old Trafford. Even if he was available, there would be a queue starting at Paris St Germain and stretching all the way to China.
But Aimar showed the Scottish maestro he still has a trick or two and talent to burn.
While Cleverley and Powell can be blooded against the likes of QPR, Wigan and Reading, they can also be coached and transformed by the presence of the 'Old Masters'. 
Dario Gradi says Powell could be the best Academy product Crewe have produced in his 30 yearinvolvement. Tom Cleverley was raved about at the start of last season, and there are other "young guns" bursting to come through, like Davide Petrucci.
What better than to have Pirlo or Aimar seeding the United "hothouse" in the last couple of years of their celestial careers?