Miami Dolphins and the Hall of Fame: How Close Are Key Players to Canton?
June 25, 2012

Mike Ehrmann/Getty Images
If you had asked me in December how many future Hall of Famers reside on the Miami Dolphins roster, I would have said two.
With the retirement of outside linebacker Jason Taylor, though, that number has been reduced by 50 percent.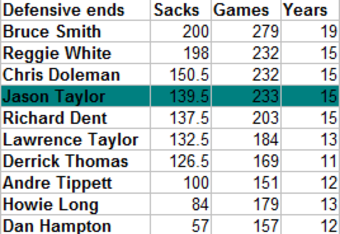 Taylor logged 139.5 career sacks, putting him in the same echelon as Hall of Famers Lawrence Taylor and Richard Dent, and well beyond the likes of Andre Tippett and Howie Long. 
From this perspective, Taylor is a lock for Canton.
As for right now? Sorry, Dolphins fans: Only one potential future Hall of Famer currently dons orange-and-teal-and-white. That man's name is Jake Long, and his future in Canton is less certain than Taylor's.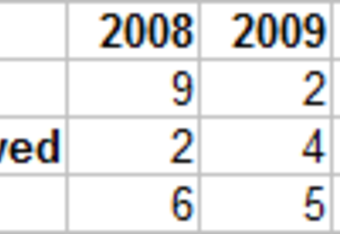 In his defense, the Dolphins went from 1-15 to 11-5 in Long's rookie season at left tackle. He was a second-team All Pro in 2009 and a first-team All Pro in 2010. He has made the Pro Bowl in each of his first four seasons with the Dolphins and in the NFL. In that span, he has missed just two games.
Even with a very solid career to this point, though, Long has a long way to go before he's a lock for Canton. Just look at the names he will be alongside: Anthony Muñoz, Art Shell, Forrest Gregg, Jackie Slater and Dan Dierdorf are just some of the names that he'll have to be in the same conversation with.
Fortunately for Long, Super Bowl championships haven't been a prerequisite for offensive linemen to get to the Hall of Fame (see Muñoz, Slater and Dierdorf), and although rings are not the gold standard by which a Hall of Fame career is measured, they are a huge help in swaying the minds of voters.
His career compares favorably to recently-retired Patriots left tackle Matt Light, according to Jeff Howe of NESN.com (now of The Boston Herald):
About 10, 15, 20 years from now, Light won't be remembered in the same class as Miami's Jake Long or Cleveland's Joe Thomas, but there's an argument that can be made in Light's favor, and I can see the potential for it to gain some momentum.
Howe adds a caveat, however, that may leave Long at a disadvantage:
Here's how Light gets in: Someone looks at Brady's Hall of Fame career and says the left tackle played a role, regardless of how large. Then, they'll find the only offensive lineman in history to start five Super Bowls. (If there are others by then, Light will still be known as the first to accomplish the feat.) And they'll see the All-Pro nod from 2007 and his Pro Bowl honors, plus the Patriots' host of accolades during his tenure. Aside from that, it wouldn't be the least bit surprising if Brady and Belichick made some calls to vouch for the Light.
Is Long surrounded by enough talent to show off Long's superiority? Will the Dolphins achieve enough accolades as a team to help his case?
It's tough to tell, but for now at least, he's among the top tackles in the game.
Long was last year's top-rated offensive tackle on the NFL Network's Top 100; after a down year in 2011, though, he was bumped down 31 total spots and ranked second among offensive tackles behind Eagles tackle Jason Peters, who was by far the best offensive tackle in the NFL last year according to Pro Football Focus.
The fact that Long is considered among the top players at his position right now bodes well for his chances; if nothing else, he'll be remembered as (one of) the best offensive tackles of this generation.
In short, it would take a long career that's as successful as the first four years were in order for Long to be a "lock" for Canton.
Erik Frenz is the AFC East lead blogger for Bleacher Report. Be sure to follow Erik on Twitter and "like" the AFC East blog on Facebook to keep up with all the updates.