USC Football: Examining Which Pac-12 Players Pose the Biggest Threat to Trojans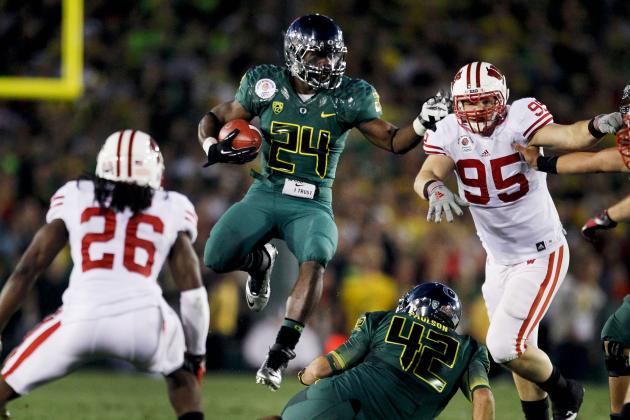 Jeff Gross/Getty Images

With the 2012 USC Trojans being hailed as a likely national champion contender, attention has deservedly centered on the talent the men of Troy hope to ride to that title game.
With an abundance of returning stars, led by quarterback Matt Barkley, USC has proven commodities at almost every position, and after two years of postseason bowl bans, lord knows it is hungry.
But as everyone knows, the game of football is played with two teams, and those participants who will line up opposite the Trojans could care less about the prognostications and press clippings that celebrate the Cardinal and Gold.
And on those teams who hope to upset USC's national championship cart resides some very, very good players all of whom would love nothing more than to ruin the Trojans season.
This slideshow will look at some of these outstanding players and explain why Lane Kiffin and his crew must account for them every moment they are on the field.
Can they beat the Trojans by themselves?
Of course not, but they can provide the catalyst to motivate their teams to play above their heads.
And if they do, anything is possible, including upsets of incredible magnitude.
After all, 2006 and the horrible stench of UCLA still wafts in the air for Trojans fans...
Begin Slideshow

»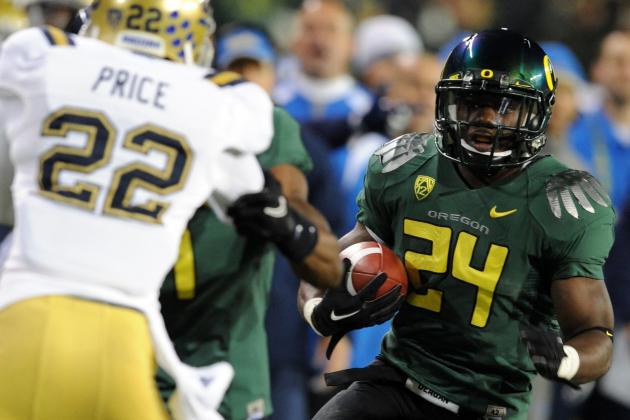 Steve Dykes/Getty Images

For Trojan fans grateful for the departure of USC nemesis, Oregon's LaMichael James, be careful for what you wish for.
Senior running back Kenjon Barner has been patiently waiting his turn as the premier back in Chip Kelly's high-flying offense, and now he has his chance.
As a pure runner, Barner has everything one looks for in a featured back including shiftiness, great field vision and the strength to break tackles.
And the scary thing is that he is even faster than James, who was a blur in his own right.
However, Barner is also injury-prone, and it remains to be seen if he can withstand the rigors of being an every-down back.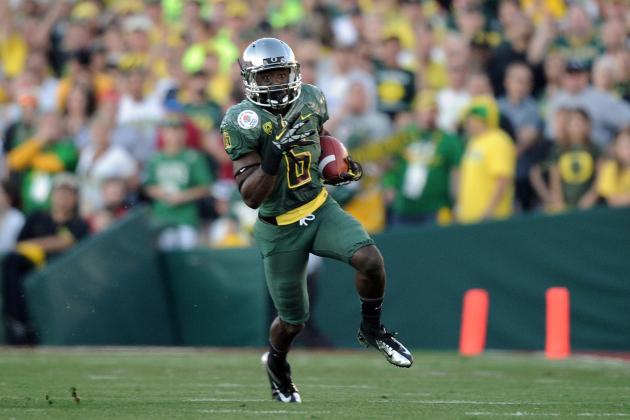 Harry How/Getty Images

What would a slideshow on dangerous Pac-12 players be without an acknowledgment of the little scat back from Crenshaw High School in southern California?
Of course, anyone who has read any of my stuff knows the level of "affection" I have for Thomas, who left the Trojans at the altar on national letter of intent signing day two years ago.
However, since this slideshow this is not referendum on integrity, Thomas must be included as a very large threat to USC when they meet later this year.
Fast and elusive, Thomas is a threat to go all the way each time he touches the ball.
Still, with a player that goes a buck seventy weight-wise, durability is also an issue.
So if Thomas is still upright when the Trojans play Oregon, he will pose a very large threat and Kiffin, and his staff must account for him at all times.
But that is a very large "if."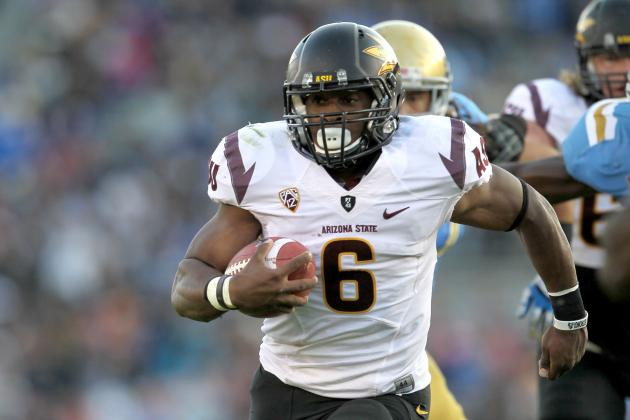 Stephen Dunn/Getty Images

Although the Sun Devils are expected to take a step back (further back?) this year, it won't be because of the efforts of running back Cameron Marshall.
Marshall is a "between the tackles" type of runner who is tough to bring down, but still has the speed to make you pay if he turns the corner.
After coming back from injuries to have a very nice year for ASU in 2011, Marshall will be relied on to make things happen for new head coach Todd Graham.
However, he will be running behind a relatively inexperienced offensive line and will be breaking in a new quarterback as well.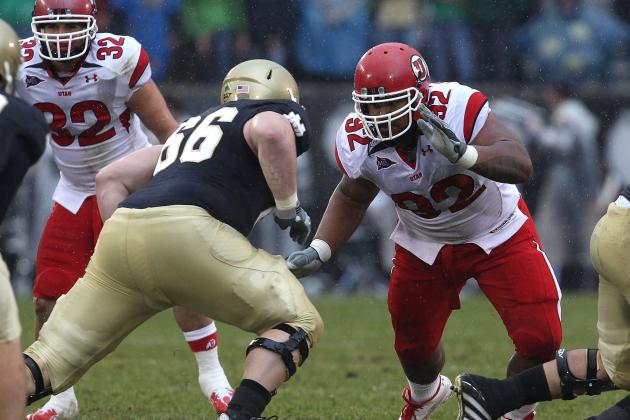 Jonathan Daniel/Getty Images

Its not too often that a defensive tackle poses a huge singular threat to the aspirations of a team like USC, but then again, there aren't too many interior linemen like the Utes' Star Lotulelei.
A mammoth tackle, Lotulelei is an unmovable run stuffer who has the ability to create havoc in his opponents' offensive backfield.
Because he takes up so much space and often demands double teams, this opens space for his defensive ends, so Lotulelei can change the game even when he is not in on the play himself.
The Trojans will not see a better defensive tackle this year, and for that reason, he is a threat in 2012.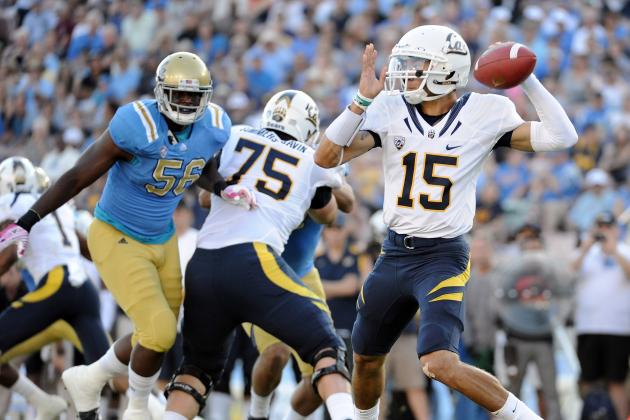 Harry How/Getty Images

I am going out on a limb here with the very talented but under-achieving defensive end from UCLA, Datone Jones.
For years now, big things have been projected for Jones, who has instead always managed to play below his ability.
However, a change of coaching staffs, coupled with the sense of urgency that comes when you are entering your senior season, means that Jones has to make an impression in this, his final year.
Datone Jones has the physical tools to be a dominant player in the Pac-12.
If he can match the physical part with hard work and motivation, he can be a threat, not only to the Trojans, but the rest of the league as well.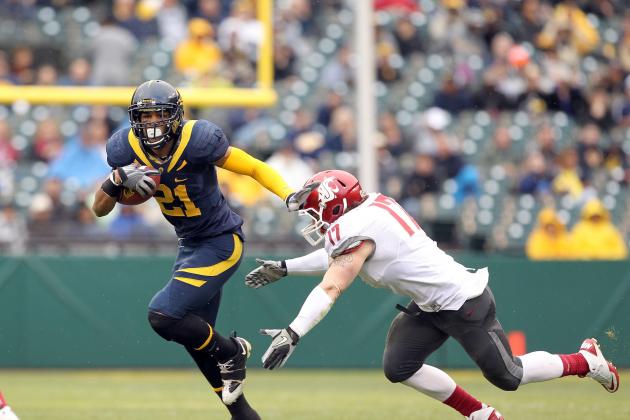 Ezra Shaw/Getty Images

This is actually a two for one pick because no matter what a great receiver Keenan Allen is—and he is a good one to be sure—he needs someone to get him the ball, and his quarterback, Zach Maynard, is very good and getting better as time goes by.
Not only is Maynard turning into a pretty good darned quarterback, but he is the half-brother of the aforementioned Allen.
But this slide is about Allen, and in a conference with some of the best pass-catchers in the nation, Allen is right there at the top.
Strong and sure handed, Allen is a threat to break open a game anytime, and that is why he carries that title in this slideshow.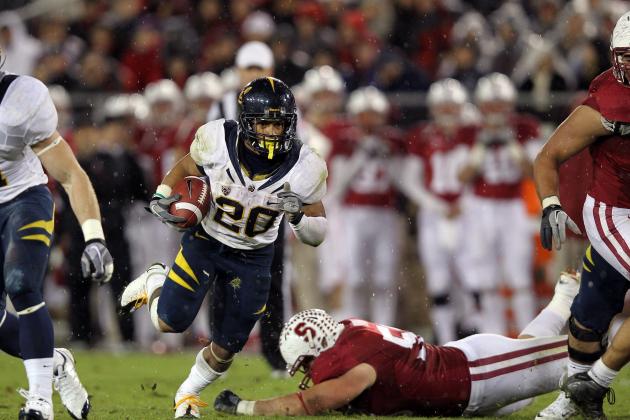 Ezra Shaw/Getty Images

One of the most unheralded running backs in the Pac-12 last year, Cal's Isi Sofele was well-known to opposing coaches by the time the 2011 campaign ended.
That is because Sofele bulled his way to 1,322 yards and became one of Cal's most reliable options when its offense was struggling.
Though not particularly fast, shifty or big, Sofele just manages to get the job done when he is needed most.
Just call Sofele "The Quiet Threat."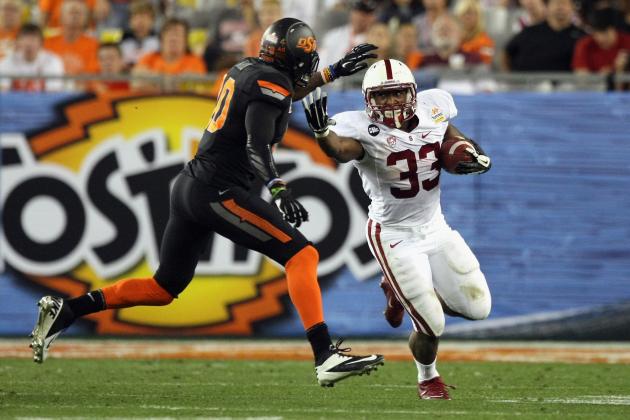 Donald Miralle/Getty Images

The bad news for Stanford fans is that their all-everything quarterback, Andrew Luck, is gone for the 2012 season.
The good news?
Cardinal running back Stepfan Taylor isn't.
Taylor, who has rushed for over 1,000 yards in the last two seasons, will have to be the focus of an offense that may be a bit rudderless in the beginning of the season.
Taylor will be assisted by a revamped but still very effective offensive line that will look to control the line of scrimmage and wear out opponents until they find the consistency to be more balanced.
Look for Stepfan Taylor to put up big numbers in 2012.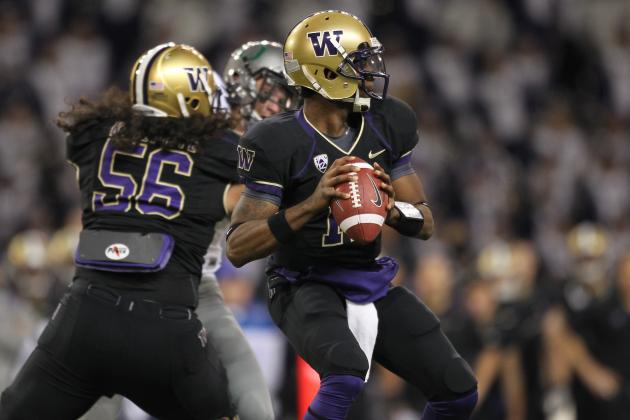 Otto Greule Jr/Getty Images

So much for the drop-off at quarterback position for the Huskies when Jake Locker took his ample skills to the NFL.
Keith Price, Locker's successor, simply waited his turn and, instead of shrinking under the burden of replacing a Washington legend, put up numbers that even Locker was unable to attain.
Last year, Price threw for over 3,000 yards and a school-record 33 touchdowns, and he did that playing injured at various times, especially in the last half of the season.
With guys like true sophomores Kasen Williams (wide receiver) and tight-end Austin Sefarian-Jenkins just now finding their way in the college game, look for Price to build on last year's prolific numbers.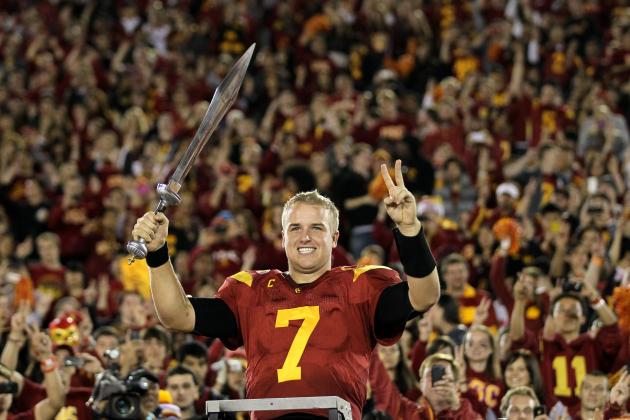 Stephen Dunn/Getty Images

Certainly, this is not a comprehensive list of the players that could conceivably be a threat to the Trojans, and a case could be made for many players on USC's schedule of Pac-12 opponents.
But with a team as talent-laden as the men of Troy, ultimately, they control their own destiny.
If the Trojans play to their ability, they will surmount any individual efforts made by an opponent with inspired team play.
So, at the end of the day, who is the biggest threat to USC in 2012?
The Trojans themselves.