MLB Trade Scenarios: 8 Possible Deadline Moves for Ned Colletti, Dodgers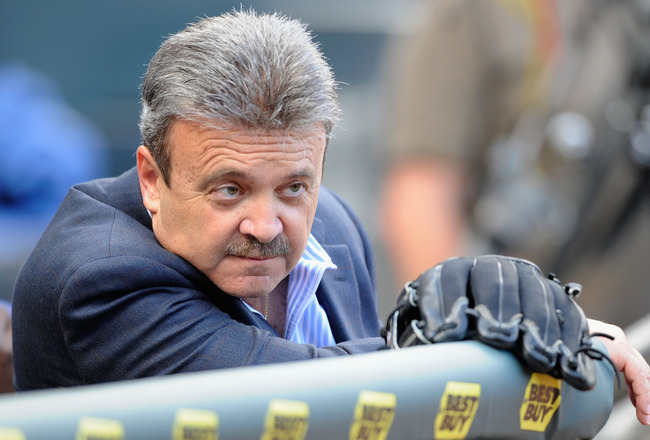 Hannah Foslien/Getty Images
The Los Angeles Dodgers have come back down to Earth in June after a scorching start that left them with the best record in Major League Baseball as recently as Friday morning.
While the team was initially able to survive the loss of All-Star center fielder Matt Kemp—who's missed 37 games across two DL stints with an injured hamstring—the inability to consistently score runs has started to catch up with the team in June.
The Dodgers have a mediocre 11-11 record this month, including losing five of their last six during road trips to Oakland and Anaheim. As Los Angeles has struggled, their primary division rivals have started to play well, putting the team's grip on the National League West in serious jeopardy.
The San Francisco Giants have closed to within three games, despite the continued struggles of ace Tim Lincecum, while the Arizona Diamondbacks have also gotten back over .500 and are starting to look a lot like the team that won the division in 2011.
If the Dodgers are serious about winning the NL West and contending for a World Series in 2012, here are eight potential deals that general manager Ned Colletti could make that would seriously improve their odds.
Cody Ross, OF, Boston Red Sox
Winslow Townson/Getty Images
Cody Ross has been a pleasant surprise for the injury-depleted Boston Red Sox this year, and he's just the kind of veteran bat that the Dodgers could use down the stretch and during a playoff run.
Left field has been a big area of concern for Los Angeles all year. They've been helped as of late by the addition of Bobby Abreu and the return of Juan Riviera from the disabled list. But Abreu is ideally better suited as a fourth outfielder at this point in his career, and Riviera has been a better option at first base where James Loney continues to provide little offense.
Ross is a natural right fielder, but with Andre Ethier firmly entrenched there, Los Angeles would need to shift him over. Ross is also familiar with the NL West as he played a key role on the San Francisco Giants' 2010 World Series championship team.
Jeff Francouer, OF, Kansas City Royals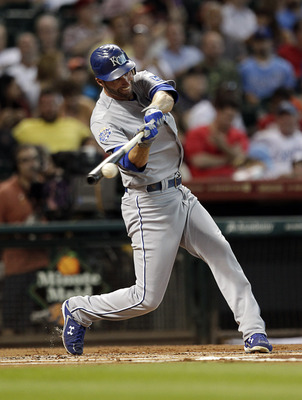 Bob Levey/Getty Images
Like Cody Ross, Jeff Francoeur is another veteran outfielder that could help stabilize the Dodgers outfield.
The Kansas City Royals have had a disappointing start to their 2012 season, and with top prospect Wil Myers tearing up Triple-A pitching, moving Francouer could be an easy way to open up playing time for Myers and get a young pitching prospect in return—something that would be very attractive to the Royals.
Like the rest of Kansas City's lineup, Francouer has failed to build upon a strong 2011 season during which he hit .285 while hitting 20 home runs and stealing 22 bases. Still only 28, Francouer could be reinvigorated by moving to a contender, and at the very least he'd provide strong defense in left field, giving the Dodgers one the of MLB's best defensive outfields.
Carlos Quentin, OF, San Diego Padres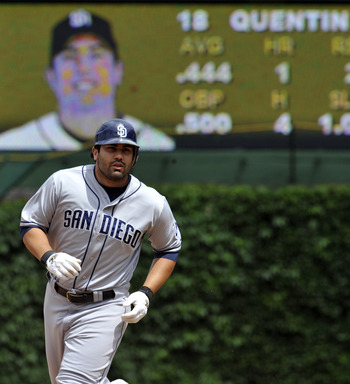 David Banks/Getty Images
If the Dodgers are interested in a natural left fielder that could add some much needed power to the lineup, they need look no further than the San Diego Padres' Carlos Quentin.
Quentin missed the first 52 games of the season with a knee injury; he's already mashed six home runs in the 21 games since returning from the DL. That type of offensive production would look great behind Los Angeles stalwarts Matt Kemp and Andre Ethier.
Although the Dodgers have the type of young, cheap major league ready arms that would be attractive to San Diego, the fact that they are NL West rivals makes the likelihood of this deal happening slim, especially with so many other teams potentially interested in Quentin (via MLBTradeRumors.com)
Alfonso Soriano, OF, Chicago Cubs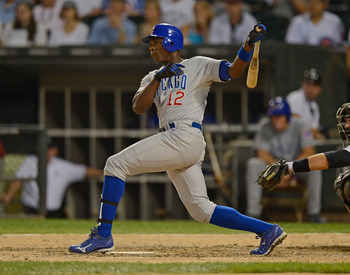 Jonathan Daniel/Getty Images
Another veteran left fielder that would instantly improve the Dodgers' offense, Alfonso Soriano will almost certainly be moved as the Chicago Cubs look to shed salary and rebuild for the future under the leadership of new team president Theo Epstein.
Soriano has found the Fountain of Youth at age 36, smashing 14 home runs and driving in 44 runs through 67 games played. However, the $45 million he has left on his contract could make a deal complicated, even for Los Angeles' deep-pocketed new ownership group.
His age, combined with the fact that he is a defensive liability in left field, could make Soriano a better fit for an American League team that could also use him as a designated hitter, but that doesn't mean the Dodgers shouldn't kick the tires on this one.
Cole Hamels, LHP, Philadelphia Phillies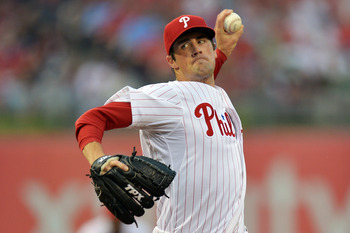 Drew Hallowell/Getty Images
Philadelphia Phillies free-agent-to-be Cole Hamels may not appear to be a perfect fit for the Dodgers, but he would instantly give them perhaps the National League's best starting rotation.
Given all the money they already have tied up in quickly-aging veterans, the Phillies don't seem to be in a hurry to offer Hamels a new deal. For a team that currently ranks third in the majors in payroll, the Dodgers do have a number of major league ready pitching prospects that could make a deal attractive to Philadelphia.
While adding Hamels sounds great in theory, there are three problems that make this deal unlikely for Los Angeles.
With the price tag they'd have to pay to acquire him, the Dodgers would definitely have to give Hamels a huge, long-term deal. With the big-money contracts given to Matt Kemp and Andre Ethier, and with current ace Clayton Kershaw due to be a free agent after the 2013 season, it is unlikely that the new ownership group would want to invest so much money in just four players.
That's definitely not team president Stan Kastens M.O.
As a lefty, Hamels is also not a great fit in a rotation that already has three lefties in Kershaw, Ted Lilly and 2012 sensation Chris Capuano.
Last but not least, pitching hasn't been the Dodgers' biggest problem, so it's much more likely that the team will make a deal for a bat.
Hanley Ramirez, 3B, Miami Marlins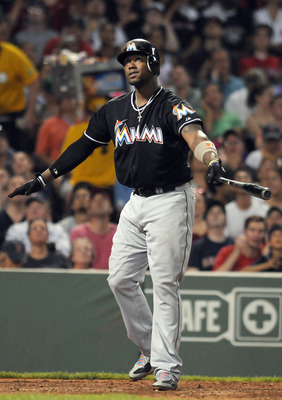 Darren McCollester/Getty Images
Although the Marlins spent big this offseason to build an instant contender to open their shiny new stadium, the experiment hasn't quite gone according to plan. The team is currently eight games out of first and sits in fourth place in the stacked NL East.
The team has a history of cutting bait on salary quickly, so it's possible that third baseman Hanley Ramirez could be available. He has struggled to fully rebound from a miserable 2011 season, and it's possible that a player of his makeup could benefit from playing for a more low-key manager like Don Mattingly—something that worked miracles for Matt Kemp after clashing with the much tougher Joe Torre.
The Dodgers could offer a pitching heavy package that would give the Marlins the type of inexpensive yet effective prospects they'd love.
Starlin Castro, SS, Chicago Cubs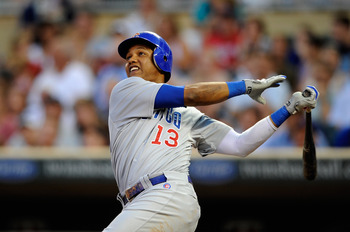 Hannah Foslien/Getty Images
Although the Cubs have publicly tried to downplay any talk of moving Starlin Castro, you have to believe that an offer that included Dee Gordon and a pitching prospect or two would get Theo Epstein's attention.
Gordon has looked a lot more comfortable at the plate since being recalled from Triple-A last month. But Castro has a lot more upside as a hitter, and at 22 is actually two years younger than Gordon, despite having two full years of MLB experience under his belt.
Though parting with Gordon, a clear fan favorite, would be a tough pill to swallow, the idea of a 2-3-4 of Castro, Kemp and Ethier for the next few seasons has to be enticing.
Carlos Gonzalez, OF, Colorado Rockies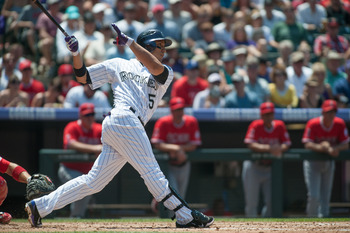 Dustin Bradford/Getty Images
The odds of acquiring Carlos Gonzalez from the division-rival Colorado Rockies may be a long shot for the Dodgers, but there's no question that they could offer the type of package that would make it hard for the Rockies to say no.
You can always find hitters that can succeed in the still friendly confines of Coors Field (see 2011 signing Michael Cuddyer). The Rockies aren't winning anytime soon, so a package of high-ceiling pitching prospects, and possibly 2012 first-round pick Corey Seager might be enough to sway the Rockies.
The benefit of adding Gonzalez to an outfield that already includes Matt Kemp and Andre Ethier is obvious, and for a player of his stature, he has a very reasonable $16 million average annual salary over the next three seasons.
This is the type of deal that, if executed, could make the Dodgers the favorites to represent the National League in the 2012 World Series.
Keep Reading

Los Angeles Dodgers: Like this team?