NFC South Morning Jog: Burned Twice, Malcolm Jenkins Hands Shoes to HS Kid
June 25, 2012

Each morning, I like to start the day off with a workout—usually a morning jog. I can clear my head, plan my day and think about what's going on around the NFC South.
Despite rankings to the contrary on "The Top 100: Players of 2012," James Walker of ESPN.com wrote that Jimmy Graham is not better than Rob Gronkowski.
Malcolm Jenkins was burned by a high school kid twice at football camp recently, according to this NFL.com report and multiple Twitter accounts. Jenkins handed the kid his shoes.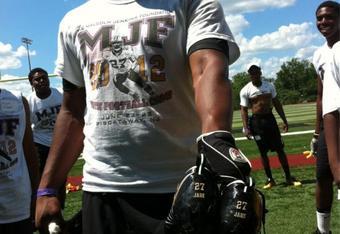 There's at least one New Orleans dining establishment where commissioner Roger Goodell cannot get a bite to eat (Times-Picayune).
Quarterback Matt Ryan has never had to deal with a new coordinator in Atlanta. This Atlanta Journal-Constitution piece looks at Ryan learning from new offensive coordinator Dirk Koetter.
Linebacker Matt Hansen picked off a pass on the final day of minicamp and told Daniel Cox that it's always good to leave on a high note (George Costanza has a similar mantra as well).
Hansen made the move from safety to linebacker last season and has been making huge strides toward making this team in 2012 after signing, being cut and signing again during his undrafted rookie free-agent year of 2011 (AtlantaFalcons.com).
Steve Smith went on NFL Network Thursday night and said that the team did not need Plaxico Burress.
Josh Freeman's problem in 2011 was a matter of lost confidence, according to Ron Jaworski (Pro Football Talk).
Rookie Doug Martin is definitely in the running for the starting running back job in Tampa Bay (Pewter Report).
NFC South
Gil Brandt's power rankings on NFL.com have the NFC South teams ranked: Saints, Falcons, Panthers and Buccaneers. Click the link to see where your team landed.