Boise State Football: 5 Players the Broncos Can't Live Without in 2012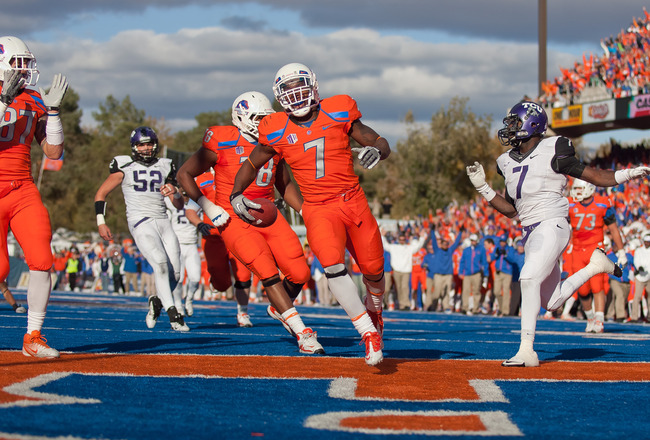 Otto Kitsinger III/Getty Images
The Boise State Broncos have always been about the team over the individual. However, on every team there are key players that would be sorely missed if they were to be removed, whether by injury or otherwise.
Boise State has a handful of players on this year's squad that would leave a huge void if for some reason they couldn't step onto the field.
Let's look at five of the key parts to the Bronco machine in 2012.
Matt Miller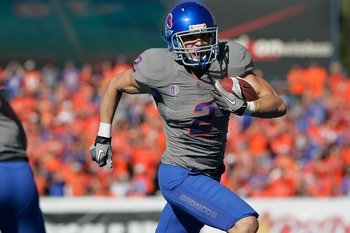 Otto Kitsinger III/Getty Images
Matt Miller returns after an amazing freshman season, and although the Broncos are deep at wide receiver, Miller will be a key part of this year's offense.
Last season as a redshirt freshman Miller had 62 receptions for 679 yards and nine touchdowns. He tied Tyler Shoemaker for the most receptions on the team and became a key target for Kellen Moore all season long.
Look for whoever wins the quarterback competition to go to Matt Miller early and often. He knows how to get open and he would serve as a security blanket for a new starting quarterback. It is that role that makes him a very key figure for Boise State.
Other receivers like Kirby Moore, Troy Ware, Geraldo Boldewijn, Chris Potter and the Burroughs brothers will all contribute greatly. However, it is Matt Miller who is the linchpin for that receiving corps and for the success of the Broncos' passing game and its new quarterback.
J.C. Percy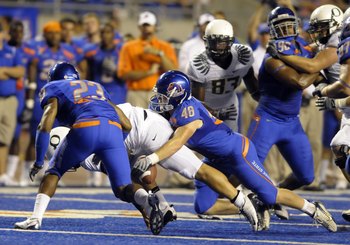 Steve Dykes/Getty Images
J.C. Percy is going to be key to the Broncos' success on defense. Now a senior, Percy is first and foremost a leader on a team in need of leadership.
Last season Percy had 48 tackles and one interception. However, those numbers are down from his sophomore and freshman seasons. As a freshman Percy had 64 tackles and a sophomore recorded 65 more. Expect those kind of totals again for Percy in 2012.
In fact, you can probably expect a record year from the linebacker out of Blackfoot, Idaho. He has the talent and the drive to make it happen. This season you can expect to see him all over the field making play after play.
The Broncos will need his talent, his toughness and his leadership if they want to be successful with a rebuilt defense.
Jamar Taylor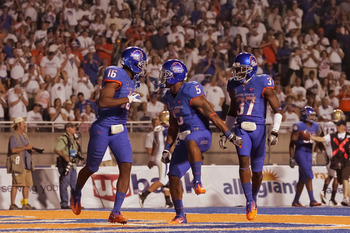 Otto Kitsinger III/Getty Images
Jamar Taylor finished off last year the right way. If you remember he had a 100-yard interception return for a touchdown against Arizona State in the Las Vegas Bowl.
Taylor's experience, his athleticism and his smarts will be much needed for the Broncos in 2012. How important will Taylor be?
Well, in an Idaho Statesman article written by Chadd Cripe he quotes defensive secondary coach and defensive pass game coordinator Jimmy Lake on his thoughts.
"He's a gym rat," Lake said. "He wants to rewatch himself over and over with me. He always asks intelligent questions. As soon as we coach it, we install a defense, he knows exactly what we're asking him to do. He doesn't make a lot of mistakes. He's inquisitive. He reminds me a lot of Ronde Barber (of the Tampa Bay Buccaneers). Ronde Barber is a thinker and he wants to know the coverages inside and out."
With those kind of comparisons and compliments it is easy to realize why a guy like Taylor will be so important for Boise State in 2012.
Jeremy Ioane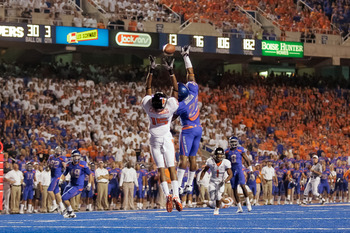 Otto Kitsinger III/Getty Images
Jeremy Ioane will be crucial to the success of the Broncos' pass defense in 2012. In 2011 he played the backup role most of the season and only had six tackles.
However, in 2012 Ioane will be a leader, a starter and a key player for Boise State, and he will need to produce more than a half-dozen takedowns.
Coach Jimmy Lake was impressed with Ioane all spring, but there was one aspect of his game that the coach really seemed to enjoy. Chadd Cripe quotes Lake in an Idaho Statesman article earlier this year.
"What I really like about him is his toughness," Lake said. "He's one of our better tackling safeties…With safeties, if they take the proper angles to the football, they're going to get good tackles and they're not going to get any breakout runs. Right now, Jeremy is taking great angles to the football."
Look for Ioane to play like a man with something to prove all season. If he plays to his potential the Broncos will be able to do what they need to do on defense to continue their high level of success.
D.J. Harper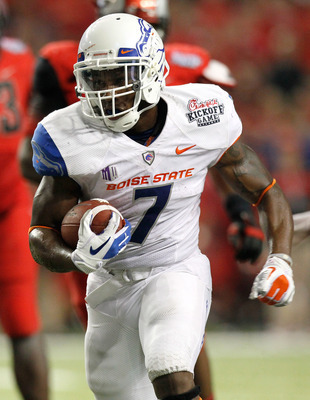 Kevin C. Cox/Getty Images
D.J. Harper is the most obvious player on this list. It is no secret that the Broncos will be very thin at running back in 2012. However, Harper should have an amazing year as the starter.
Look for D.J. to have the kind of season Doug Martin had last year. But, unlike last year, Harper won't have the comfort of a couple of proven players backing him up.
Drew Wright is the only real option at backup right now for Harper. He is a good back, but without Harper it would be very difficult for the Broncos to do what they want to do running the ball.
The other options come in the form of Jay Ajayi, who is coming off a season-ending knee injury in 2011 and a couple of true freshman who have yet to arrive.
To say D.J. Harper is important is a huge understatement, and the Broncos can't afford to go without him.
Keep Reading

Boise State Football: Like this team?