Saul Alvarez: Is a Superfight with Miguel Cotto Too Soon for Canelo?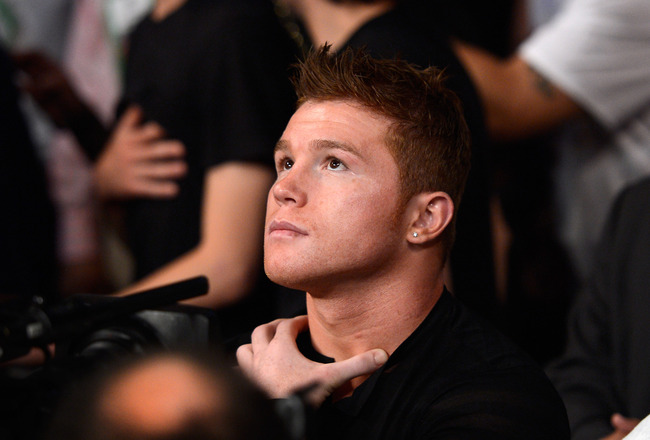 Saul "Canelo" Alvarez
Kevork Djansezian/Getty Images
Saul Alvarez is in a bind for an opponent, according to Ben Thompson of fighthype.com, and Miguel Cotto is standing by awaiting a matchup that's big enough for him to dust off his pink socks and start training again (h/t Rey Colon, fightnews.com).
Alvarez is the current WBC 154-lb champ, but a fighter like Cotto has much more experience. But as far as big names go, it doesn't get much better than Cotto.
If this fight were to happen, Alvarez would have to cram for the toughest test of his life and could still fail. But nothing worth accomplishing comes without risk. Here are three factors the young "Canelo" should consider.
Age and Experience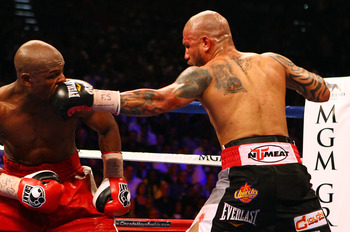 Miguel Cotto (right) fighting Floyd Mayweather
Al Bello/Getty Images
Saul Alvarez is 21 years old, 10 years younger than Miguel Cotto. While Cotto has the better experience against better competition, that experience has given him scars that are hard to heal.
Cotto (37-3, 30 KO) has fought over 10 former world champions in hard-fought battles. Alvarez (40-0-1, 29 KO) has fought less than five former world champions, dominating the majority of them.
Alvarez has shown durability during several high-profile slugfests, suffering the first cut of his career in his last fight against Shane Mosley (46-8-1, 39 KO). Cotto's face cuts easily in nearly every tough fight he's in.
Boxing and Brawling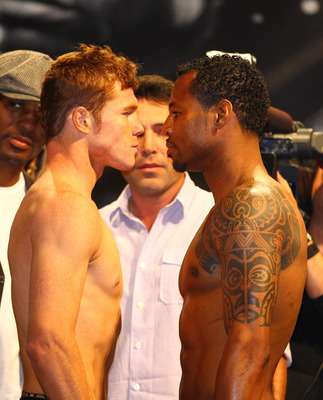 Canelo Alvarez (left) got into quite a few big exchanges with Shane Mosley
Al Bello/Getty Images
Saul Alvarez has shown an uncanny patience in the ring his opposition, but he can turn on the thunder and get to cracking. He just needs to learn when to turn it on as his patience sometimes comes off as hesitance.
Miguel Cotto is also a patient boxer who knows when to turn it on, but can be dragged into a firefight with enough pressure as demonstrated by Manny Pacquiao (54-4-2, 38 KO) and Antonio Margarito (38-8, 27 KO).
Alvarez will have to drag Cotto into a firefight where his power can give him a chance. Cotto will win the boxing war off experience alone if the two keep a slow pace, but if Alvarez learns how to make it a firefight, he can win.
The key to Alvarez's success against Cotto will be who his promoter puts him against next to prepare him for Cotto. The right type of fights can be the best teacher to help the student (Alvarez) dethrone the master (Cotto).
Date and Location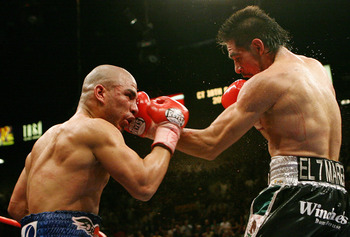 Miguel Cotto (left) suffered his first defeat to Antonio Margarito in 2008.
Ethan Miller/Getty Images
Miguel Cotto has suffered every major loss of his career at the MGM Grand in Las Vegas. Cotto avenged his first loss to Antonio Margarito (38-8, 27 KO) at the venue he is 7-0 at, Madison Square Garden in New York (h/t Steve Busfield, The Guardian).
The promoter of Saul Alvarez has the MGM Grand booked for September 15. Cotto has rejected Canelo's date while looking ahead to a fight date of December 1 on Madison Sqaure Garden.
Cotto has a much more storied career than Alvarez and is a proven pay-per-view draw. Canelo may be the flavor of the year in Mexico, but he has not yet proven if he can draw in the U.S.
If Canelo can prove his worth by doing decent numbers in September, perhaps he can have more leverage against Cotto during negotiations for December.
The fight may even have to wait until Cinco De Mayo 2013 before a deal can be made. By then, Canelo may have a few more fights that would better prepare him for Cotto.
For More news and analysis, follow me on Twitter @justindavidtate
Keep Reading