London 2012: US Swimming Trials to Feature Round 1 of Phelps-Lochte Duel
June 25, 2012

Feng Li/Getty Images
In 2003, USA Swimming created an event called the "Duel in the Pool" where every other year, the United States' best swimmers go head-to-head in a competition format against the rest of the world.
What was originally created as a way to fuel the budding rivalry between the world's two premier swimming powers, America and Australia, the duel has expanded to pit the U.S. against Europe in a battle for supremacy and ultimate bragging rights.
In under an hour, when the U.S. Olympic swimming trials finals begin, there will be another duel in the pool, but this time it will be between Michael Phelps and Ryan Lochte, the two powerhouses of the U.S. swim team.
Like the "Duel in the Pool," both Phelps and Lochte will be looking for supremacy as they face their final tune-up heading into London.
With only the top-two finishers of each race headed to London, both Phelps and Lochte have to be at the top of their games during the trials, making each of their matchups just as thrilling as they will be during the Olympics.
As a boxing announcer would say, "Let Round 1 begin!"
Tale of the Tape
Ever since the summer of 2009, the carefree Ryan Lochte we all saw in Beijing disappeared. He was replaced by someone who was tired of being in Michael Phelps' shadow. So he pushed further, trained longer, fought harder and outperformed just about everyone in the world.
Still, it wasn't enough, as Phelps took off much of 2009, but still managed to finish ahead of Lochte in the World Championships.  
Lochte pushed on, however, and after a 2010 that saw him win both American and World Swimmer of the Year awards, he had finally done it. All of the hard work paid off as, after possibly his best season as a pro, Lochte edged out Phelps at the World Championships for the first time ever, proving to the world, and to himself, that he could do it.
With the win over Phelps, Lochte had all of the confidence he needed going forward.
He became the first individual to win seven medals at the Short Course World Championships and is currently the only person to set an individual world record since the full-length bodysuits were banned. He finished the meet with six golds and two world records.
There was no doubt Lochte was the best swimmer in 2010, but in 2011, with Phelps back, could he do it again? That question was answered with a resounding "yes," as in the 2011 World Championships, Lochte beat Phelps in both the 200-meter freestyle and 200-meter individual medley.
Phelps is finally back into the form he was before Beijing. After losing to Lochte more often than not in the past few years, he is as motivated and committed as ever. Phelps wants this and he is in the shape to go get it.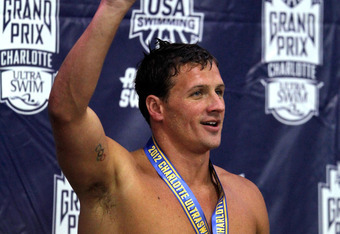 Streeter Lecka/Getty Images
The Matchup
Since that 2010 competition, Lochte has not lost to Phelps once. He has become America's best swimmer, and in London, he expects to be nothing less. At the trials, Lochte is scheduled to swim in nine events, while Phelps is set to tackle eight.
Three of these events, the 400 individual medley, 200 individual medley and 200 freestyle, pit these two against each other once again. Lochte and Phelps will be squaring off in the 400-meter individual medley tonight.
If Lochte wins, it could be a changing of the guard for world swimming, as Lochte has said he will swim in the 2016 Olympics.
If Phelps wins, it could be his final bow to go out with a bang, proving to the world that he was and will always be the best.
Whatever happens at the trials will likely dictate what will happen in London. Both men are close to 100 percent, and as a result, this will be the best test of who really is the better swimmer.
The London Twist
As many Olympic stories go, there is a historical twist that could make this rivalry even more intriguing.
Other than the obvious excitement to be drawn from these two going head-to-head, there is another story emerging that will undoubtedly be one of the best to follow in London.
No one wants to be second-best, and according to USA Today (h/t IndyStar.com), Lochte has made it clear that he wants "to go down as one of the world's greatest swimmers." In order to do this, however, he has to pass Phelps and his record eight golds in one competition.
If Lochte does in fact swim in six events and is chosen to swim in all three relays, he will have nine events on his schedule for London. Likely having to beat Phelps in three of them and then win gold in the other six won't be easy, but it will certainly be a statement.
To set the record is one thing, but to beat the previous record-holder on the way to doing it, that's dominance.