Virginia Football: 5 Players the Cavaliers Can't Live Without in 2012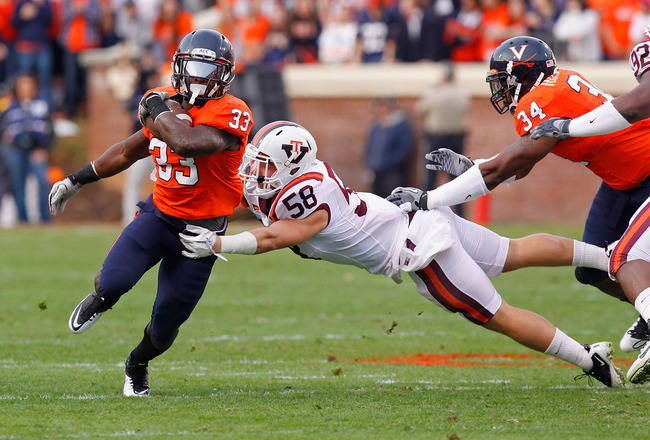 Geoff Burke/Getty Images
With heightened expectations following a surprising 2011 season and a tough schedule ahead, the Virginia Cavaliers know one thing they need next season is health.
We all know that injuries are a part of football, but every team has players vital to its success.
We have all seen what happened to the Indianapolis Colts without Peyton Manning. Certain players elevate those around them.
Other players may be the one thing standing in the way of a tremendous weakness being exposed. They represent the entire depth a team has at a certain position and an injury could be too much to recover from.
Virginia has some big question marks in certain areas heading into 2012, and those concerns matched with overall talent and skill gives us the five players the Cavaliers need on the field to build on last year's momentum.
Let the debate begin!
Perry Jones (RB)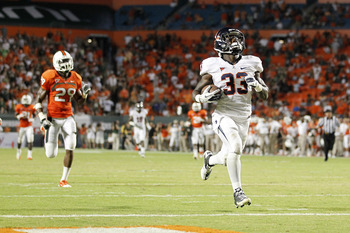 Joel Auerbach/Getty Images
There may not be a more versatile player on the team, let alone on offense, than Perry Jones.
The diminutive speedster shows a toughness that belies his stature. As a tough hard-nosed scrapper, Jones provides the sizzle in the backfield to complement the hard-running pounding style of Kevin Parks and Clifton Richardson.
When injuries hit the wide receiving corps, Jones was a good outlet receiver for quarterback Michael Rocco's dump-off passes. As a junior, Jones led the team in rushing with 915 yards and was second on the team in reception with 506 yards through the air. He even finished second in punt returns on the team, despite not being inserted until November.
Jones and his Reggie Bush-style game make him a critical piece to offensive coordinator Bill Lazor's scheming. He may be sharing the load in the backfield, but it is his flashiness that allows the running game to work because of how it contrasts with others. While the offense can survive without him, it would not pack nearly the same punch.
That offense will be something Virginia will need to lean on this year, and therefore, Jones is a huge asset.
Demetrious Nicholson (CB)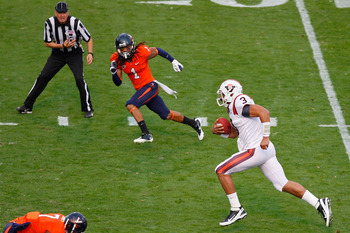 Geoff Burke/Getty Images
Last year, Demetrious Nicholson became a true freshman starting corner back in the ACC.
As you might imagine, that led to some growing pains. Nicholson, paired with All-ACC player Chase Minnifield, was targeted early and often in 2011.
People wanted to see how the under-sized Virginia Beach product could deal with the tall, athletic and lightning-quick receivers in college football. The results were rather promising.
Nicholson was fourth on the team in tackles and tied for the lead in passes broken up with Minnifield. He also had two interceptions and a forced fumble.
Now he was certainly caught a couple of times and sometimes he misread the play. However, his toughness to get back in the play and sometimes make a four-point-saving shoestring tackle proved to be the difference between the Chick-fil-A Bowl and another losing season for the Cavaliers.
With all other starting secondary players last season graduating, Nicholson is a vital piece to the most concerning puzzle on Virginia's team.
Can the inexperienced, unproven Cavalier secondary step up?
The easy answer would be, "not without Nicholson."
LaRoy Reynolds (LB)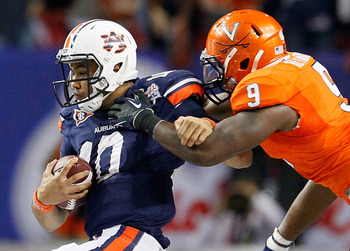 Kevin C. Cox/Getty Images
LaRoy Reynolds is someone's whose impact goes well beyond the stat sheet.
Now Reynolds has done well, he is the leading returning tackler from last season with 88, including eight tackles for loss. He also led the team the year prior in coach London's first year.
No one embraced the changing philosophy on defense more than Reynolds. By switching to the 4-3 scheme, Reynolds was given an opportunity and he has not disappointed. He is physical, quick and most importantly he is a leader.
Reynolds knows the system better than any player on the roster, and his presence is needed to calm down some talented but young charges in 2012.
Without question, the defense is going to get tested and will need for someone to step up. Playing in critical junctures is a scary venture, but Reynolds has proven he can handle it before.
For that reason alone, Reynolds is a prized commodity.
Oday Aboushi (OL)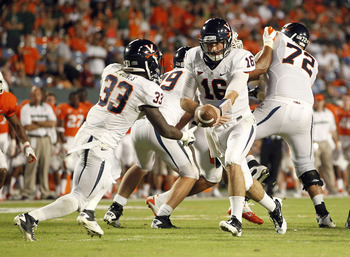 Joel Auerbach/Getty Images
Last year, Virginia revived a once dormant running game, mostly thanks to a huge, experienced offensive line.
Virginia must replace a couple of starters in 2012 on that line, putting more pressure on its best returning big man Oday Aboushi.
Having been injured most of spring training camp, Aboushi has realized the importance of taking time to heal properly for 2012. His second team All-ACC performance last season bolstered around a 13 knockdown performance against Indiana in a game where the Cavaliers amassed over 300 yards on the ground and a stellar performance at Miami.
Two big road victories that helped keep Virginia's season going were really on the shoulders of the big man making sure to not only keep the running lanes open but also to make sure Michael Rocco stayed upright.
Virginia has produced quality NFL-prospect offensive linemen over the years, and Aboushi has that kind of talent. His workmanship allowed him to overtake star recruit Morgan Moses on the depth chart, and his experience makes him a tough guy to be without in 2012.
Steve Greer (LB)
Steve Greer just always seems to be around.
As a senior, Snyder is one of the more experienced players on the defense. The second team All-ACC performer missed the Chick-fil-A Bowl with a lower extremity injury but will be needed if Virginia wants to go anywhere in 2012.
With linebacker being one of the most important positions on the field, Greer is expected to be able to finish plays at the point of attack. Virginia has been burned by sloppy tackling in the past, and a new emphasis on it led to better results for everyone in 2011.
Greer has always been consistent when it comes to tackling, leading the team in the category last year and ranking fifth in the country for freshmen in 2009.
Greer is needed to shore up potential problems but will also need to play more coverage to help protect an inexperienced secondary.
His talent, experience and leadership are simply things Virginia cannot live without.
Keep Reading