NHL Trade Rumors: Roberto Luongo Won't Waive NTC for Toronto Maple Leafs
June 24, 2012

Rich Lam/Getty Images
Roberto Luongo is one of the biggest names on the trade market, and news came out today that the All-Star netminder would only move his no-movement clause for a trade to the Florida Panthers. Luongo spends his offseason in Florida, and a report by The Fourth Period lays the situation out clearly:
The Florida Panthers are serious about bringing back Roberto Luongo to South Florida, one league source told TFP on Sunday.

Speaking on the basis of anonymity, the source indicated that Luongo is now only willing to waive his no-movement clause to Florida, where he spends his off-seasons.

The Toronto Maple Leafs are also among the teams extremely interested in acquiring Luongo, who has 10-years left on his contract, but unless the veteran netminder changes his mind in the near future, that doesn't appear to be a possibility.

It's believed the Vancouver Canucks are demanding a package that includes center Nick Bjugstad, something the Panthers are not willing to do.
This situation is pretty interesting considering the Panthers have top prospect Jacob Markstrom waiting in the wings. The Panthers intended to have Markstrom inherit the starter's role last season but an injury derailed that plan. Adding Luongo would alter that plan and would make him expendable.
The Panthers would also be foolish to deal a top prospect considering the amount of young players that could break onto the scene in the coming years. A roster with Jonathan Huberdeau, Bjugstad, Markstrom and assorted others would really make the Panthers strong in the coming years.
Shifting back to Vancouver's point of view, general manager Mike Gillis is in no rush to make any moves. He remarked that it is possible that the Canucks could head into the season with a tandem of Cory Schneider as the starter and Luongo as the backup.
You could assume that Gillis would prefer to have Luongo gone by that point so Schneider can have the job for himself.
With that said, what about Brian Burke and the Toronto Maple Leafs?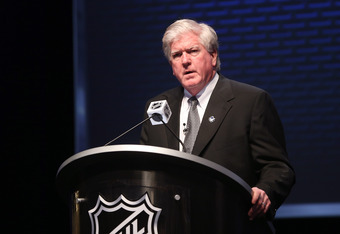 Bruce Bennett/Getty Images
With this news now in the open, it will be interesting to see Burke's next move is. The Maple Leafs upgraded their scoring when they acquired James van Riemsdyk. He will join Toronto's top-six and could prove to be a solid acquisition when it likely that Schenn will be replaced with a better overall defenseman.
There is a good chance that Justin Schultz could join his old University of Wisconsin teammate Jake Gardiner this July via free agency. It would be a solid move but goaltending is an area that needs to be addressed.
The Maple Leafs could really make some noise if they string some more moves together but with the goaltending market pretty slim, Brian Burke will have to get creative.