Pittsburgh Steelers Should Only Play in Ireland If They're the Road Team
June 24, 2012

A. Messerschmidt/Getty Images
Could the Dublin Steelers be coming to the NFL? Not quite, but Dan Rooney would like to see Pittsburgh play in Ireland.
The Pittsburgh Steelers chairman emeritus and U.S. Ambassador to Ireland has spoken to NFL commissioner Roger Goodell about the NFL playing a regular-season game in Ireland and has already volunteered the Steelers to be one of the participants.
"I think sometime very soon it will happen and I think the commissioner is interested in working something out and, sure, I'd like to see the Steelers involved," Rooney told BBC News-Northern Ireland.
The NFL has played in London, England since 2007 and the plan would be for the Steelers to return to Croke Park, where they played the Chicago Bears in a 1997 preseason game, to play a regular-season game.
Games played at Wembley Stadium in London have been very successful, selling out nearly immediately after tickets go on sale. Rooney believes that the 82,500-seat stadium in Dublin would have no problem selling out.
However, is it even worthwhile for the Steelers to travel to Europe to play a very important regular-season game? There are many logistical problems, a reality which was recognized by Mark Waller, chief marketing officer for the NFL.
"When we bring a team over - we are bringing over at least 150 personnel - that's for each team," Waller told BBC News-Northern Ireland. "That's a massive infrastructural move and, I want to stress, with these overseas games it's also in the middle of our season. So, the logistics and planning side are key to the decision."
Besides this, you have to consider since Rooney volunteered the Steelers that they would have to at least consider losing a home game. But the chances of that happening are slim.
First, the Sports and Exhibition Authority owns Heinz Field and leases it to the Steelers. That lease would likely require the Steelers to play all regular-season games at Heinz Field.
More importantly, if the Steelers lose a home game to play in Europe it would anger—no, it would outrage—a rabid home fanbase that craves the Steelers 365 days a year.
To take a home game away from the people of Pittsburgh and the surrounding area would not only be an insult to them, but would take away something that they go above and beyond to support.
The hit would go beyond the fans. Hotels, restaurants and shops in the city would take drastic hits from losing just one weekend of football. The lack of attracting tens of thousands of people to downtown Pittsburgh would mean lost business opportunities.
For these reasons, plus the simple fact that the Steelers sell out all of their games, chances are slim that they'd give up a home game to play in Ireland.
However, playing in Ireland as the road team could do a lot of short- and long-term good for the Steelers.
Before hitting those, let's recognize the fact that even having a road game in Ireland hits Steelers fans hard as they often times can overrun an away stadium with Terrible Towels.
It may be something that Steelers fans living around the country have to sacrifice for one game, as playing in Ireland would help grow the Steelers brand.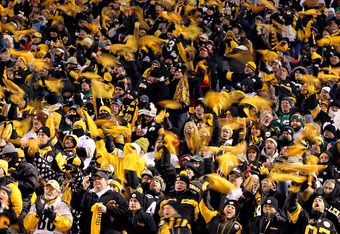 Al Bello/Getty Images
Already a team recognized worldwide, the Steelers playing in Europe could help strength and grow one of the largest fanbases in professional sports.
They would get the opportunity to showcase their brand of football and promote their star players as well as sell merchandise to a new audience.
Who knows, in time people from Ireland may wish to make the journey to Pittsburgh to see a Steelers game at Heinz Field. It might be the first time that something like that has happened.
Sure there are a lot of travel concerns and disruption to the team and their normal routine, but for the overall good of the franchise, playing one game overseas is certainly worthwhile, just as long as the Steelers are wearing the away white jerseys.
Follow me on Twitter @ChrisG_FC