US Olympic Trials: High Stakes for Allyson Felix, Jeneba Tarmoh in 100-Meter Tie
June 24, 2012

Michael Heiman/Getty Images
A recent report in the New York Times indicates that a final decision in Saturday's dramatic, historic third-place tie between Allyson Felix and Jeneba Tarmoh in the women's 100-meter dash at U.S. Olympic Track and Field Trials could be days—even weeks—away.
With the winner assured an Olympic berth, the implications were already enormous. Now Felix and Tarboh have ample time to marinate in the watchful public eye.
As the runners await judgment, let's examine what this race and this deliberation means to each runner.
Allyson Felix

For the uber-talented Felix, this decision is all about legacy.
Felix, 26, is one of the most gifted sprinters in recent U.S. history, but she hasn't been able to capture an individual gold medal in either of her first two Olympic appearances. That acute disappointment has been exacerbated by consecutive silver medals in the 200, her primary event and the Olympic title she most covets.
Felix also has a natural knack for the 400, but she decided to drop the event because she felt its physical rigors inhibited her chances in the 200.
And thus, Allyson Felix wound up in the 100, an event that gives her a shot at two individual medals but also helps her speed-train for the 200.
Felix is still a heavy favorite to make the U.S. team in the 200 later this week, but losing out in the 100 would hurt, nonetheless. Not only would it end her quest to win two individual medals, it would also fuel all sorts of second-guessing about her decision to nix the 400.
Until now, Felix has been regarded as perhaps the most talented female sprinter to have never really broken through at the Olympics.
A high-profile failure at trials would only advance that narrative.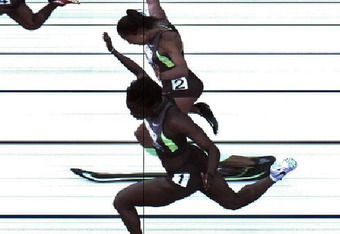 Handout/Getty Images
Jeneba Tarmoh
Tarmoh doesn't have Felix's name recognition or latent abilities, but in some ways that makes this decision even more crucial for her.
If Felix is awarded the bid, Tarmoh's chances of making the team take a big hit. She'll be running the 200 later in trials, but with big-time talents like Felix, Carmelita Jeter, Sanya Richards-Ross and Kimberlyn Duncan also in the field, Tarmoh is unlikely to secure a top-three finish.
There is the possibility that she's named to the 4x100 relay team, but otherwise, Tarmoh probably needs a 100-meter berth to make the U.S. squad.
Tarmoh, 22, can take solace in her youth. If she comes up short here, she should have a decent shot at Rio 2016. Of course, track is a fickle discipline and there's no telling if this chance will come again.
When this decision comes down, media reports will likely lead with Felix, but Tarmoh, in many regards, has more to lose.
The line between failure and success at these trials is always thin, but never thinner or more excruciatingly public than it will be for Tarmoh in the days ahead.