US Olympic Swimming Trials 2012: Breaking Down Top Contenders to Watch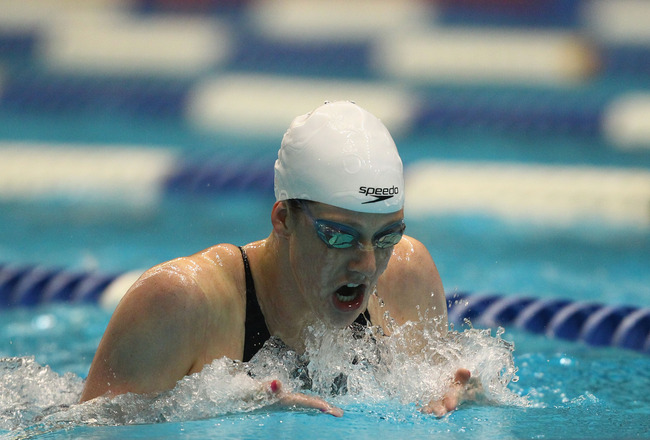 Dilip Vishwanat/Getty Images
The eyes of the swimming world fall upon Omaha, Nebraska this week with U.S. Olympic Swimming Trials set to get underway.
As usual, America boasts a deep qualifying pool that should yield fierce competition and more than a few tight finishes in the battle to earn a trip to the 2012 London Olympics.
It's easy to get lost in such an extensive arsenal of aquatic talent, so we're giving you the skinny on seven top athletes and what you should expect from each in the days ahead.
Rebecca Soni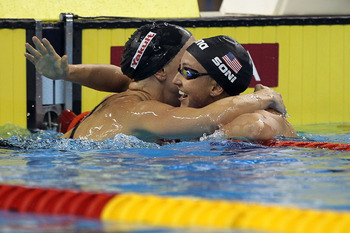 Ezra Shaw/Getty Images
Age: 25
Prior Olympics: 2008 (3 medals: 1 gold, 2 silver)
Trials are a success if...
She beats Jessica Hardy in the 100-meter breaststroke.
Rebecca Soni is a near-lock to win the 200-meter breaststroke, an event she won in Beijing and at the most recent FINA World Championships.
The 100 breast offers much more resistance, chiefly in the form of current world-record holder Jessica Hardy, who is working her way back from a one-year doping ban.
If Soni can hold off the quick-starting Hardy at 100 meters, she could be in for a breaststroke sweep this summer.
Michael Phelps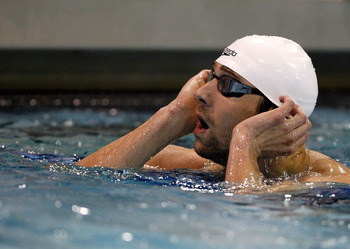 Streeter Lecka/Getty Images
Age: 26
Prior Olympics: 2000, 2004, 2008 (16 medals: 14 gold, 2 bronze)
Trials are a success if...
He can stay driven and focused through an ambitious schedule.
Some folks might tell you that Michael Phelps needs to reassert his dominance over chief rival Ryan Lochte in these Olympic Trials.
I disagree.
Of course Phelps fans would love to see their man top Lochte in the 200-meter freestyle, 200 individual medley and 400 individual, but medals aren't won in Omaha. If he can qualify for somewhere between four and six individual events (he's signed up for seven at the moment), Phelps will be well positioned to rely on his big-race experience when the stakes are highest in August.
Remember, Phelps has kept a relatively relaxed competitive profile over the past quadrennium. At trials he's ratcheting up the ambition, and I'll be watching to see if his body can keep pace.
Missy Franklin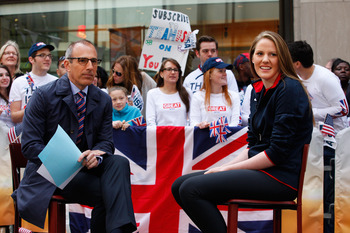 Jeff Zelevansky/Getty Images
Age: 17
Prior Olympics: None
Trials are a success if...
She qualifies for three individual events.
I'm tempted to set the bar low for Missy Franklin. This is, after all, her first Olympic Trials with a realistic shot at qualification and frequent reminders of her youth—from junior prom plans to ACT prep—serve as a buffer for undue expectations.
That said, it would be selling the young phenom short to equate mere qualification with success.
Franklin, winner of five medals at the most recent FINA World Championships, has once-in-a-generation talent and could easily qualify in four events: the 100-meter freestyle, 200 free, 100 backstroke and 200 backstroke.
In deference to her age and relative lack of big-meet experience, I can give Franklin a pass on one of the aforementioned four. But anything less would register as a mild disappointment.
Not saying the press would excoriate her—just saying Franklin has the potential to light these trials on fire.
Natalie Coughlin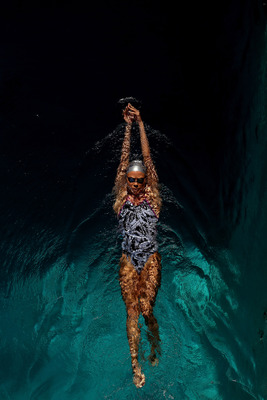 Ezra Shaw/Getty Images
Age: 29
Prior Olympics: 2004, 2008 (11 medals: 3 gold, 4 silver, 4 bronze)
Trials are a success if...
She wins the 100-meter backstroke.
Four years ago, Natalie Coughlin was at the height of her powers. At U.S. Trials she surprised most observers by taking on the 200-meter IM and, because she's Natalie Coughlin, qualified despite a scant competitive history in the event.
The years and the competition have caught up to Coughlin, and she'll need a prime effort just to earn a spot in her signature event, the 100-meter backstroke. Youngsters Missy Franklin (17) and Rachel Bootsma (18) have serious speed, but a savvy effort from the veteran should be enough to hold both at bay.
Ryan Lochte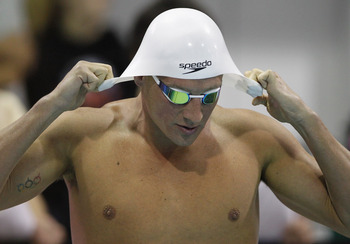 Streeter Lecka/Getty Images
Age: 27
Prior Olympics: 2004, 2008 (6 medals: 3 gold, 1 silver, 2 bronze)
Trials are a success if...
He maintains his supremacy over Michael Phelps.
Ryan Lochte has a lot more riding on his head-to-head showdowns with Michael Phelps than does his rival.
Phelps' legacy as the greatest swimmer ever is already secure and he's never lost to Lochte in an Olympic final. Even if he loses to Lochte in trials, as he did four years ago in the 200-meter IM, Phelps can take confidence in that one-sided precedent.
Lochte, for all his success at the past two World Championships, can't say the same. If he wants to confirm his status as the world's best male swimmer, he'll need to prove there's still some distance between him and Phelps.
I'll have a particularly close eye on the 400 IM, an event Lochte won at 2011 Worlds but one where Phelps still holds the world record.
Allison Schmitt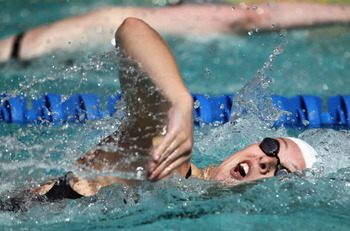 Ezra Shaw/Getty Images
Age: 22
Prior Olympics: 2008 (1 medal: bronze)
Trials are a success if...
She qualifies in the 200- and 400-meter freestyle
A few months ago, I wouldn't have set such lofty standards for Allison Schmitt. Known primarily as Michael Phelps' genial training partner, Schmitt disappointed in Beijing with a ninth-place finish in the 200-meter freestyle and has struggled with consistency in the years since.
But the calculus changed earlier this year, most notably at a May meet in Austin, TX, where she flashed championship form in the 100, 200 and 400 free.
Now Schmitt has the look of a two-event qualifier, with an outside chance for three if she's feeling speedy. Add two more potential relay nods to the fold, and Schmitt looks primed for an Olympic breakout.
Elizabeth Beisel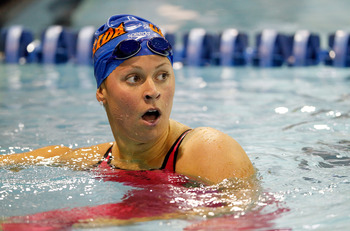 Streeter Lecka/Getty Images
Age: 19
Prior Olympics: 2008
Trials are a success if...
She looks the part of a gold-medal favorite.
Elizabeth Beisel admits that nerves got the best of her four years ago when, as a 15-year-old, she competed in her first U.S. Olympic Trials.
She told USA Swimming earlier this year, "I was so nervous most of the time...I remember sitting in the stands before the 400 IM final and crying with a Bluefish (Swim Club) teammate because I was so nervous."
What a difference a quadrennium can make.
Beisel won her first major international championship last year at the FINA World Championships, besting veteran Stephanie Rice and Britain's Hannah Miley in the 400-meter individual medley all while flashing newfound competitive steel.
She returns to Omaha as a favorite, not a fledgling, eager to prove that Missy Franklin isn't the only teen phenom worth watching at the London Aquatics Centre.
Keep Reading