Kentucky Basketball: How Good Will Kyle Wiltjer Be in 2012-13?
June 26, 2012

Chris Graythen/Getty Images
In almost any other program other than Kentucky last season, Kyle Wiltjer's arrival would have been heralded with great excitement.
However, because he arrived for his freshman season at the same time as Anthony Davis, Michael Kidd-Gilchrist and Marquis Teague, the 6'9" forward from Portland's entrance into the wonderful world of college hoops barely created a stir even in Lexington.
It's hard to imagine being a 5-star recruit and hardly being noticed.
But the upside is that Wiltjer was able to quietly contribute on a national championship team while continuing to develop his game coming off the bench.
Since Calipari went with a very tight six-man rotation for most of the 2011-12 season, Wiltjer only averaged 5.0 ppg and 1.8 rpg while logging 12 minutes per game.
When he did get on the court, he did show that he can step out and knock down threes (43.2 percent, second only to Doron Lamb).
His scoring instincts and abilities are rare. He plays with a strong sense of purpose and intelligence.
On the other hand, one of the biggest concerns about Wiltjer's game is his athleticism and lateral quickness.
Players of length and agility have been able to get around him to score or crash the boards.
ESPN's Eamonn Brennan listed Wiltjer as one of his "10 Potential Breakout Players for 2012-13."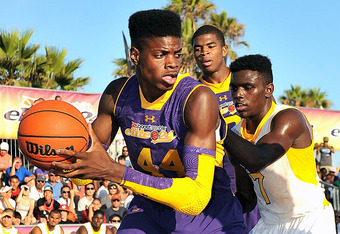 Place him alongside incoming freshmen Nerlens Noel and Alex Poythress, and the Wildcats have another elite-level front line.
He may not be an "attack-the-rim" PF like Davis or Terrence Jones, but Wiltjer is a skilled "pick-and-pop" guy who could add a different dimension to the Wildcats' potent dribble-drive offense.
Surveying what could be Calipari's starting five (Noel, Wiltjer, Poythress, Goodwin and Harrow), the rising sophomore could be the team's best outside shooter.
Prediction: Wiltjer will become a solid starter in 2012-13, averaging 10 to 12 PPG and six to eight RPG, and be a factor in UK's defense of their eighth national championship.