Georgia Football: Odds That Mark Richt Carries Bulldogs to Top 2013 Class in SEC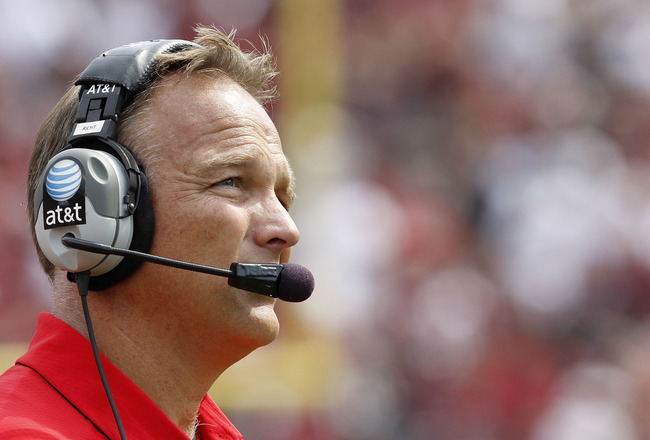 Mike Zarrilli/Getty Images
Recruiting never sleeps and the Georgia Bulldogs are looking to have a very strong 2013 class. With 19 recruits committed, the Bulldogs are looking to be the top class in the country.
However, conference counterparts Alabama, Florida and Texas A&M will have something to say about that, because they are on their way to having top-10 classes. And don't forget about LSU who only has 16 players committed, but they are capable of finishing strong once signing day comes around.
Here's a closer look at the odds that Mark Richt can led the Bulldogs to a top 2013 class in the conference.
Going Againtst the Tide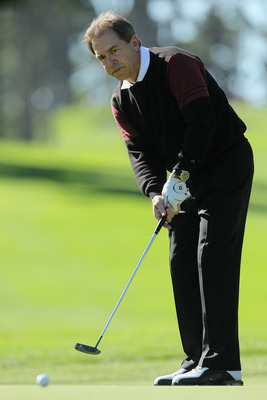 Jeff Gross/Getty Images
As usual, Alabama already has a top-tier class and show no signs of slowing down.
The top player to commit is linebacker Reuben Foster who is from Georgia but moved to Auburn, Ala. so he could graduate high school early.
The Tide also got commitments from RB Tyren Jones, OL Bradley Bozeman and QB Cooper Bateman.
Richt will do his best to keep up with the Tide, but Nick Saban knows how to close the deal. It should be interesting to see how everything plays out.
A Gator Cocktail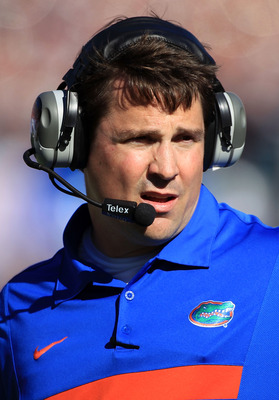 Scott Halleran/Getty Images
After coming off of one the most disappointing seasons in recent memory, the Florida Gators are trying to bounce back by having top classes for 2012 and 2013. So far, Will Muschamp has done a great job getting some of the top players in Florida to commit to the Gators as well as getting some of the top players from Georgia.
The race between Georgia and Florida will come down to the wire. Both teams normally target the same players, and both Richt and Muschamp have the ability to grab the top players from the opposing state. Muschamp will have a strong class, but Richt will finish strong and come out on top.
Rest of the Field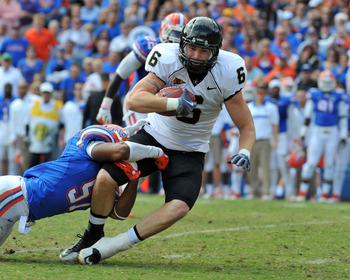 Al Messerschmidt/Getty Images
It's not going to be easy for the Bulldogs to finish at the top of the SEC recruiting class next year because the rest of the teams are get commitments from some very talented players.
Texas A&M and Missouri, the two new kids on the block, are getting a recruiting boost. The Aggies have 20 commits while the Tigers have 13.
LSU, Auburn, South Carolina and Vanderbilt are also on Georgia's tail, especially Auburn who has gotten commitments from potential 5-star players in Carl Lawson and Dee Liner.
The SEC is competitive during the season, but it's just as intense when it comes to recruiting.
A Look at the Bulldogs Class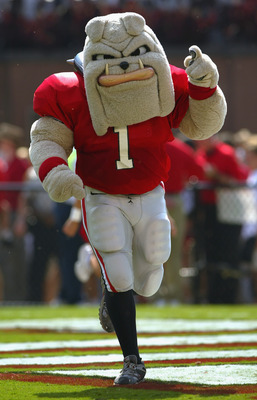 Jamie Squire/Getty Images
The Bulldogs don't necessarily have one player that stands out. Instead they have a very good group of athletic players that can contribute right away.
From OL Brandon Kublanow to WR Uriah LeMay, these 19 players that have committed are looking to help Georgia do big things in the future.
To break down the Bulldogs commitment list further, they have gotten four defensive backs three defensive linemen, three linebackers, three defensive linemen, three offensive linemen, one quarterback and one athlete to commit.
So far, Richt has done a solid job of addressing needs for the Bulldogs, but it would be great to see him finish strong with one more offensive lineman, a defensive lineman and a running back.
Final Analysis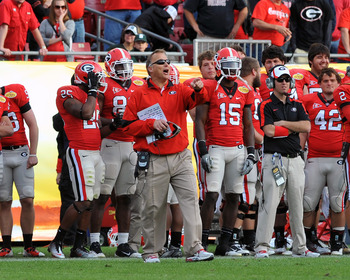 Al Messerschmidt/Getty Images
As it was mentioned earlier, Georgia has a strong 2013 class, but they have work to do if they want to be on top of the SEC. Alabama and Florida are looking strong and LSU is right on Georgia's tail.
With Texas A&M and Missouri entering the mix, more players from the Southeast will be inclined to join those schools because they bring something different to the table.
What it boils down to is this. As long as Richt keeps the remaining top players in Georgia from going anywhere but Georgia, Richt will have a very good shot of claiming the top spot in the conference. But regardless what happens between now and February, Richt is going to have another great class and will help Georgia remain a conference title contender.
Keep Reading

Georgia Bulldogs Football: Like this team?