5 Reasons You Still Can't Count out the Toronto Blue Jays in the AL East
Abelimages/Getty Images
Despite losing three starters (Brandon Morrow, Kyle Drabek and Drew Hutchison) over a four-game span (June 12-16), the Toronto Blue Jays have managed to go 5-3 and remain in contention in the AL East thanks in large part to Brett Cecil.
Over two starts, Cecil has compiled a 1-0 record with a 2.45 ERA over 11 innings. He is certainly doing his part as he's given the Jays a chance to win in both of his appearances.
If he can continue to throw the ball as well as he has been then GM Alex Anthopoulos can afford to be patient on the trade front and avoid making an unnecessary move. According to FoxSports.com, the Jays have shown interest Colorado Rockies' right-hander Jeremy Guthrie.
5. Competitive Balance of the AL East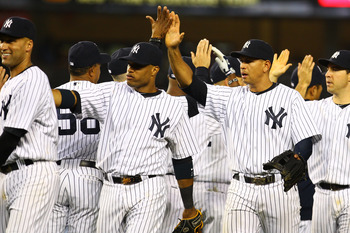 Al Bello/Getty Images
Six-and-a-half games separate the first-place Yankees from the fourth-place Blue Jays.
On June 2 following a 4-3 loss to the Detroit Tigers, the Yankees found themselves in third place with a 28-24 record, trailing the Rays by a game-and-a-half for the division lead.
They then went on a tear, winning 13 of 14 with a 10-game winning streak sandwiched in-between.
So far this season the Jays have yet to get hot go on a run of their own. They seem to alternate a winning streak with a losing streak.
Despite that, they haven't strayed too far from the division leader all season long. At 38-35, the Jays remain in the thick of things in baseball's toughest division.
4. The Return of Adam Lind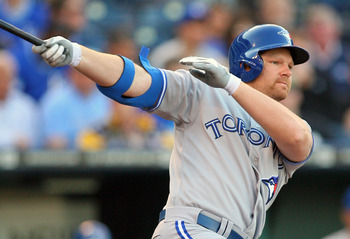 Tim Umphrey/Getty Images
Adam Lind looked lost with the Jays earlier in the season before he was optioned to Triple-A Las Vegas on May 17. In 34 games (118 at-bats), he hit .186 with three home runs and 11 RBI.
He appears to have worked through his struggles as he destroyed the opposition in the PCL. In 31 games (124 at-bats) he hit .395 with eight homers and 29 RBI.
He is definitely capable of a lot more than he showed earlier in the season. He rejoins the Jays with increased confidence, and if he is able to resemble the player we saw in 2009 (.305 average, 35 homers, 114 RBI), then the opposition will have its hands full against the Jays' offense.
3. The Impact of Brandon Morrow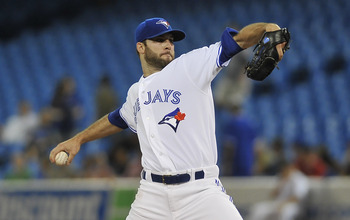 Brad White/Getty Images
Brandon Morrow has easily been the Jays' best starting pitcher this season.
When he's on his game he's virtually untouchable. In 13 games, he's posted a 7-4 record with a 3.01 ERA and three complete-game shutouts. In 77.2 innings of work, the opposition is batting just .194 and has struck out 67 times.
The Jays could take a run at the AL East title if they can hang around the .500 mark or better until he returns.
He was placed on the 15-day disabled list with a strained left oblique on June 12.
2. Alex Anthopoulos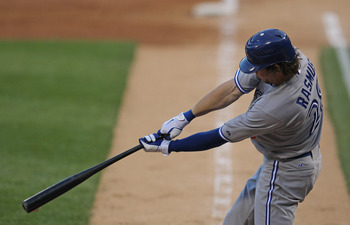 Jonathan Daniel/Getty Images
Don't underestimate Blue Jays GM Alex Anthopoulous' ability to pull a rabbit out of his hat. He's completed several big trades during his tenure with the club and could be busy as the trade deadline approaches.
In 2009, he acquired Brandon Morrow from the Seattle Mariners for Brandon League and minor league outfielder Johermyn Chavez in what now appears as a lopsided deal in Toronto's favor.
During the winter of 2011, he was able to dupe the Los Angeles Angels into eating the remainder of Vernon Wells' contract ($86 million over four years) in a trade that brought Mike Napoli and Juan Rivera to the Jays.
Napoli was later flipped to the Texas Rangers for Frank Francisco—a trade that looked good at the time as it addressed the club's closing situation.
Colby Rasmus struggled when he joined the Jays last season, but appears to be putting it all together this season.
Anthopoulos had to make two trades to acquire him. On July 28, 2011, he shipped Jason Frasor and Zach Stewart (who was recently traded for Kevin Youkilis) to the Chicago White Sox for Edwin Jackson and Mark Teahen.
Jackson was then flipped to the St. Louis Cardinals along with Marc Rzepczynski, Octavio Dotel and Corey Patterson for Rasmus, Brian Tallet, P.J Walters, and Trever Miller.
The trade has worked out for both teams as the Jays acquired their center fielder of the future while the Cardinals went on to win the World Series.
If the Jays remain in contention, Anthopoulos will not hesitate to pull the trigger on a deal and provide his club with reinforcements for the stretch drive.
1. These Jays Can Score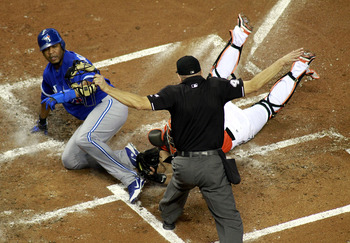 Marc Serota/Getty Images
Toronto boasts a potent offense and is capable of putting crooked numbers on the scoreboard in a hurry.
Led by Jose Bautista and Edwin Encarnacion, they have hit 104 home runs, ranking them second in the majors to the Yankees' 112.
Their 353 runs are good for third in the American League and fifth in all of baseball, and as of June 26, they are an impressive 34-12 when scoring four or more runs.
Keep Reading

Toronto Blue Jays: Like this team?