Los Angeles Galaxy vs. Vancouver Whitecaps: Rating the Galaxy Players
June 24, 2012

Stephen Dunn/Getty Images
What a comprehensive performance from Bruce Arena's Los Angeles Galaxy, who reverted to their 2011 selves and dismantled the Vancouver Whitecaps 3-0 at the Home Depot Center in Carson, Calif. on Saturday night.
I can't stress this any more: We are the midway point of the year, and Los Angeles followed their biggest win of the season up with their most complete win of the season.
All cylinders were firing for the Galaxy, whose defense neutralized the attack, whose midfield closed space and won possession, and whose forwards finished the play. In fact, the result would have been more one-sided if the finishing was a little bit crisper.
That isn't to say this wasn't already a beatdown; this may go down as Vancouver's worst performance of the season, or at least one of the worst. Without further ado, it's time for some player ratings.
Here we go. 
Josh Saunders: 8
Saunders had a clean shutout, didn't have to do a lot of work, only made two saves, but they were big ones. Having Josh Saunders back in the mix has proven to be a lifesaver of sorts for the Galaxy, who need to keep getting these results.
And it all starts with clutch goalkeeping. 
Sean Franklin: 7
Another night at the office for Sean Franklin. Franklin kept the likes of Sebastien Le Toux in check. I don't think I even called his name that much in the Live Blog, so this means Franklin had a field day on defense. He did have some problems with Camilo, but they were minimal because Camilo was subbed in late and Los Angeles had a manageable lead by then. 
A.J. DeLaGarza: 7.5
Gershon Koffie had no chance of getting anything by A.J. DeLaGarza. He was a menace in the back. And this comes from being one of the most consistent defenders on the team. What an outing from DeLaGarza. 
David Junior Lopes: 7.5
This was the best performance of the year from David Junior Lopes. This was the game in which he paid his dues because he frustrated one of the most promising rookies in the league in Darren Mattocks. Will we see more of this from Lopes this Saturday against San Jose? 
Todd Dunivant: 7
Dunivant suffered a knock just seconds into the match, but he was able to shake off the injury and play the full 90 and stoppage. The Iron Man's assignment: Davide Chiumiento, and he limited Chiumiento's production on Saturday. 
Hector Jimenez: 6
Not much of a factor this match, but he did help string up some good passes as part of a wave of sequences that tested Joe Cannon.
David Beckham 6.5
The set piece slot machine didn't pay off very well for David Beckham. The set piece either went wide or were cleared. The silver lining in all this: The supporting cast allowed Becks to get away with an average effort on Saturday...in spite of a yellow.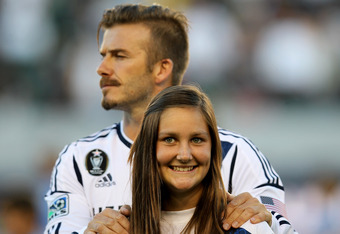 Stephen Dunn/Getty Images
Juninho: 8
Great night for Juninho. The young Brazilian won the second ball and also closed the space generated by Jun Marques Davidson and John Thorrington. You don't need goals or assists to have a good game if you are stellar in the intangibles, which Juninho was. 
Mike Magee: 8
The likes of Lee Young-Pyo probably didn't understand how valuable Mike Magee was to the Galaxy until the 16th minute, when he scored on a rebound from close distance.
Magee was on fire on Saturday, and if Magee is on fire, the whole team is destined to join in the blaze.
Landon Donovan: 8.5
A goal and an assist from the captain, combined with a flurry of other chances gone awry highlighted Landon Donovan's performance tonight. If Donovan had more confidence on goal, we could have seen a hat trick.
And if Donovan didn't get a hat trick, someone else would. That man is... 
Robbie Keane: 9
The Man of the Match, ladies and gentlemen.
Robbie Keane really upped the difficulty level of this match and when he scored at the half-hour mark, he dedicated the goal to the memory of James Nolan (courtesy of AP). Like Donovan, if Keane had been onsides and/or accurate with his finish, Vancouver would have been in even worse shape.
That's how one-sided this match turned out.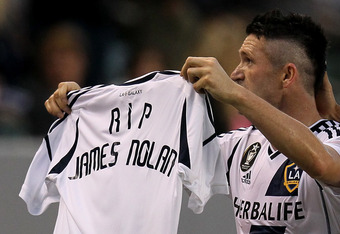 Stephen Dunn/Getty Images
Michael Stephens: 5

Michael Stephens is going to have to get used to doing cleanup work for the rest of the season. He seems to perform well when the game is already decided and it's just a matter of preventing the opposition from trying to steal some chicken. Stephens filled in for Hector Jimenez admirably late in the second half. 
Bryan Jordan NR
Chad Barrett NR
Came into the game late, no rating given.