Brandon Belt: Has Bruce Bochy Finally Freed Embattled Giants First Baseman?
June 24, 2012

Thearon W. Henderson/Getty Images
"He's going to be around for a long time. I'm going to have to figure out an easier way to get him out."
These were the words of L.A. Dodgers hurler Clayton Kershaw when Mercury News writer Alex Pavlovic asked Kershaw about the historic rivalry between him and San Francisco Giants first baseman Brandon Belt.
Kershaw's comments about Belt happened back in May. This, as Belt tinkered with his swing, battled with his confidence and kept his wits in the face of the turnstile position that was the Giants' first-base position.
While it is true Belt has had his fair share of ups and downs in two years between the major and minor leagues, it is indisputable this fan favorite has the potential to be a star in this league for years to come.
As expressed by the "Free Brandon Belt" movement, all this young man needed was consistent playing time.  
With the recent injury to veteran Aubrey Huff, Giants manager Bruce Bochy has finally given Belt the shot he deserves (via CBS San Francisco).
And this sweet-swinging, left-handed hitter has not disappointed.
With Saturday's 2-for-3 performance in the Giants 9-8 win over the Oakland Athletics, Belt is now riding an 11-game hitting streak.
In the last 10 games, Belt is batting a scorching .451 (14-for-31) with four home runs and 13 RBI.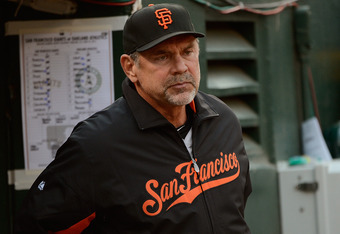 Thearon W. Henderson/Getty Images
Since June 12th, Belt has raised his batting average 46 points, from .227 to .273.
Talk about a turnaround for this 24-year-old Texas native—who, by the way, is also an outstanding left-handed pitcher.
On the season, Belt has four home runs and 29 RBI in 59 games. He also has 11 doubles, two triples and four stolen bases. His OBP/SLG/OPS is .395/.453/.848.
Defensively, Belt has committed just two errors in 385 total chances for a .995 fielding percent.
In light of Belt's recent success, it will be interesting to see what Bochy does when Huff returns from injury.
Will the Giants manager continue to play the hot bat that is Brandon Belt? Or will he go back to tinkering between Huff and Belt (and Brett Pill) to keep all three ballplayers happy?
Better yet, will one of these three first basemen find themselves part of heated discussions with the trade deadline looming?
The answer to these questions is anyone's guess. This is the beauty of baseball.
That said, one thing is for certain.
Should Belt continue playing the way he has been, he is going to be in a Giants uniform for a very long time.
James Morisette is a featured writer for Bleacher Report. He is also the founder of the Basebook Baseball Social Network. You can follow him on Twitter.