Euro 2012: What the Euro Ratings Say About Soccer's Popularity in the U.S.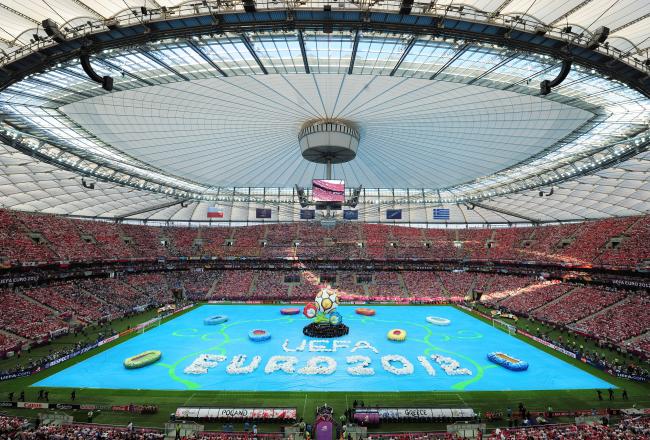 Shaun Botterill/Getty Images
In 2005, FIFA adminstered a then-unprecedented $425 million deal for television rights to the 2010 and 2014 World Cups in the United States. The bid was jointly prepared by ESPN/ABC and Univision.
In the deal, ABC/ESPN bought the rights to the 2010 and 2014 men's World Cups, the 2007 and 2011 Women's World Cups, and the 2009 and 2013 Confederations Cups to the networks. Univision doled out the remaining $325 million in the deal for Spanish-language rights for those competitions.
FIFA called it "the biggest TV deal in a single country" in the governing body's history.
It was a testament to the fervor with which ESPN wished to broadcast the beautiful game in the U.S.
Its executives are no amateurs: they realized that soccer was growing in popularity by the year in the United States, and they seized the opportunity to strike while the proverbial iron was hot.
Fans have taken note and shown their appreciation. ESPN has stepped up their production value each tournament, going from the earnest telecast duo of Dave O'Brien and Marcelo Balboa in 2006 to more knowledgeable and experienced broadcasters, headlined by the arrival of Ian Darke from Sky Sports.
It has been a fascinating trend to follow. After the O'Brien/Balboa disaster, ESPN relied upon its plethora of top-notch European telecasters for Euro 2008 and World Cup 2010 (we'll get to John Harkes later). Now, during Euro 2012, they have begun incorporating American broadcasters, far superior to Harkes, again.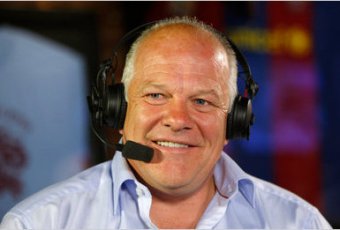 Andy Gray joined ESPN for the '08 Euros.
Darke had followed in Andy Gray's footsteps, working for ESPN during a major competition (Gray was on board during the '08 Euros, famously helping call the Czech Republic-Turkey match in which Petr Cech bumbled the game to the Turks).
Darke returned to Sky Sports for the start of the 2010-11 English Premier League season, but soon signed a three-year deal with ESPN to become its "voice of the Premier League," a role he has fit like a snug glove.
Speaking to Sports Illustrated in December 2010, Darke called the switch "a new lease on life," and the chance to take advantage of a new challenge after some 20 years spent calling games for Sky Sports.
His approach has won him many an admirer in the states, where viewers had spent years dealing with John Harkes's insufferable mix of self-aggrandizing (he seemed to view each telecast he worked as the perfect opportunity to remind viewers he once played for Leeds United) and patronizing.
"It's important we don't talk down to the audience," Darke told SI then. "We want to call [the game] in an authentic way."
Darke has formed a reliable partnership with Steve McManaman (who played for Liverpool and Real Madrid, among other clubs), and those two have been joined by such ESPN veterans as Adrian Healey, Robbie Mustoe, Derek Rae and a host of new blood-American talent.
Taylor Twellman in particular has seen the most increased role in telecasts during this European Championships, which ESPN sealed the rights for, along with Euro 2016 in France. Under the deal, ESPN have the rights to broadcast all 31 European Championship games. ESPN Deportes broadcasts the games in Spanish.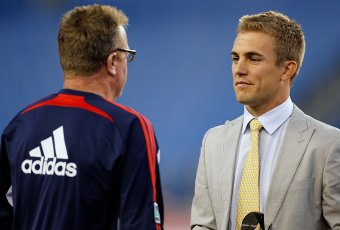 Twellman (right) has been one of ESPN's best gets this time around.
Gail Oskin/Getty Images
After enjoying more than 41 million viewers during its Euro 2008 telecasts, ESPN has seen their current tournament thrive even more so than the previous edition.
Through the first six matches of Euro 2012 (June 8 to June 10), Sports Illustrated reported that ESPN's English-language games (broadcast on ESPN and ESPN 2 at 8:45 a.m. and 11:45 a.m. PT) were averaging 1.3 million viewers, more than triple the number in 2008.
June 10's Italy-Spain encounter, featuring the last two World Cup winners, smashed the Euro 2008 numbers with 2.1 million viewers—more than any game four years ago aside from the final.
Those numbers were updated by Deadline, who reported that through the 24 group stage matches ESPN had averaged 1 million viewers in its live English-language broadcasts—an 82 percent increase from the Euro 2008 group stages.
The ratings reinforce the effort ESPN has put forth to deliver a quality viewing experience for United States soccer fans. The sport is as popular as it has ever been in America, and for good reason.
Television broadcasts are the best they've ever been—remember, in Euro 2004, American viewers were forced to mire through pay-per-view (I will never forget seeing the time allotment run out during England-Portugal in the quarterfinals just as the match had descended into penalties) to watch any of the games.
All that has changed. Ratings are up, ESPN is thriving. It all bodes well as we look ahead to World Cup 2014 and Euro 2016, where we can and should expect more of the same from the sports megalith.
This article is
What is the duplicate article?
Why is this article offensive?
Where is this article plagiarized from?
Why is this article poorly edited?