Athletics vs. Giants: Sloppy Defense, Bad Relief Dooms A's in Thrilling 9-8 Loss
June 23, 2012

Thearon W. Henderson/Getty Images
Where do we begin? The A's pitching and defense imploded, losing a 4-2 lead to eventually trail 9-4. They then rallied for four ninth-inning runs with two outs to make it 9-8. But a little bad luck and a nice play by Giants second baseman Ryan Theriot saved the game for the Giants as they took the first two from the A's in Oakland.
Saturday's game started much like Friday night's as Oakland jumped out to an early lead. With one on and one out, Josh Reddick crushed a home run to right field off Madison Bumgarner to make it 2-0. But the Giants bounced right back in the second as singles by Pablo Sandoval and Brandon Belt tied the score. Slow-footed Buster Posey was able to score on the A's first error, a bobble fielding Sandoval's single by Jonny Gomes. 
The A's retook the lead on a two-out rally in the bottom of the second. Singles by Coco Crisp and Jemile Weeks, as well as an RBI single by Reddick, made it 3-2. Then, in bottom of the third, Jonny Gomes extended his mastery over Bumgarner by crushing an off-speed pitch to left field for his eighth home run.
But from there, the Giants exploded. Pablo Sandoval hit a scorching shot to first base that Brandon Moss could not handle with two on and one out. Moss compounded matters by sailing his throw to the bag, allowing both Posey and Angel Pagan to score.
After starter Tyson Ross was pulled, reliever Jerry Blevins promptly allowed a two-run home run to Belt, giving the Giants the lead for good. Moss would commit his third error on a grounder by Nate Schierholtz, but the Giants would not score.
The Giants scored three in the seventh to seemingly put the game away. Posey hit a long two-run home run, and Schierholtz walked with the bases loaded, scoring Pagan to make it 9-4.
But the A's would not quit.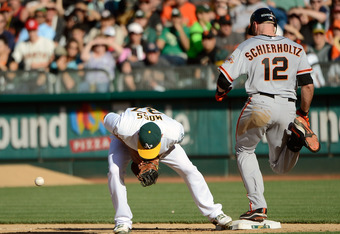 Thearon W. Henderson/Getty Images
In the ninth, Reddick reached on an infield single. After Yoenis Cespedes struck out, the next five A's hitters would reach. The key at-bat was provided by new Oakland shortstop Brandon Hicks.
Facing Giants closer Santiago Casilla with the bases loaded and the score 9-6, Hicks hit a deep drive to left that seemed destined to tie the score. Instead, the ball took a carom straight up over the left field wall for a ground-rule double. Instead of a tie score, it remained 9-8. Casilla was relieved, and Javier Lopez walked Seth Smith in a fantastic nine-pitch at-bat.
San Francisco turned to its fourth pitcher of the inning, Clay Hensley. With a 2-2 count, Weeks hit a flare that seemed like it would drop, completing the comeback. But Ryan Theriot ranged out and to his right to make a great backhanded catch to save the game for the Giants.
Good: Josh Reddick. It appears as though the slump is over. Reddick went 3-for-4 with three RBIs, including a bomb off of Madison Bumgarner, the first home run Bumgarner has allowed to a left-handed hitter all season. Reddick is back up to .269 on the season with 17 home runs and 37 RBIs, both tops on the team.
Bad: A's middle relief. I seem to bring up Jerry Blevins whenever he comes in a stress situation. When there is nothing that matters, or when the A's are down big, he gets outs. When it comes time to record a big out, he always seems to fail.
In this case, he allowed the go-ahead runs on Brandon Belt's home run. Then to compound matters, Brian Fuentes came in and immediately was burned for three runs on two hits and three walks while only retiring one batter.
In his last six innings, Fuentes has been tagged for 11 earned runs. His ERA is now a robust 6.85 for the year. It is long overdue for the A's to cut their losses with him. 
Ugly: Brandon Moss. Hate to pick on the guy, but it is warranted. He did something defensively that has not happened in 25 years with the three errors in the sixth inning. To make matters worse, he went 0-for-4 with two strikeouts on the game. Just a forgettable performance all around for the converted outfielder.
Having lost two frustrating games, it gets no easier for Oakland Sunday afternoon. They will face Giants ace Matt Cain while trying to avoid their first-ever three-game sweep at the Coliseum to San Francisco. To counter, the A's will send their ace Brandon McCarthy to the bump. First pitch is set for 1:05 p.m. PT.