USC Football: Everything You Need to Know About Trojans CB Nickell Robey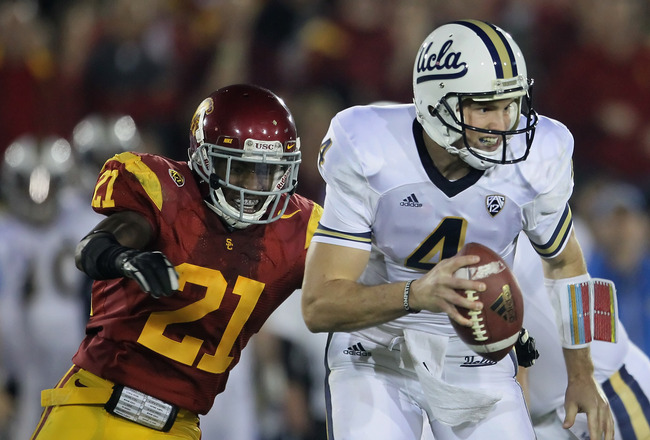 Jeff Gross/Getty Images
If the 2012 USC Trojans are to attain the lofty heights many expect of them, they must rely on more than the physical talent that the team is blessed with in abundance.
As many people's preseason favorite to win it all, the Trojans will also have to display leadership in vast quantities, and fortunately for those who follow the Men of Troy, this too is an attribute that they possess in great quantities.
Everyone knows about the guys who wear No. 7, one each on offense and defense, and both are expected to garner individual awards for their gridiron exploits.
Quarterback Matt Barkley and safety T.J. McDonald, beyond their ample abilities on the field of play, will provide proven leadership and both will be counted on to be front and center to guide the Trojans' fortunes through the 2012 season.
But there is another guy who is similarly as valuable, although he doesn't get the ink that the two-headed No. 7s do.
Cornerback Nickell Robey has been a stalwart on defense since he arrived on USC's campus in 2010 under trying circumstances, and since then, he has been a mainstay both on the field and in the locker room.
This slideshow will focus on why the diminutive corner has been so important to the Trojans and why any success this season will need his contributions for the perceived "dream season" to unfold.
Is he as valuable as Barkley and McDonald? In many ways, yes.
And here is why...
Robey Is Emotionally Strong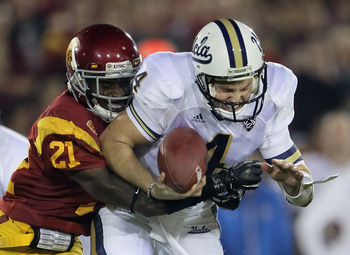 Jeff Gross/Getty Images
You have to possess a lot of inner strength to be a 5'8", 170-pound corner in Division I college football.
Facing much larger receivers who constantly talk trash requires both emotional strength and restraint in order to quiet the yapping player lining up opposite from you.
If you are giving up many inches and too many pounds, chances are you also are facing a constant barrage of naysayers in the media and other places, too.
All of this requires an internal fortitude that many of us have never had to draw upon.
But it's nothing compared to what Nickell Robey had to face before he even played a down for the cardinal and gold.
That's because after Robey's senior prep season, before he even ventured west from his Florida home, his mother passed away far too young from a heart attack.
Understanding the tremendous burden Robey was under, head coach Lane Kiffin told Robey he would understand if he wanted to forgo his Trojan scholarship to stay closer to home.
Robey would have none of it.
Instead, he traveled clear across the nation as an 18-year-old weighed down by the sadness of losing a mother he was so very close with.
And like everything he has done since his arrival in southern California, Robey has risen above the obstacles placed before him to become one of the most valued Trojans in 2012.
Is Robey emotionally tough?
You betcha.
Height Is Not a "Tall" Issue for Robey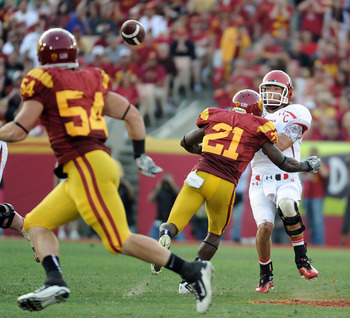 Harry How/Getty Images
Yes, Nickell Robey is not a tall cornerback. I get it.
But when the Trojans need a premier opposing receiver locked up, guess who Monte Kiffin and his defensive coaches turn to?
That's right—the "little" defensive back from Frostproof, Fla.
If you don't believe me as to Robey's ability to cover taller receivers, just ask Michael Floyd.
Floyd, the excellent Notre Dame receiver who went 13th to Arizona in this year's NFL draft, had a miserable game against the Trojans in 2011. With Robey being the primary cover guy on Floyd, the Irish receiver caught four passes for very few inconsequential yards.
Now, Robey has been exploited by taller receivers, but so has every 6'0" cornerback who has been given the responsibility to shut down the best the opposition has to offer.
The secret for Robey is to cover his guy so tightly that the quarterback has to make a perfect throw in a jump-ball situation.
And that is exactly what he does much more often than not.
He Is a Great Leader, Too!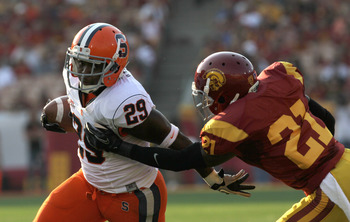 Stephen Dunn/Getty Images
Besides all of the physical talent he brings to the field of play, Nickell Robey is a tremendous leader as well.
Usually one of the first to the practice field and last to leave, Robey uses what little spare time he has to support other sports programs at the university, such as his recent efforts on behalf of the USC track team.
Speaking to Pedro Moura from ESPN, Robey had this to say about his experience with the track team:
"Being on the track team did make me faster. It opened up my legs. I was way more in shape. I had endurance." Robey went on, "When you put work into something and you keep working on it, eventually you're going to get something out of it. Me and Marqise Lee, that's what we did. We said we were gonna do it and we did it, and we made the best of it."
Don't think for a moment that his Trojan teammates didn't take notice of Robey's dedication.
On the football field, he doesn't make excuses and uses his efforts to motivate his teammates.
Just like a leader should.
Robey Excels in the Classroom as Well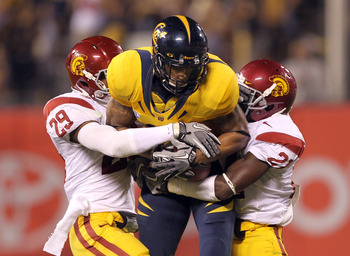 Ezra Shaw/Getty Images
Despite his extracurricular activities playing football and running track, Robey is also a very good student.
In fact,—and this is good news for Trojan fans—he is on target to graduate in four years.
Actually, he is ahead of schedule, as he explained to Moura, "I think I'll be able to graduate in three and a half years, easy. I'm taking three summer classes right now and I'll know for sure pretty soon."
The double meaning for that statement is this:
Not only will Robey earn that prestigious USC degree but if he does do it in 3.5 years, it means that likely he will be staying for his full eligibility.
Trojan fans know how important that would be to a program that needs as many players as possible to stay for four years.
A great player and good in the classroom—what a fantastic combination.
Opposing Coaches Fear Robey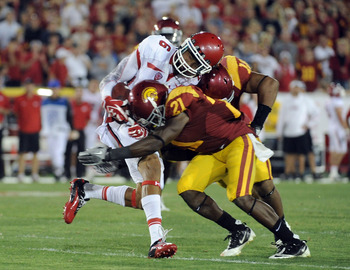 Harry How/Getty Images
In two years as the Trojans' starting cornerback, Robey has six interceptions (two for touchdowns).
Now, that may not seem like a prodigious number of picks, but there is a good reason for this.
You see, it's difficult to intercept passes when few are being thrown your way.
This is not to say that Robey's side of the field is devoid of the thrown ball; he does see more than a few.
But that's the point—if you're coaching against the Trojans and you see Nickell Robey, all 5'8" of him protecting one side of the field, don't you throw at him...a lot?
Not if you're smart.
And that is a large part of the reason why he only has those six interceptions.
He Is Incredibly Durable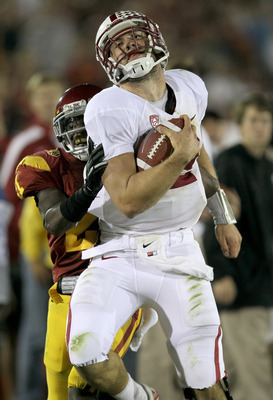 Stephen Dunn/Getty Images
In the two years Nickell Robey has suited up for the cardinal and gold, the Trojans have played 24 games.
That number also exactly represents the same amount of games that Robey has started for USC at cornerback.
This from a guy who is stretching to get to 5'8" and weighs a buck-seventy soaking wet.
Like Traveler taking a lap at The Coliseum after a Trojan score, you can count on No. 21 to be there when the whistle blows for the opening kickoff.
And it's not like he isn't involved.
Robey has 111 tackles over the last two years, and many of those were in support of the run. He is not afraid to get his uniform dirty.
Nonetheless, you rarely see him limp off the field or ask for a replacement—one tough SOB to be sure.
To repeat, Robey has started every Trojan game in the two years he has been here.
USC fans hope he will do it for two more.
Conclusion
Jonathan Daniel/Getty Images
Athletic, intelligent, talented, humble, etc.
These are only a few adjectives that come to mind when describing Nickell Robey.
One more is "humanitarian."
In keeping with everything he is about, Robey spent what little time he had between the football and track seasons helping Matt Barkley and 14 other Trojans build houses for victims of Haiti's tragic earthquake.
Taken in its entirety, Robey is a perfect Trojan, and don't think he doesn't appreciate being a Man of Troy.
Speaking to Moura about his time at USC, he had this to say, "At the same time, I've been learning. You live and you learn, and I've also been doing that. It's been great being here at USC. I love USC."
The feeling is mutual, Nickell.
Keep Reading

USC Football: Like this team?