Travelers Championship Leaderboard: Top Storylines Heading into Weekend
June 23, 2012

Jim Rogash/Getty Images
Before the weather in Cromwell, CT caused a suspension of play during the second round of the Travelers Championship, defending champion Fredrik Jacobson had already taken care of his business for the day.
Jacobson followed his opening round of five-under 65 with a similarly impressive score of four-under 66 on Friday to take a one-shot lead into the weekend. This is precisely the way he started his run to victory at TPC River Highlands last year. Plus, he's riding the momentum from his 15th-place finish at the U.S. Open, where he challenged for the lead until a disappointing final round.
Jacobson has played very well, hitting 21-of-28 fairways and 26-of-36 greens in regulation through two rounds. He also has just 53 putts thus far.
If he can hold on to his lead, he will be only the second player in the 61-year history of the Travelers Championship to defend a title. Phil Mickelson accomplished it in 2001-2002.
"We're only at the halfway mark," Jacobson said in his post-round presser. "It's easy to start thinking about the finish line already. I think a lot of guys come back and probably play well. Any tournament is tough to win. To win two in a row is probably tougher. But you know, you have the thing going for you that you have some good memories to draw from, so hopefully that allows a little bit to increase your chances."
Jacobson will have to deal with the likes of Charley Hoffman and Nathan Green, among others. Both Hoffman and Green were only a shot behind Jacobson but had played just six and nine holes respectively on their second rounds.
Another player riding on U.S. Open momentum is Blake Adams, who fired the low round of the day with a six-under-par 64 that included five birdies on the back nine. He's currently two shots behind Jacobson.
Adams, like Jacobson, was competitive until the final day at the Olympic Club. He finished T-21 along with Tiger Woods and others, but his play for much of the week was exemplary.
"I think I finally woke up," Adams said in his post-round presser. "I was just kind of making some silly bogeys all day yesterday and early this morning and I finally got rid of those silly errors and made some birdies. I've been playing well. I've been working hard. I'm finally seeing some good numbers, and you know, we'll see what happens. It's a long, long tournament. I've only played 36 holes, and like I said, we got two more days and just see what happens."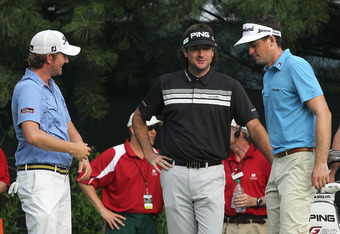 Jim Rogash/Getty Images
What happened to the marquee pairing of Webb Simpson, Bubba Watson and Keegan Bradley, the past three major championship winners?
Things didn't go as expected after the trio combined for a 10-under-par performance on Thursday. Together, Simpson, Watson and Bradley were only two under on their second rounds.
Simpson is playing the best golf of the group. His rounds of 66 and 69 have him five under and only four shots off the current lead. But the others are far from out of the picture. Bradley is at four under and Watson is three under.
The upcoming weather forecast looks good, so play should resume uninterrupted through the weekend.