NHL Draft 2012 Results: Nail Yakupov Was Smart First Choice for Edmonton Oilers
June 22, 2012

Richard Wolowicz/Getty Images
Being the first overall pick in the NHL draft is tricky, but Nail Yakupov has the exact swagger needed to succeed in Edmonton.
While many thought that defenseman Ryan Murray may have surpassed a late push for Yakupov as the No. 1 overall pick, the elite level of play from Yakupov makes him a safe and smart move for Edmonton.
The Russian forward was considered to be the best player in the draft, and according to many, he considered himself to be such as well.
While defense may have been what the Oilers needed immediately, it would have been foolish to ignore the elusive talent waiting on the board.
The biggest concern for most NHL teams was that Yakupov might jump ship and go back to Russia if things did not work out in the NHL.
Thankfully, the global top prospect has said that the NHL is where he wants to be.
"I say just what I feel inside and I say I want to play in the NHL," explained Yakupov. "It's not my deal what teams think, if they don't trust me or not. I want to play in NHL."
After much success in the Ontario Hockey League, the 5'11" Yakupov plans to make a difference in Edmonton. And unlike other Russian peers, that's where he wants to stay.
"The NHL is the best league in the world," Yakupov said.
Last season, he had 31 goals and 69 points. He will play alongside other striking stars Taylor Hall and Ryan Nugent-Hopkins.
Suddenly, the Oilers boast one of the most elusive scoring fronts in the NHL.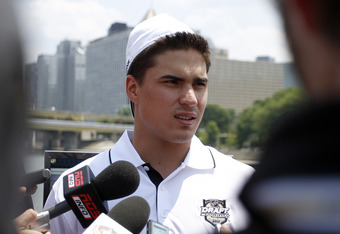 Justin K. Aller/Getty Images
"It would be like [Mark] Messier, Jari Kurri and [Wayne] Gretzky all over again," said Igor Larionov. "Another generation of great players...it would be fantastic to see the new Oilers of a new era with that talent and speed."
These words are certainly exciting for Oilers fans hoping to rekindle a light needed to get their team back to relevance.
Perhaps known as the most comfortable skater in this year's draft class, Yakupov becomes one of the most consistent threats to score no matter where the puck is.
The 18-year-old has generated much hype in the past few months, and has even drawn comparisons to fellow countryman Alexander Ovechkin, who was the most recent Russian to be drafted with the first overall pick (in 2004).
This is the third consecutive year that the Oilers have had the first overall pick in the draft, and they should be proud to include the confident Yakupov on their roster.