NBA Draft 2012: Strengths and Weaknesses for Each of Top 5 Prospects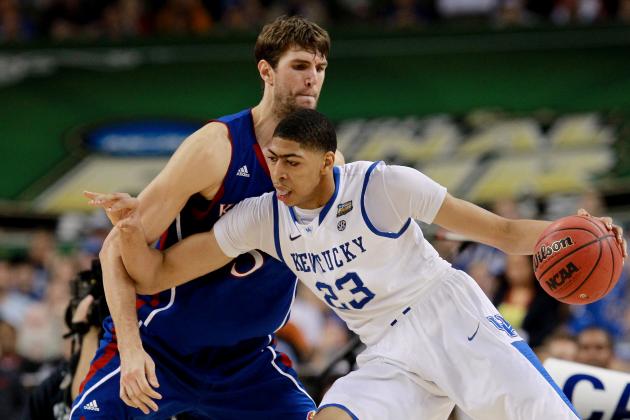 Ronald Martinez/Getty Images

A lot goes into the scouting of potential NBA players, more than just looking at numbers or watching some games.
The idea is to not only dissect a player's abilities and areas of weakness, but to see why they do things well, or in the case of weak areas, what can be done to improve them.
With the draft less than a week away, I am going to give a small glimpse into what NBA scouts are looking for in some of the top players in this year's draft, as well as what areas these players will need to improve on early in their NBA career.
This first group of players is the top five, in my opinion. Subsequent articles will look at more of the top players by position.
Begin Slideshow

»
Why Teams Want Him: It's very simple—Drummond has fantastic athleticism for his size, and he seems to be nowhere near reaching potential as a basketball player.
His offensive game is still developing, but he has shown some improvement in the fundamentals of post play, especially in his footwork. He runs the floor very well for his size and has even shown the ability to catch, dribble and finish in transition.
He has good instincts defensively and has the potential to be a top shot-blocker. His size makes it difficult for normal post players to score on him easily.
What He Needs to Work On: Drummond is still really learning how to play basketball, so almost every area of his game needs to be significantly improved.
His improvement during the season at UConn may show that he is coachable, and with the right coaching staff in the NBA, he has the potential to be a dominant post player.
Why Teams Want Him: While Barnes' college career didn't seem to produce the results that many expected, he still showed plenty to place him in high demand for NBA teams. He has the ability to create scoring chances off the dribble, including a still-improving mid-range jumper.
He has very good form on his shot, with range beyond the NBA three-point line. The typical spacing of an NBA offense should give him plenty of room to find ways to score.
What He Needs to Work On: Playing more consistent defense on the perimeter is a major area for Barnes to improve. His positioning and understanding of what he needs to do to be an effective defender have improved, but being able to do little things like closing on shooters and getting over screens still needs work.
Barnes' shot selection needs to continue to improve, and he will need to become a more efficient scorer. NBA teams will want him to attack the basket more, as well as be able to draw defenders and find an open teammate.
Why Teams Want Him: Don't be fooled by his shooting percentage his freshman season; Beal is one of the top shooters in this draft.
His form is textbook, and in the NBA, offenses will be set up to get him better looks. He has a strong body, and he uses it well to score around the basket as well as rebound.
He has very good court awareness and has improved as a ball-handler. Beal has the ability to push the ball in transition or to run the wings and attack the basket or set up for a jumper.
What He Needs to Work On: While Beal does a good job using various methods to create his own shot, he will need to show the ability to do it quicker in the NBA. Shot selection was an issue at times his freshman season, but that should improve with experience.
Defensively, Beal will need to show improvement as an on-ball perimeter defender, especially with his lateral quickness.
Why Teams Want Him: Robinson's consistent high energy and motor have impressed teams since his freshman year at Kansas.
With increased minutes and a larger role his junior year, he didn't disappoint. On the offensive end, he settled in well as a primary post option and showed the ability to use a combination of athleticism and strength to create scoring opportunities.
He is a very good rebounder on both ends of the floor, and he also runs the court well and finishes in transition. On the defensive side, he uses his body well to defend in the post, and he has the footwork to guard quicker post players.
What He Needs to Work On: As strong as Robinson is, he will still need to show a more versatile game in the post, including the ability to face up and knock down mid-range jumpers or take the ball to the rim off the dribble.
Defensively, he will need to improve his ability to guard out on the perimeter, including his positioning and lateral movement.
Why Teams Want Him: Davis' defensive instincts may be the best to come out of college in the last decade. He uses his length well to not only block shots, but to alter shots all the way out to the perimeter.
His ability to time his blocks and go straight up without fouling makes him even more valuable.
On the offensive end, Davis is a great finisher around the basket, with the ability to go up and catch passes over the defense or use his soft touch within a few feet of the rim.
Overall, his skill level is advanced for his age, and he has the room to keep improving significantly over his first few years in the league.
What He Needs to Work On: Improving his strength is one of the first things he needs to work on before next season. I don't expect him to be a center in the NBA, but he still needs to show improvement and versatility operating out of the post.
On the defensive end, he needs to add bulk and strength to his lower body so he can anchor himself better against stronger post players.
Improving his ability to hedge and recover in pick-and-roll situations is needed against the stronger and quicker NBA players.