What Does Patriots Re-Signing Safety James Ihedigbo Mean for Safety Battle?
June 22, 2012

Jim Rogash/Getty Images
Safety James Ihedigbo may have recently been released, but now that the New England Patriots have re-signed him, he has to be a favorite to make the roster.
He's the ideal back-up for often-injured safety Patrick Chung, he contributes on special teams and he's a team leader.
Sure, he just underwent offseason shoulder surgery, but would the Patriots have brought him back if they didn't think he was healthy?
Ihedigbo joins a crew that already consists of safeties Patrick Chung, Tavon Wilson, Steve Gregory, Sergio Brown and Josh Barrett. Nate Ebner and Ross Ventrone are also names that could vie for a roster spot at safety, but Ventrone is primarily a practice squad player (and recent history shows his status is always in flux) while Ebner is a developmental prospect himself as a rugby player at Ohio State.
Chung, Wilson and Gregory are almost locks for the roster. That pits Brown, Barrett and Ihedigbo in a three-way battle for one or two more roster spots at safety.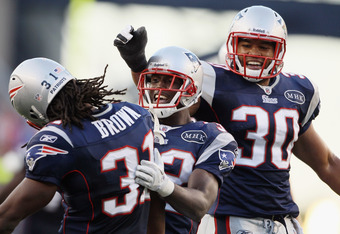 Elsa/Getty Images
Both Brown and Barrett were benched at different points in the 2011 season; they are now closer to the wrong side of the roster bubble with the re-signing of Ihedigbo.
Ihedigbo is the bigger contributor of the three, playing in multiple special teams packages on a regular basis. More importantly, though, he gained extensive experience playing safety last year. According to Pro Football Focus, he lined up for 917 snaps, 67.7 percent of the team total. 
He isn't the ideal deep cover safety, and came off the field on passing downs last year, but he's been called a "leader" by several writers including Greg Bedard of The Boston Globe and Gregg Rosenthal of Pro Football Talk (now of NFL.com). No wonder he's a great Chung back-up.
Bedard lauds Ihedigbo's abilities in the box, and PFF ranked him 43rd among safeties in run defense, and New England's second-best last year (he also ranked better than then-Chargers safety Steve Gregory).
The Patriots got caught with their pants down when injuries plagued their secondary in 2011. Thus far, in the 2012 offseason, they've gradually pulled their pants back up. Bringing back Ihedigbo was another step in that direction.
Erik Frenz is the AFC East lead blogger for Bleacher Report. Be sure to follow Erik on Twitter and "like" the AFC East blog on Facebook to keep up with all the updates.