MLB Rumors: Edwin Encarnacion and Other Under-the-Radar Trade Bait
June 22, 2012

Brad White/Getty Images
With Major League Baseball approaching the half-way point comes the time of year any fan of a team in a position to "Buy! Buy! Buy!" loves.
Meanwhile, if you like the Mariners or another team of that caliber, you likely dread this time of the year since your team likes to "Sell! Sell! Sell!"
The usual suspects, Cole Hamels, Kevin Youkilis & Co. continue to see their names trotted out into the limelight when any pundit begins to discuss potential players on the trading block and the implications of such moves.
What most of us fans are really concerned with is the guys who aren't even blips on the radar. To most, the following list of names may start a rally to get their names heard of and out there so other teams may begin to scout and inquire about the possibility of trading for such players.
On the one hand, these guys are household names around baseball. Just the mere fact that these guys could be dealt due to their contract situations is what makes them fly under-the-radar.
DH Edwin Encarnacion -- Toronto Blue Jays
Unbeknownst to many, this rejuvenated slugger out of Toronto is set to be a free agent following the 2012 season. At 29 years old, one can easily consider Encarnacion a late-bloomer and a guy that a franchise such as the Blue Jays could 'sell high.'
The question surrounding Encarnacion is whether or not the Blue Jays feel as if they are in a realistic position to compete in the A.L. East or for one of the two Wild Card slots in the American League. Also, Encarnacion is a capable position player too. He has a ton of experience at first base and was also effective when called upon to saddle third base.
The Blue Jays are currently in last place in the A.L. East despite being one-game over .500. They are 6.5 games behind the first-place New York Yankees while also being 3 games back of the two teams slated for the A.L. Wild Card positions.
After losing 60 percent of their starting rotation last week, the Blue Jays could option to move Encarnacion. After all, he is set to be 30-years old in 2013 and the price tag that is likely to follow him due to his accrued production since last July is likely to be out of the range of the Toronto organization (that, or they will not want to "overpay" in their eyes).
What helps make Encarnacion replaceable is catcher Travis D'Arnaud (Triple-A Las Vegas). While D'Arnaud does play catcher, he has been prone to making dubious errors from his position. A switch to first base for the power hitting prospect would help ease the transition of losing Encarnacion. The other problem is that D'Arnaud has a K percentage of 18.0. That is, he strikes out in nearly one out of every five plate appearances.
Either way, one would think it would be prudent for the Jays to move Encarnacion, in order to get the most out of him, instead of letting him walk in the off-season and getting nothing in return.
RHP Jonathan Broxton -- Kansas City Royals
The Royals are a year or two away from seriously competing in the A.L. Central, something us 20-year old's and younger have never seen. With 18 saves on the year and a reputation for being a very good closer when he is not missing the plate, Broxton is an ideal trade candidate for a team looking for some bullpen relief down the stretch.
The Royals are 4.5 games behind the Cleveland Indians. At just 5 games under .500, it is safe to say that this team is not out of the playoff race just yet.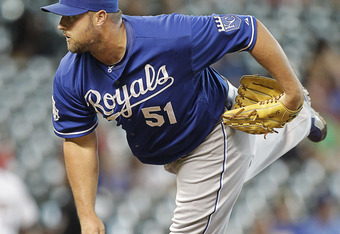 Bob Levey/Getty Images
On the other hand, no one seriously expects the Royals to perform at an above-.500 rate from here on, especially with their current pitching staff.
By moving Broxton, who is set to be a free agent at the year's end, and confidently slotting their closer-of-the-future Greg Holland into Broxton's role, the Royals may be able to receive some amenable ends.
Meanwhile, Broxton could be used by a team in contention with a struggling bullpen. The New York Mets, Miami Marlins, and Cleveland Indians come to mind.
The possibility of Broxton getting dealt is a real one but the reality exists that Broxton might get traded to a team that will not utilize him as a closer. How Broxton would handle such a situation remains to be seen but as long as he continues to turn out the lights in the 9th inning, value remains on the market for a player with Broxton's capabilities.
RHP Brandon McCarthy -- Oakland Athletics
It is safe to say that the Oakland Athletics have another arm that they should be willing to deal in order to get more hitting. With Brandon McCarthy and his 3.83 ERA (5-4 record), any team looking for rotational depth should be willing to inquire about his availability.
While McCarthy can appear to have a domineering presence on the mound at 6'7", the number he is putting up this season may be a precursor for things to come.
On the exterior, his ERA and W-L total is acceptable concerning the team he pitches for but McCarthy's WAR sits at 1.6 and his xFIP is 4.06. Last year, McCarthy had a WAR of 4.7 (by far the best of his career) and his xFIP was 3.30.
Thearon W. Henderson/Getty Images
The truth of the matter is that McCarthy will be a free agent in 2013. He also turns 29. Due to his age and his ability to mitigate his way through the ball game via the mound, McCarthy will surely draw a lot of interest from contenders.
For example, Cincinnati's starting pitchers have just 23 wins among themselves, placing them in the lower-third of all Major League Baseball. Meanwhile, both the Cleveland Indians and Atlanta Braves are struggling with their starting rotations.
Speculation aside, McCarthy could turn out to be the x-factor for a club when it comes to playing in the post-season. His numbers are not fantastic, and when one examines his xFIP it may appear as if McCarthy is set for a downslide; but that will not deter teams in contention from dangling some bait in Oakland to acquire another arm for their rotation.
3B Mark Reynolds -- Baltimore Orioles
Needless to say, Mark Reynolds has been a disappointment in the Charm City. From 2008-2011, Reynolds has averaged slightly more than 35 HR per year. During that same span he drove in an average of 87 RBI per year.
In 2012, Reynolds has smacked just 5 HR and 21 RBI. As you can see, something has gone awry with Reynolds.
Some speculate that the Arizona Diamondbacks saw this coming when they shipped Reynolds to Baltimore. I think that the Diamondbacks were just looking for more pieces to help with their pitching (i.e., David Hernandez). No matter how one puts it, Reynolds has simply been disastrous this year.
He is set for an $11 million club option for 2013. The Orioles can buy Reynolds out for $500K.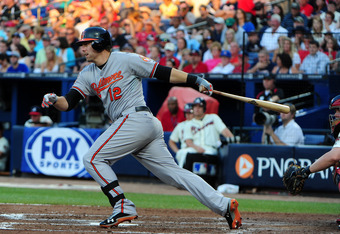 Scott Cunningham/Getty Images
With the youngster Manny Machado doing well for the Orioles in their farm system, and with Brian Roberts apparently at full health, the Orioles can move on from Reynolds, let Roberts play every day at 2B and give Robert Andino the full-time 3B job until Machado is ready to takeover.
Easier said than done though. The market for Reynolds is somewhat marginal. The upside to Reynolds is that no team has to keep him for 2013 if he flounders following a trade. On the other hand, the O's are not going to receive in return for Reynolds what they would have last year or what the Diamondbacks received when they dealt Reynolds to Baltimore.
Regardless, there is a market for Reynolds. Several teams in contention are struggling to hit the ball. A righty that can slug (or rather, has a history of hitting dingers with a high strikeout rate) is not necessarily as useful as one believes, but to imagine that Reynolds will not be shopped is asinine.
The New York Yankees could use an upgrade at DH and since the cost of acquiring Reynolds is hardly credible at all, the Yankees might be able to swing such a move. On the other hand, the Los Angeles Dodgers, Miami Marlins, and Pittsburgh Pirates might all be willing to take a stab at Reynolds to either play 1B or 3B.