Classic Big Ten Football: Michigan vs. Florida, 2008 Capital One Bowl
June 22, 2012

Doug Benc/Getty Images
Every week, the Big Ten Blog will break down one classic game from the Big Ten's long, storied history. Today, we're going back to Urban Meyer vs. Michigan: Round 1.
As current coaches go, there are few, if any, in college football with the buzz and esteem of Urban Meyer, Ohio State's brand new plaything. He's got two rings from his time at Florida, he went 22-2 at Utah culminating in a Fiesta Bowl obliteration of Pittsburgh in 2004 and he's got a 7-1 bowl record.
Seven...and...one. So...about that one.
At the time, the 2007 season seemed like a period of riotous upheaval in the world of college football, and Michigan was at the center of it from the word "go" with its shocking loss to Appalachian State. When Oregon, led by dynamo Dennis Dixon, waltzed into Michigan Stadium the very next week and walked out with a 39-7 victory, it looked entirely like mighty Michigan's time had finally passed it by.
Michigan rebounded for eight straight victories, largely against ho-hum competition like Indiana and Notre Dame, but the Wolverines were flattened by Wisconsin and Ohio State to finish the season, and the day after the 14-3 loss to the Buckeyes, Lloyd Carr told his team he was retiring.
So Michigan, suddenly slow and outdated, would have one last game with its departing head coach—he who had lost his last four bowl games. And Michigan would be facing wonder boy Urban Meyer, his spread offense and his sophomore Heisman-winning quarterback Tim Tebow.
Michigan didn't stand a chance, did it?
There was something special, something extra in Michigan's step that afternoon in Orlando. It started from the very first snap, with the offensive line imposing its will and Mike Hart running—well, running as hard as he always did, which is to say "very very hard and with the intent to punish."
Michigan waltzed down the field on the very first drive, and four minutes into the game, poor outmatched Michigan was up 7-0.
Now, this wasn't about to be a cakewalk. Michigan was amped up, but Florida was still, y'know, Florida. The Gators scored on two short drives, but Michigan answered with a touchdown to equalize at 14-14, and after the Wolverines came up with a blocked field goal and a big pass play to get inside the Gator 5-yard line, it looked as if Michigan was ready to turn the tide back in its favor.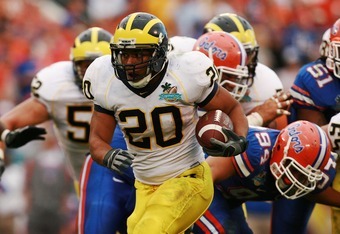 Doug Benc/Getty Images
But Mike Hart, historically one of the most sure-handed tailbacks in Michigan history, fumbled at the 4-yard line, and on the next drive, Chad Henne wasted great field position by throwing a pick to Emmanuel Moody on a deep pass. Giving extra chances to Florida didn't seem like a very clear path to victory, but Michigan's defense was holding firm enough that it didn't seem to matter.
After a successful two-minute drill to close the half and a short touchdown drive after a recovered pooch kick to start the third quarter gave Michigan a 28-14 lead, the Wolverines looked poised to put the game away. Instead, they nearly gave it away.
After a Florida touchdown, Mike Hart killed a long drive by fumbling deep in Florida territory again, this time into the end zone, and Florida finally capitalized with an 80-yard touchdown drive.
Michigan answered with a field goal to regain the lead then held the Gators to a three-and-out, but a tipped screen pass turned into a pick for Mike Pouncey (yep, the same one that became an All-American center for the Gators), and Florida turned that turnover into another touchdown.
All of a sudden, it was 35-31 Florida with under six minutes left, and the Gators were riding a 21-3 spree. The Lloyd Carr era looked to be ending with the same emotional drain that had typified his last few years in Ann Arbor.
Chad Henne and Adrian Arrington were uninterested in that type of ending.
Arrington had been making big plays all day long—he finished with nine catches (almost none of them routine) for 153 yards and two touchdowns—and on Michigan's second play from scrimmage on the ensuing drive, Henne dropped a deep fade on the sideline where only Arrington could get it.
And the only way Arrington could get it was to make a bobbling one-handed catch with a defender blanketing him, which is exactly what happened. Thirty-seven yards, first down and Michigan would be in the end zone (Henne to Arrington again, this time on a comparatively ho-hum post route) two plays later.
With 4:12 on the clock, there was still a lot of time to have left, though, especially with only a three-point lead and a Heisman-winning quarterback on the other sideline. Michigan's defense had to mount its stiffest opposition of the day.
And Florida went nowhere.
Michigan kept Tebow and Percy Harvin under wraps, forcing two short gains then two incomplete passes to take over possession, and that quickly turned into a field goal for the Wolverines—and another shot at the end zone for Tebow and Florida—this time with only 2:21 on the clock and no timeouts.
No matter, Michigan's defense stood even taller this time and hounded Tebow into four straight incompletions to seal the game. No. 9 Florida, the team of the superstar players and arguably the best coach in the nation, had just fallen 41-35 to poor, slow, outmatched Michigan.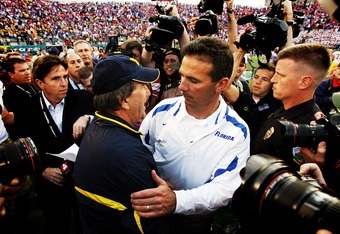 Doug Benc/Getty Images
And Lloyd Carr, a man with 122 career wins with his Michigan Wolverines but whose legacy was every bit as defined by his losses, was carried off the sidelines by his players, triumphant one last time.
Where the story goes for all involved parties is well-known, to say the least.
Michigan hired Rich Rodriguez, who then hired Greg Robinson a year later, who then got everybody fired on account of the worst defense Michigan has ever seen. Urban Meyer, meanwhile, coached himself half to death at Florida then ended up at Ohio State. So, he'll have as many more cracks as he wants at the maize and blue.
And don't think for a second that he's forgotten that January afternoon in Orlando three and a half years ago.